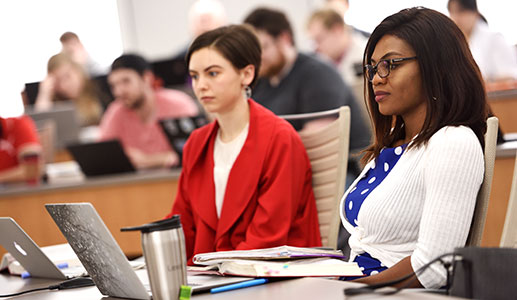 Business Law
Jump to: Our business law experts | Business law courses
The Greater Akron area is home to 21,000 businesses, including Fortune 500 companies. As such, we have made Business Law a priority.
In fact, Akron Law's expert business law professors provide you with the training needed to skillfully represent corporations or land an exciting job in the business world. Our graduates serve as outside legal counsel for businesses and work as in-house counsel for companies both large and small.
Virtually every lawyer in any size practice will handle business matters, ranging from drafting a partnership agreement to creating an LLC to advising on contracts and property acquisitions.
For those students who do not necessarily intend on "practicing" law, the acquisition of a juris doctor degree can enhance your opportunities and accelerate your advancement in the corporate world. Our alumni have utilized an Akron Law degree as a springboard to successful careers in management, finance, energy, corporate compliance, human resources, international business, and a variety of industries across the United States and around the world.
With the specialized training and superior analytical skills you can obtain at Akron Law, you can rise to major leadership positions in the business world
Courses that give you an edge
Distinguish yourself at Akron through our strong foundational courses and our wide range of advanced training activities. Also, you can gain hands-on practical experience through our Small Entrepreneur and Economic Development Clinic (SEED Clinic) to represent actual clients as you create and advise new businesses.
Increase your competitive advantage with one of our joint degree programs with the College of Business Administration including a J.D./M.B.A. degree, J.D./Master's in Financial Forensics, and J.D./Master's of Taxation. You can also complement your business law training with our extensive lineup of Intellectual Property courses. In today's business world, intellectual property plays a crucial role in the success of any corporation.
In addition to training in the classroom, many of our students land internships or work full-time with companies during their time at Akron Law.
---
Business law experts
Distinguish yourself at Akron Law. Take advantage of the depth of business law expertise on our faculty.
Patrick H. Gaughan, Assistant Dean of Global Engagement, Associate Professor of Law | Bio
Professor Gaughan is the executive director of the Innovation Practice Center. After several years as an insurance, commercial and business lawyer in two major Cleveland firms, he became extensively engaged in business. Among other things, he organized an investors group to take over and revive a struggling company. These efforts resulted in an award for small business excellence in April 2008. He also has extensive experience in both startups and business recoveries. He teaches Entrepreneurship, among other courses, and has continued close involvement with the Youngstown Business Incubator.
Willa E. Gibson, Associate Dean of Student Engagement and C. Blake McDowell, Jr. Professor of Law | Bio
After several years in the banking industry and at the Securities and Exchange Commission, Prof. Gibson brought her extensive experience to Akron Law where she teaches Secured Transactions, Banking Law, Antitrust Law, Corporations, Consumer Law, and Contracts. She has written extensively on issues of economic efficiency of investment securities' priority rules in Article 8 and 9 of Uniform Commercial Code securities regulation, over-the-counter derivatives transactions, and hedge fund investments.
Richard Lavoie, Dean's Club Professor of Law | Bio
Prof. Lavoie is a nationally known expert on tax law, with a decade of experience in tax and business litigation at Cadwalader, Wickersham & Taft in New York City. He was among the founding teaching staff in the Graduate Tax LLM Program at Northwestern University School of Law and has taught at the University of Texas, Washburn University, and Syracuse University School of Law. He has published extensively on business ethics and tax. A very well regarded teacher, he has taught a wide range of courses, from the core of Corporations and Payment Systems to more advanced courses such as Executive Compensation and Regulation of Financial Intermediaries.
Stefan J. Padfield, Professor of Law | Bio
Professor Padfield brings extensive personal business experience to Akron Law. Not only does he have extensive experience in the insurance business, but he has also served as a Staff Sergeant in the United States Army and a corporate law associate at Cravath, Swaine & Moore LLP in New York City. He teaches the foundational business courses of Basic Business Associations and Corporations, as well as the more advanced Securities Regulation and Mergers and Acquisitions. He is also a leading commentator and blogger on issues of corporate theory and socioeconomics.
Gary Spring, Visiting Practitioner | Bio
After more than two decades of complex business law practice, Prof. Spring turned to teaching. While in practice, he taught as an adjunct professor at the University of Akron before teaching as a Visiting Professor at Rutgers-Newark School of Law (where he was Prof. of the Year) and the University of Cincinnati College of Law. He brought his business law practice expertise to the University of Akron as Dir. of the Small Entrepreneur and Economic Development (SEED) Clinic, in which students represent actual business clients seeking the advice and counsel necessary to establish their businesses. Prof. Spring is also responsible for placing our students in externships throughout the region, and in some cases beyond. He will be a source of excellent contacts with potential employers.
---
Business offerings
Core business courses
Basic Business Associations
Corporations
Legal Drafting – Contracts
Accounting & Finance for Lawyers
Individual Tax
Business Planning
Payment Systems
Secured Transactions
Small Entrepreneur and Economic Development Clinic (SEED Clinic)
Antitrust
Bankruptcy
Banking Law
Corporate Tax I
Corporate Tax II
Global Tort Law
Human Resources Law
Securities Regulation
Additional courses recommended for business
Administrative Law
Alternative Dispute Resolution
Immigration Law
Local Government Law
Negotiation
Intellectual Property Courses
Employment
Entertainment Law
Environmental Law
Insurance Law
Labor Law
Law Firm Administration
Real Estate Law
Sports Law
More