Stefan J. Padfield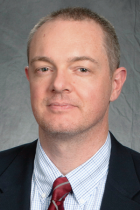 ---
Biography
Stefan J. Padfield writes in the field of corporate and securities law, publishing in law reviews as well as posting regularly on blogs and Twitter. His most recent published works have focused primarily on corporate theory. His areas of expertise cover a wide variety of business law topics. He is currently teaching Basic Business Associations, Corporations, Securities Regulation, and Mergers and Acquisitions.
Professor Padfield received his B.A. from Brown University, and J.D. from the University of Kansas School of Law. While in law school, he was a member of both the moot court team and symposium editor for the Kansas Law Review.
Prior to joining the Akron Law faculty, Professor Padfield clerked for The Hon. John R. Gibson of the U.S. Court of Appeals for the Eighth Circuit, and The Hon. William E. Smith of the U.S. District Court in Providence, R.I. Professor Padfield also worked as a corporate attorney for Cravath, Swaine & Moore, LLP, in New York City.
His scholarship includes the articles
"Is Puffery Material to Investors? Maybe We Should Ask Them," 10 U. Pa. J. Bus. & Emp. L. 339 (2008) (selected by the Akron Law Alumni Association for the Thomas G. Byers Memorial Award for Outstanding Faculty Publication), and
"Who Should Do the Math? Materiality Issues in Disclosures That Require Investors to Calculate the Bottom Line," 34 Pepp. L. Rev. 927 (2007) (selected for inclusion in the Securities Law Review 2008).
Professor Padfield is also a regular contributor to the Business Law Prof Blog.
View Professor Padfield's profile on Selected Works.
---
Publications
---