SAFETY AT THE UNIVERSITY OF AKRON
Creating a greater campus and community
Safety is paramount, as evidenced by the dozens of programs and services in place to help protect, inform and empower our students.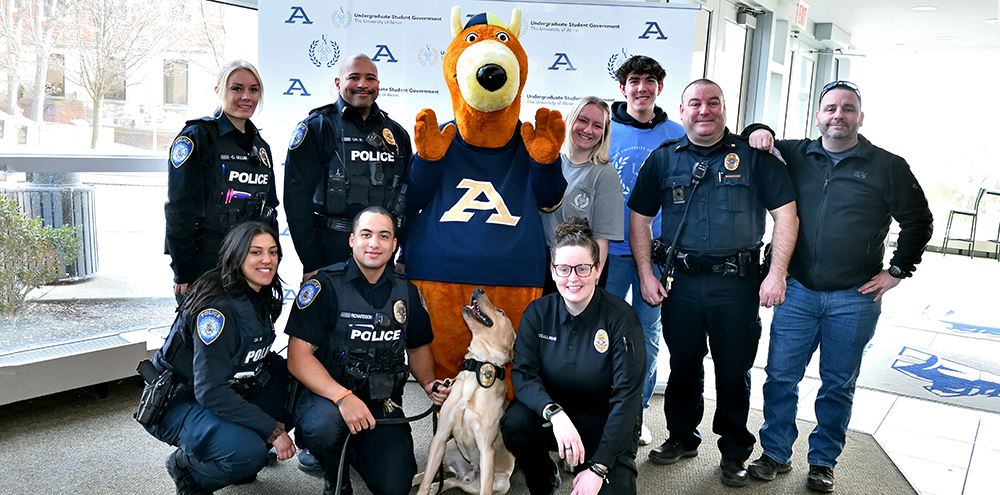 University police
University of Akron police are on duty 24-7, patrolling the campus on foot, and from bikes and vehicles. Our officers have full law-enforcement authority from the state of Ohio, and they work closely with Akron city police and other area law enforcement agencies.
SMART MOVES
► Program the police department's number into your cell 330-972-2911 and never hesitate to call if you see unusual behavior
► Sign up for our free cell phone alerts
► Use the free campus escort service at any hour: 330-972-2911
Residence hall security
Residence halls are locked around the clock. All require swipe cards for access. Located at the entrances, security desks are staffed 24 hours. Residence hall personnel receive specialized training in security and safety procedures.
Emergency phones
You will see hundreds of the blue-light emergency phones across campus, on pedestrian walkways, inside parking decks, at building entrances and in elevators. The phones instantly connect to UA police dispatch. Our officers respond to all activated emergency phones, even if no words are spoken.
Emergency text messaging (Z-Alert)
With our Z-Alert text-messaging service, UA will notify you when campus closes or when there's a major event that affects safety. Sign up for Z-Alert.
Sexual violence prevention
We strive to promote an environment of sexual respect—and that means zero tolerance for gender-based harassment, sexual assault or misconduct, relationship violence or stalking. We are committed to education and prevention of any threats to the safety of our campus community. On this page, you will find helpful resources whether you are a victim or want to get involved to help preserve an environment of respect, civility and dignity.
---
Safety resources
UA's officers patrol campus and surrounding neighborhoods around the clock. They are highly trained and have full arrest authority under Ohio law. Call the police 24-7 at 330-972-2911 or 9-1-1.
Wayne College police: 330-684-8910 or 9-1-1.
Located in the Student Recreation and Wellness Center, this department provides convenient health services and educational programming for campus.
The services provided by the professionals in this department help create a safe environment for the pursuit of academic, research and community work on our campus.