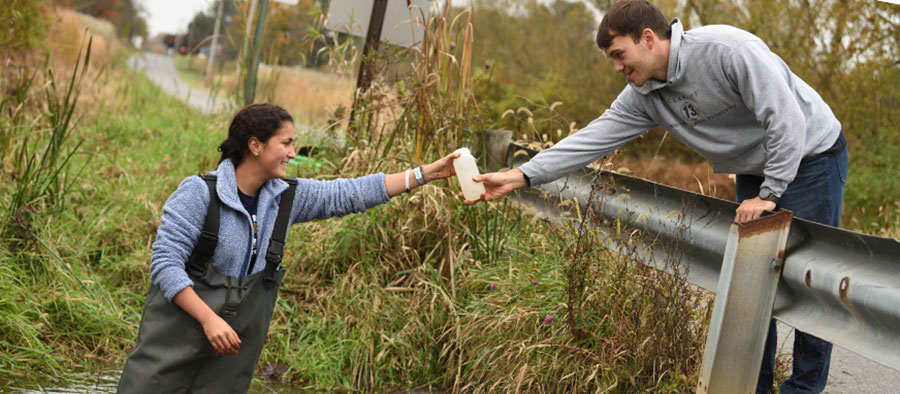 Civil Engineering Graduate Studies
The graduate civil engineering program at The University of Akron provides students with opportunities to gain advanced knowledge, skills and training, to design, build, and maintain the foundation for our modern society. This includes our buildings, roads and bridges, drinking or waste water and energy systems, seaports and airports, and infrastructure.
This multidisciplinary program provides both thesis and non-thesis options.
THE GRADUATE DEGREES
Master of Science (M.S.) in Civil Engineering
Master of Science (M.S.) in Civil Engineering gives students the opportunity to enhance their technical skills in civil engineering and creates possibilities for future career advancement. For engineers currently working in the field, they are able to apply what they learn in class to their work immediately. Evening options are available.
Doctor of Philosophy (Ph.D.) in Engineering
Our Doctor of Philosophy (Ph.D.) in Engineering degree allows you to have a specific research focus completely customized to your interest. Ph.D students focus more on conducting the cutting-edge and high impact research across different interdisciplinary fields, with our faculty members in a collaborative environment that is informal, friendly and intellectually vigorous.
Why UA?
Our program
Is flexible, with options for evening classes
Accommodates varied educational backgrounds
Provides options for research-based and coursework-based degrees
Offers specializations: Environmental, Geotechnical, Water Resources and Hydraulic, Structural, or Transportation
Our faculty
Consists of 18 nationally and internationally renowned experts who actively conduct research in their respective areas
Have strong research programs
Are active in industry collaborations locally
Opportunities for you
Access to the latest equipment and software that is used in companies and academia
Participate in entrepreneurship programs
Graduate level classes are small enough to ensure personal attention by the professors while large enough to facilitate group projects and interactions
 ACCELERATED OPTION: You can earn your bachelor's and a master's degrees in five years and at a significant savings. Learn more about the: Accelerated degree option.
Please note: This excludes co-op.
RESEARCH
Research
The Department of Civil Engineering faculty and students conduct research projects that take on societies most pressing challenges. Recent studies have included developing a system that increases the effectiveness and efficiency of snow and ice removal operations as well as studying algae in water reservoirs to prevent the infestation that affected Lake Erie and a half million people in 2014.
Specific research interests include:
Hydrology
Corrosion, Coatings, and Thin Film Technology
Advanced Structures
Geotechnical Engineering
Water and Soil Remediation
Structural Damage Detection and Health Monitoring
Transportation and Safety
Infrastructure Engineering
Advanced Composite Materials and Structures
Research labs:
Gas Turbine Testing and Research Laboratory
Center for Surface Engineering & Lubricating Research (CSELR)
CAREER PATHS
Graduates have stronger possibilities for career advancement and may secure managerial or high-level civil engineering positions in a consulting or contracting capacity or pursue a career in academia.
Employment:
Our graduates have obtained employment from companies such as HDR Inc., ARCADIS, Babcock & Wilcox, AECOM/URS, G. Stephens, Inc., Kajima International, and the Pennsylvania Department of Transportation.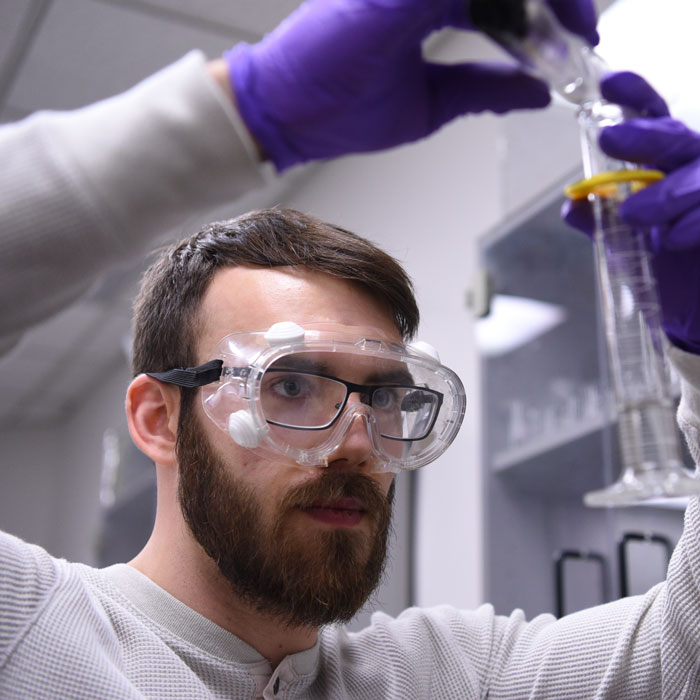 Student spotlight
"Having a master's degree means I'll have more of a choice of where I'm going to work. I'll be able to go to any employer and say, 'I came up with these experiments, I conducted them, I analyzed the data – and here's what it means."
Michael Spade, pursuing M.S. in Civil Engineering. Read Michael's story.
TUITION & GRADUATE ASSISTANTSHIPS
Tuition & Fees
Current graduate student tuition and fees can be found in the Office of Student Accounts.
Graduate Assistantships & Financial Aid
Graduate assistantships help pay for school. They are available for doctoral studuents on a competitive basis. The deadline for receipt of assistantship applications is February 1 for Fall admission and three letters of recommendation are required.
It is important to be informed of the many sources of aid available. Student loans are available to degree-seeking graduate students. Information on student loans can be found through the Office of Student Financial Aid.
The Office of Student Financial Aid is located in Simmons Hall.
Also, visit the The Graduate School for for more information and to apply.
For more information
Direct questions to:
Esther Wain-Weiss
Director, Graduate Programs and Administration
330-972-5690
erw3@uakron.edu