Campus-wide Wi-Fi upgrade under way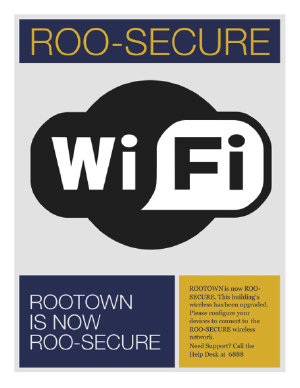 An upgrade for UA's Wi-Fi network has begun and will continue for the next year. This new system will require a configuration on wireless devices with the new Wi-Fi called Roo-Secure. The login process with your UAnet ID will remain the same. When you see the Roo-Secure sign in a building, your Wi-Fi has been converted to Roo-Secure.
If you have any questions about your building, please visit the Information Technology Services Help Desk website. For further assistance with the Wi-Fi setup, please visit the University Support Wiki or call the Help Desk at ext. 6888, or email ITHelpDesk@uakron.edu.
New job postings
Looking for a teaching, administrative, or student services position at the P-12 level?
New grant helps UA expand mentorship program for area students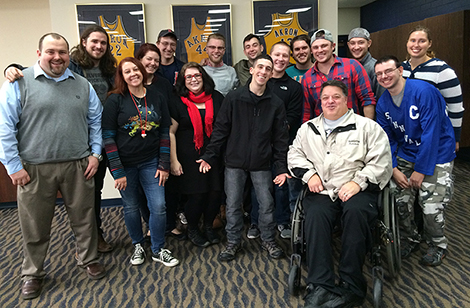 When Danielle Judy begins her student teaching assignment this fall, she knows she's going to be a better teacher, because of her opportunity to first be a mentor.
She is one of the students in the LeBron James Family Foundation College of Education who trained to serve as a mentor to a group of academically at-risk 10th grade students at Barberton High School over the past academic year. Full Story
Offices temporarily moved to Polsky
Please note that College of Education offices have been temporarily relocated to the Polsky 520.
All phone numbers remain the same and are in service. The main number for assistance is (330) 972-7750.
Scholarships Awarded
The LeBron James Family Foundation College of Education is pleased to report that three times the scholarship dollars were awarded this year as compared to last year to support our students. A total of 138 full-time student applicants were considered for scholarships, and all 138 received awards, for a total of $138,000.

Best wishes to all of our 2016-2017 scholarship recipients for success in their studies.
---
Preadmission Advising
Preadmission Advising for those entering the College of Education is available in our temporary location in Polsky 520. Hours are:
MWF - 8:30 am - 4:00 pm by appointment only
TTh - 8:30 am - 4:00 pm walk-in advising
Student Services may be contacted at (330) 972-7750.

Enrollment Assistance