The Movement of Light
Junior Dance major Jessica Doughty recently choreographed and performed an interpretive dance beneath the interactive lighting display in Zook Hall.
The dance, entitled Movement of Light, was the final exam for the course Choreography II. Students were required to choose a location on campus that inspires them and perform a 3-5 minute piece.
Doughty has studied dance since the age of 3. Her goal is to receive the MFA in Dance or Dance Therapy and teach in public schools and/or children's hospitals to reach those who might not otherwise have the means to attend dance classes.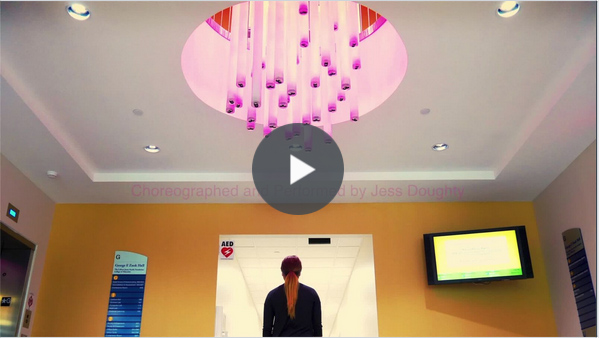 ---
Upcoming Events
---
Fall 2017 CAEP Accreditation Visit
The LeBron James Family Foundation College of Education at the University of Akron is hosting an accreditation visit by the Council for the Accreditation of Educator Preparation (CAEP) on October 15-17, 2017. Interested parties are invited to submit third-party comments to the visiting team. Please note that comments must address substantive matters related to the quality of professional education programs offered, and should specify the party's relationship to the EPP (i.e., graduate, present or former faculty member, employer of graduates).
For details, please review: Third-Party Comments
---
Enroll in Urban Youth Mentorship
Undergraduate students in all majors are invited to join us in making a difference in the life of a child. The course 5500:223 Urban Youth Mentorship is open to ALL University undergraduate students. The course provides students with valuable mentoring experience, training and resources while they work one-on-one with a mentee at an area school. In addition, students will attend LeBron James Family Foundation events to build relationships with students and their families.
There are still opening in the class, so consider signing up today! Students enrolled in the course will receive free background checks, First Aid and CPR training. And beginning in Fall semester, this course will fulfill the Gen Ed Tier III: Complex System requirement.
---
Fall registration is underway
Enrollment Assistance
You can view your assigned enrollment appointment in My Akron.
You can request assistance with your enrollment by clicking the button below.
Students should only submit a request AFTER their enrollment appointment begins. Requests submitted PRIOR to their appointment will be deleted.
---
Quick links
---