THE LEBRON JAMES FAMILY FOUNDATION
COLLEGE OF EDUCATION
Welcome!
Whether you are a current student who has been officially admitted to a College of Education program, or a prospective student who is considering a career in education, we are here to help you every step of the way.
Talk to one of our pre-admission advisers and let us help you plan your future. Your success is the reason we are here!
---


Zook 002
Akron, OH 44325
Phone: (330) 972-7750
Fax: (330) 972-5636
Dr. Marty Saternow, Director of Teacher Education

Meet Our Staff
---
Get involved
ACES: Akron Council of Education Students
ACES is a student organization dedicated to enhancing communications between education students by promoting fellowship and supplement professional training through extra- and co-curricular activities related to education. ACES website
---
Job Postings
A number of new listings have been added to our webpage, many of which come from the Ohio Department of Education Web-Based Recruitment System.
New jobs posted on our website!
Also check out these job posting sites:
---
Career Services Liaison
Derek Daily
Career Services Coordinator liaison to College of Education.
---
Megan Hampshire, Academic Adviser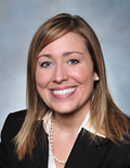 Hi, I work in Pre-admission Advising in the LeBron James Family Foundation College of Education.
My role is to:
Provide advisement to students regarding academic, career and personal matters.
Act as a liaison between students and various academic and non-academic departments. Refer students to appropriate services and departments when necessary.
Help students learn about their Education major(s) of interest and work with them to schedule/advise courses (general education and major specific).
If you're interested in a career in Education, stop in to see me in Zook Hall 002, or call the office for an appointment: (330) 972-7750.
Summer and Fall 2019 enrollment
If you have been admitted to the College of Education and need assistance registering for Summer or Fall courses within the College of Education after your enrollment appointment (which can be found in My Akron), follow the link below.
---
Admission to the College
If you are interested in becoming a teacher or educational administrator, let our Preadmission Advisers help. The team will guide you through the admission process.

---
From Admission to Graduation
RESA (Resident Educator Summative Assessment)
Professional Development Opportunities
---