Polymers in Your Classroom
Hands-on Learning with the Akron Global Polymer Academy
The Akron Global Polymer Academy loves to help teachers meet their curriculum goals with lessons and demos designed to help kids have fun learning about polymers! Our inquiry-based lessons are interactive and engaging for students at every level, with many of the lessons including some kind of hands-on "make and take" activity. Classroom visits can be tailored to a teacher's specific needs. We can teach a variety of lessons that are aligned with The Next Generation Science Standards and shaped to fit into the scope and sequence of any science program.
As an outreach arm of the School of Polymer Science and Polymer Engineering, many of our lessons and demonstrations use polymers as a vehicle for inspiring students and getting them more excited about STEM education and careers.
We would love to have an opportunity to bring the exciting world of polymers into your classroom! You can connect with us by contacting our Content Specialist John Fellenstein at: jfellenstein@uakron.edu. Check out some of the testimonies below!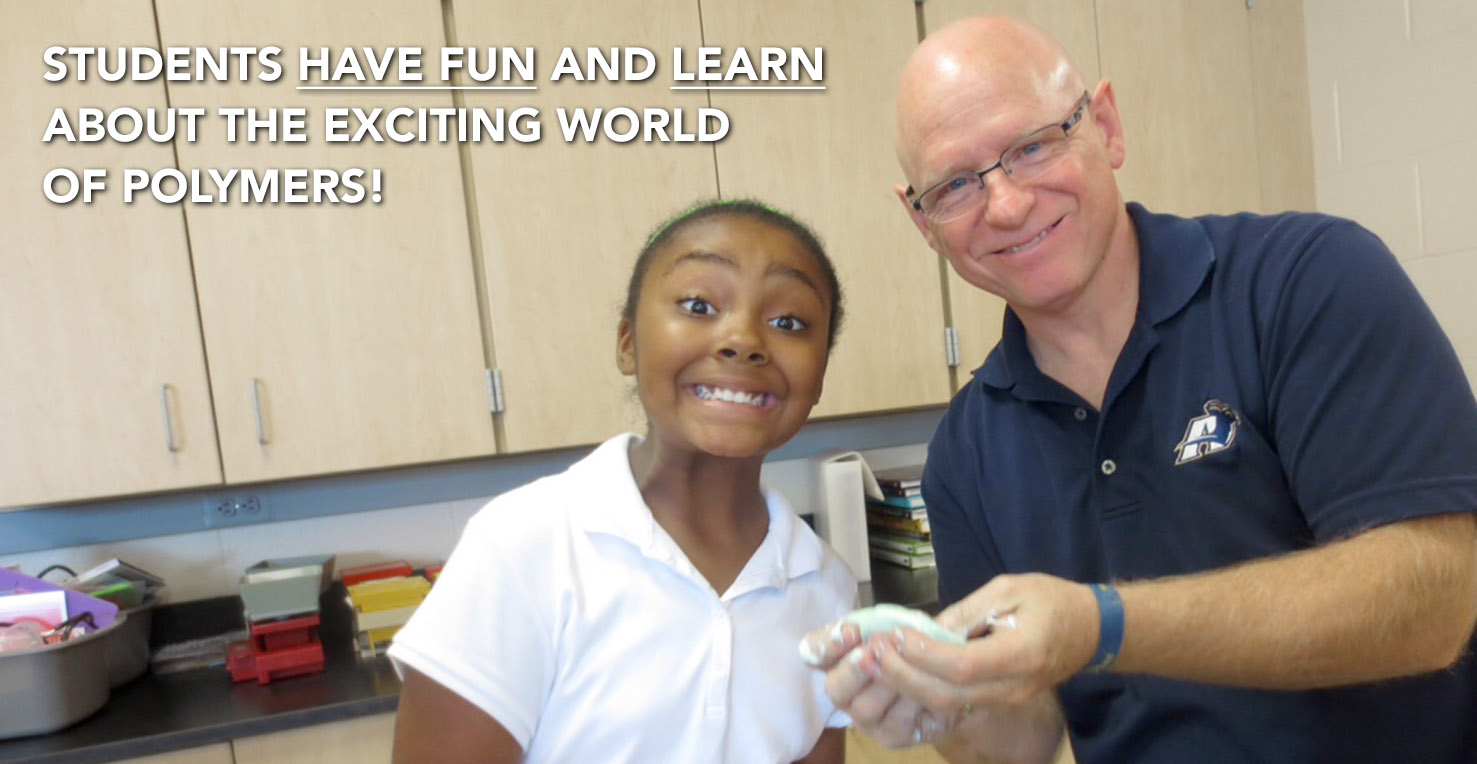 "My favorite STEM day station was the Akron Global Polymer Academy. It was my favorite because Mr. Fellenstein was very nice, helpful, and laidback. He had an activity for us to do, we made a catapult out of popsicle sticks, hot glue, rubber bands, and a water bottle cap. After we finished making the catapult he gave us mini marshmallows and we were flinging them across the room!! It was so fun! Other than the fact that it was fun, it was also a good way for us to learn about kinetic energy, gravity and potential energy." - Middle School Student
"We would like to express our gratitude to Mr. Fellenstein for bringing hands on lessons to our science classes. He visited all classrooms from grades K-8 and provided exciting experiments with great explanations. It was enjoyable watching the girls' thinking process as they worked through each demonstration. We look forward to the continued support of AGPA as our young ladies learn how exciting science can be." - Linkage Coordinator, Warner Girls' Leadership Academy
"I learned about a polymer and what they do. I also learned about a polystyrene and how to make plastic. I learned how to work together like a engineer." - Middle School Student
"I liked the Akron Global Polymer Academy because Mr. Fellenstein was really funny and he explained about different polymers. He taught us to make catapults out of rubber bands popsicle sticks and a bottle cap. He talked about rubber bands and those little orbeez. He was funny and he was very neat on his work. I would like to have his job." - Middle School Student