Dr. Ali Dhinojwala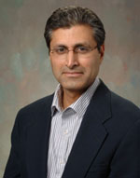 ---
Biography
Dr. Ali Dhinojwala, H.A. Morton Professor of Polymer Science, has been a part of the School of Polymer Science and Polymer Engineering (SPSPE) for over twenty years, first serving as a professor and then as the Department Chair from 2008-2012. He has served as the co-Principal Investigator of the Biomimicry Research Innovation Center (BRIC) since its inception in 2011, and during his time at the University has helped to hire several faculty members who teach here still today. His participation in the School as well as his dedication to building a successful team of faculty and staff made him a perfect fit as director.
Dr. Dhinojwala obtained a Ph.D. in Chemical Engineering from Northwestern University and spent two years as a research scientist at University of Illinois at Urbana-Champaign. After spending one year at GE Plastics, he joined The University of Akron in 1997.
His current research is in the areas of adhesion, friction, and wetting. His group has developed unique surface technique to study buried polymer interfaces. His recent interest is in understanding how geckos and spiders use adhesives for locomotion and prey capture. These studies have led his team to develop synthetic adhesives using aligned carbon nanotubes. His latest passion is on developing structural colors, a strategy inspired by bird colors.
---
Research
Dhinojwala's research is focused in the area of interfacial science. His group is using infrared-visible sum-frequency-generation spectroscopy (SFG) techniques to study fundamental problems in adhesion, wetting, and friction. They have developed approaches to couple SFG and mechanics together to relate macroscopic properties such as adhesion and friction with the structure and dynamics of interfacial molecules. His group is applying this fundamental knowledge of interfacial science to design new materials inspired by nature.
As part of the Biomimicry Research Center (BRIC) at the University of Akron and in collaboration with faculty members in the BRIC program, his group works on gecko adhesion, spider silk, mussel adhesion, and structural colors inspired by birds and other organisms. His research work is supported by National Science Foundation, Air Force Office of Scientific Research, and Industries.
Publications
Google Scholar | ResearchGate | Ohio Innovation Exchange
---
Education
1994 Ph.D., Chemical Engineering, Northwestern University
1986 B.Tech., Chemical Eng., Indian Institute of Technology, Bombay, India
---