Buildings
---
Goodyear Polymer Center
The 146,000-square-foot Goodyear Polymer Center houses the Polymer Science program. It features 12-story and 9-story towers connected by glass-enclosed walkways that serve as areas for informal meetings and discussions. The building houses classrooms, some 60 research and teaching labs, 20 faculty offices, and 25 offices with 200 modules arranged in clusters for students, visiting researchers, and postdoctoral students. The Center also contains the 213-seat Goodyear Tire and Rubber Company Auditorium, the Paul J. Flory Reading Room, and The International Rubber Science Hall of Fame portrait gallery.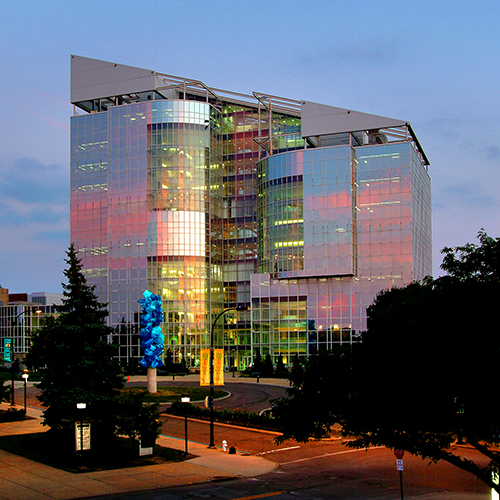 ---
Polymer Engineering Academic Center
The Polymer Engineering Academic Center houses the student, faculty, and administrative offices of the Polymer Engineering program and Akron Global Polymer Academy. The four-floor building is home to graduate students and post-docs in polymer engineering as well as faculty and staff. The center has a 134-seat lecture hall, distance-learning classroom, general purpose classroom, as well as faculty and student offices, conference areas, and seminar rooms. Groundbreaking for the 32,000 square foot Center occurred in November 1999 and the building was dedicated on June 8, 2001. The Polymer Engineering Academic Center was the first building to come on line as part of the New Landscape for Learning Plan at The University of Akron, a $200 million plan for new buildings, improved campus access, and the creation of inviting, park-like open spaces.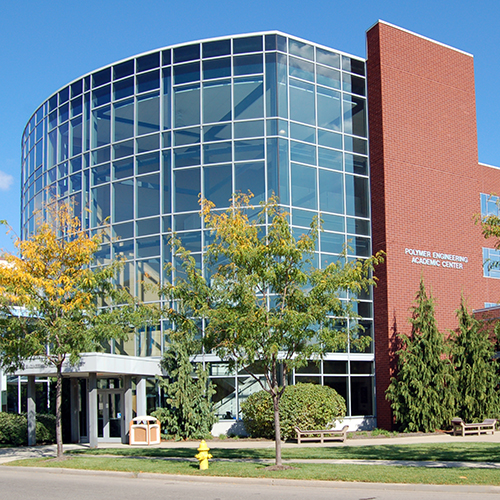 ---
National Polymer Innovation Center
The National Polymer Innovation Center (NPIC) is a facility at the leading edge of polymer advanced manufacturing specializing in functional multilayer film processing and advanced materials development for applications in electronics, coatings, membranes, optical, biomedical, and specialty products. Supporting industry, national laboratories and the School of Polymer Science and Polymer Engineering at The University of Akron, NPIC features pilot scale roll-to-roll film manufacturing lines that produce films with a wide range of functionalities including development of novel solutions to industry challenges in nanocomposites, membranes, biomaterials, coatings, and adhesives. Capabilities also include a range of metrology tools to characterize functionality of these films in end use conditions as well as analysis for industry requests. NPIC serves as a hub for faculty members, graduate students, and research partners from industry and national laboratories working cooperatively to provide solutions to emerging challenges in the areas of health, energy, and sustainability.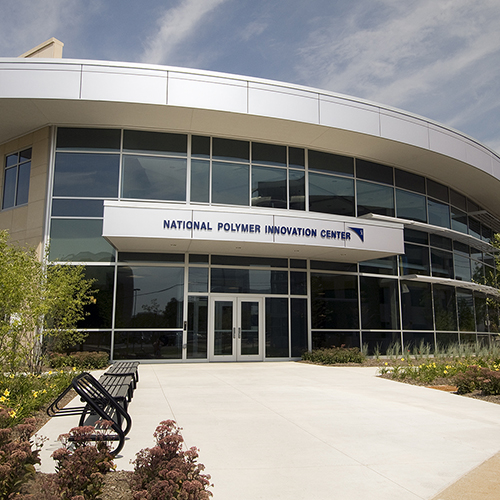 ---
Sidney L. Olson Research Center
The Sidney L. Olson Research Center, adjacent to the new Polymer Engineering Academic Center, houses the majority of polymer engineering labs as well as some lab space for Biomedical Engineering. The four-floor Center is 72,340 square feet and has 119 rooms. The building was completed in 1928, but The University of Akron did not acquire it until 1979. Olson primarily provides space for the operation and housing of laboratories, instrumentation and equipment required for polymer engineering research.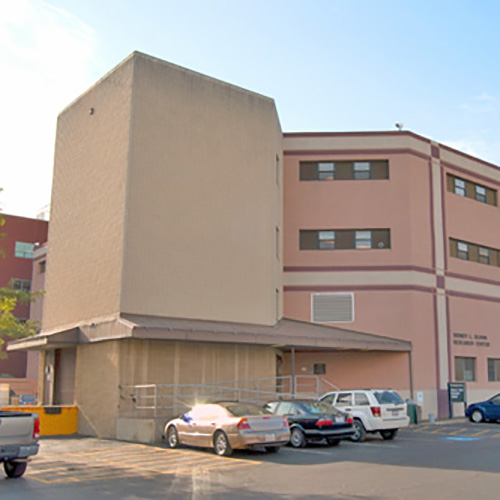 ---
Akron Polymer Training Center
The University of Akron's 18,500-square-foot Akron Polymer Training Center is a teaching facility that serves the region's academic and industrial needs by offering a wide variety of non-credit plastic and rubber training courses. The renovated structure, at the corner of E. Mill and College Streets, contains three classrooms, two polymer processing laboratories and a laboratory devoted to chemical measurement and instrumentation.