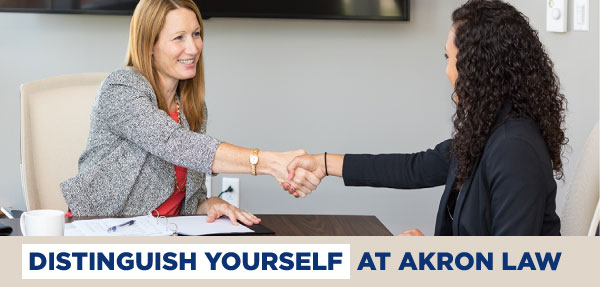 PAYING FOR LAW SCHOOL: AN EXAMPLE
By now, you have probably read all about scholarships, loans, tuition and fees, and the financial aid budget. To bring it all together for you, we have constructed an example of how a student's financial aid package might be assembled throughout the admissions process.
In our example, let's assume our student, Mary Beth, is a permanent resident of the state of Ohio and that she has applied for admission to the full-time program. This means that Mary Beth's financial aid budget (based on 2009-10 academic year information) is $34,956. In other words, Mary Beth is eligible to receive, from all sources, a total of $34,956 in financial aid for the upcoming academic year.
Mary Beth takes the LSAT in September, applies in October, and receives an offer of admission in November. Sometime in January, Mary Beth completes the Free Application for Federal Student Aid, or FAFSA. Since Mary Beth is going into law school and is no longer an undergraduate student, she is considered independent for financial aid purposes and thus does not have to provide her parents' financial information on the FAFSA, which will improve her eligibility for Stafford loans, since she was a full-time college student in the previous year and did not work.
In early February, the Admissions Office at The University of Akron School of Law informs Mary Beth that she was awarded a $5,000 Board of Trustees merit-based scholarship for the 2009-10 academic year.
Later in February, the federal Department of Education determines that, based on the information that Mary Beth submitted on the FAFSA, she is eligible for $8,500 in subsidized loans and $12,000 in unsubsidized loans through the federal Stafford Loan Program.
So far, Mary Beth has a total of $25,500 in financial aid between her scholarship and her Stafford loans. Mary Beth will live on her own this academic year, and, as such, she decides that she wants to borrow the maximum amount allowable under her financial aid budget.
Her next step is to apply for a direct PLUS loan, which is a credit-based federal loan program. She completes the Federal Direct PLUS Loan Application to determine her eligibility for this program. For the sake of illustration, let's assume that Mary Beth finds that she is eligible for $4,500 through the Direct PLUS loan program, bringing her total financial aid at this point to $30,000.
At this point, if Mary Beth still decides she wants to borrow the maximum amount allowable under her financial aid budget, she would need to pursue an Alternative (or private) loan. Alternative loans are student loan programs that are in place to help students bridge the gap between scholarships and federal aid and the maximum financial aid budget. Mary Beth visits The University of Akron's FastChoice site, selects a lender, fills out their application, and, based on her good credit, is approved for an additional $4,956 in loans. This brings her total financial aid to $34,956 for the upcoming academic year.
The table below summarizes Mary Beth's financial aid for the upcoming academic year.
Aid Type
Amount
Scholarship
$5,000
Stafford Loan
Subsidized
$8,500
Unsubsidized
$12,000
PLUS Loan
$4,500
Alternative Loan
$4,956
TOTAL
$34,956
Please note that this example illustrates only the sources of funding available to law students. It is not intended to be a roadmap or a step-by-step guide to applying for and accepting your financial aid.
For more information on the actual process of applying for and accepting your financial aid, please contact the Office of Student Financial Aid at 800-621-3847.
Living conservatively
Students do not have to borrow the maximum amount allowable under the financial aid budget. We encourage our law students to live as conservatively as possible during law school in an effort to minimize borrowing.
Finally, remember that this example is based on the budget of a full-time Ohio resident law student. As shown on the financial aid budget, student budgets will differ if they come from other states or if they enroll as part-time students.