Exceptional students have the opportunity to join our new and innovative Honors Program. We select Honors Program Scholars from the top of our incoming class based on undergraduate GPA, LSAT, leadership experience, and other demonstrated abilities exhibiting excellence. Some Honors Program Scholars may be awarded full scholarships, and have the opportunity to engage in Honors Seminars, guided research, and judicial externships. No separate application for the Honors Program is required.
Honors Scholars have the unique opportunity to take a first-year course that serves as an Honors Seminar. Taught by multiple faculty members, this course exposes our Honors Scholars to living aspects of the law and includes classes on topics such as international law, media law, human rights, privacy law, intellectual property, environmental law, gender and sexual orientation, race theory, and corporate theory.
In the second year, Honors Scholars are paired with a faculty mentor who directs them in guided research either to a publishable paper, pro bono project or law reform proposal.
In the third year, Honors Scholars participate in judicial externships or other externship of their choice deepening their experiential learning of law in practice.
Throughout law school, Honors Scholars can take advantage of opportunities that go beyond the classroom and facilitate professional connections generated from a special dinner with the Dean, networking events with practitioners and alums, or participation in scholarly colloquia. A dedicated Honors Program faculty advisor offers academic and career advice designed to guide law students toward their greatest potential.
---
CONTACT US
150 University Ave., Akron, OH 44325-2901
Phone: (330) 972-7331 Fax: (330) 972-7337
Email: lawadmissions@uakron.edu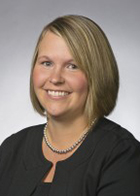 Emily Janoski-Haehlen
Associate Dean of Academic Affairs & Institutional Excellence
330-972-6740
ejanoskihaehlen@uakron.edu