CBA ranks among top 100 undergrad business schools, top 5 in state
01/14/2021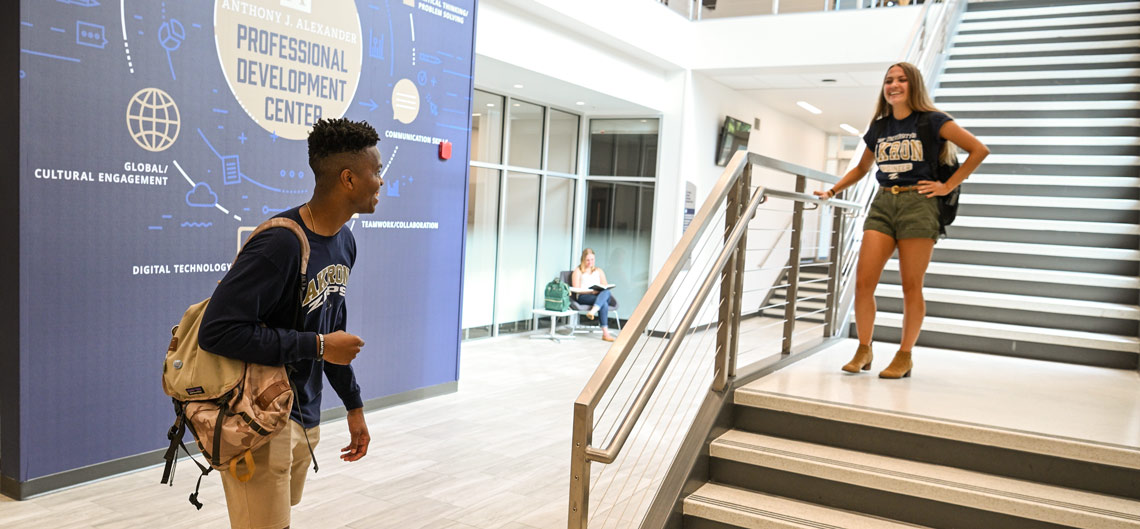 Students inside the business school's new Anthony J. Alexander Professional Development Center, a modern, tech-enhanced space for students, faculty and business professionals to collaborate and network. The center will further strengthen the school's employment outcomes, cited as an area of excellence by Poets&Quants.
The University of Akron's College of Business Administration (CBA) was ranked among the top 100 undergraduate business schools in the country, and fourth in Ohio, according to Poets&Quants for Undergrads in its newly unveiled 2021 rankings.
Poets&Quants for Undergrads, a leading news website dedicated to covering undergraduate business education, used survey and employment data to assess the quality of incoming students, the academic experience and employment outcomes for each school.
The CBA, moving up 19 places from last year's list, ranked No. 76 overall and in the top 50 among public schools.
Only schools accredited by the Association to Advance Collegiate Schools of Business (AACSB) — widely considered the gold standard of business education excellence — were eligible for the rankings.
"I am proud of the improvement in our rankings, which validates the great talents and work of our faculty, students and staff," said Dr. Susan Hanlon, interim dean of the CBA. "Being ranked fourth in the state, and in the top five among Miami University, Bowling Green State University, Ohio University and The Ohio State University, is good company to keep."
The CBA's strongest ranking was in its employment outcomes (based on students' internship rate, job placement rate and starting salaries), where it ranked No. 64.
VIDEO: UA's new Anthony J. Alexander Professional Development Center
"We have been very successful at helping our students obtain paid internships, which translate to permanent job offers upon graduation," Hanlon continued. "Our students are known among employers as being career ready and connected upon entering the workforce. That's just one of the many reasons why we are recognized as a premier business school."
Of the 16,500-plus institutions worldwide offering business degrees, only 876 hold AACSB accreditation in business. Of those 876 schools, only 190 — or about 1% of business schools globally — hold an additional accreditation in accounting, and the CBA is one of them.
---
RELATED
Share