The College of Business Administration (CBA) helps students get ready to make a difference through rigorous coursework and developmental opportunities that range from classroom consulting projects, internships, and professional networking, to leadership and business communication training.


What's Happening at the CBA

For the fifth year, the generosity of James '82 and Diana McCool '80 is allowing five College of Business Administration (CBA) Finance students to attend the Charles Schwab-sponsored IMPACT conference.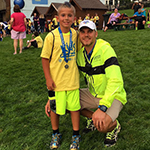 When the 14th running of the FirstEnergy Akron Marathon, Half Marathon and Team Relay takes place Saturday, Sept. 24, the Department of Marketing in The University of Akron's College of Business Administration will be well represented by alumni, current students and a member of the faculty.

Congratulations to the CBA students and faculty advisors of the Financial Planning Association (FPA) Challenge Team for taking 2nd place in this year's national competition! Team members were Adriana Demjanjuk, who served as captain, Joseph Johnson, and Benjamin Schwarz. The team was assisted by Faculty Advisors Barry Mulholland and Suzanne Gradisher. For their efforts, the school wins a monetary scholarship. The University of Akron is the only school to finish in the top three over the past three years. In 2014, the CBA team won, and last year's team placed second.

Parlayed by his patented finishing kick, former Akron All-American Clayton Murphy became the first United States men's 800-meter runner to win an Olympic medal since 1992, chasing down the bronze medal over the final 100 meters on the strength of the fifth-fastest time, 1:42.93, in American history, at the XXXI Summer Olympics on Monday, Aug. 15, 2016.

Most people head to Jamaica for rest and relaxation on its sunny beaches and to enjoy the magnificent scenery. The UA students like Meaghan Rooney who spent their 2016 Spring Break in Jamaica had their fair share of fun as well. But they also had a mission to accomplish — service to others