The College of Business Administration (CBA) helps students get ready to make a difference through rigorous coursework and developmental opportunities that range from classroom consulting projects, internships, and professional networking, to leadership and business communication training.


What's Happening at the CBA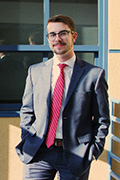 President of the Study Abroad Society. Director of Sales for Zips for Haiti Coffee. Officer in Beta Alpha Psi. Member of the College of Business Administration (CBA) Dean's Team. Member of winning team in the Nationwide Community Bank Case Competition. Reading this list of titles and accomplishments, it's hard to believe that senior Corporate Financial Management major, Kenan Sprague, was once barely involved on campus.

A new grant from The Spencer Educational Foundation will help The University of Akron's College of Business Administration recruit students into its new Risk Management and Insurance (RMI) program, which officially launched in the Fall of 2017.

Dener dos Santos will be the student speaker at the Fall Commencement ceremony on Saturday, Dec. 16, at 6 p.m. He is a Williams Honors Scholar graduating with bachelor's degrees in Marketing Management and Sales Management, magna cum laude. He also has played the position of midfielder on the UA's men's soccer team.
On November 16, 2017, The University of Akron's students in Dr. Alexa Fox's Buyer Behavior courses had the opportunity to apply and discuss course topics in real time with classmates and professionals in a fast-paced, virtual setting when they hosted a Twitter chat.

Emma Twardzik, a double major in marketing management and integrated marketing communications, is profiled in the new LeBron James video spot!