UA College of Business continues to distribute scholarships to students, over $6 million in '21-'22
10/25/2022
Earlier this year, a Twitter poll revealed that the number one stressor for parents and families, as it pertained to college, was how to pay for it. USA Today hosted the Twitter poll for College Ave Student Loans. Over 13,000 people responded, and 70% indicated "How to pay for college" as their top concern. The College of Business (CoB) at the University of Akron (UA) recognizes the fact that families often struggle to pay tuition for their college students and while student loans are often used, grants and scholarships are key in determining which university a student attends. In recent years, both UA and the CoB have stepped up to help students by distributing over $6 million in grants and scholarships during the 2021-2022 academic year.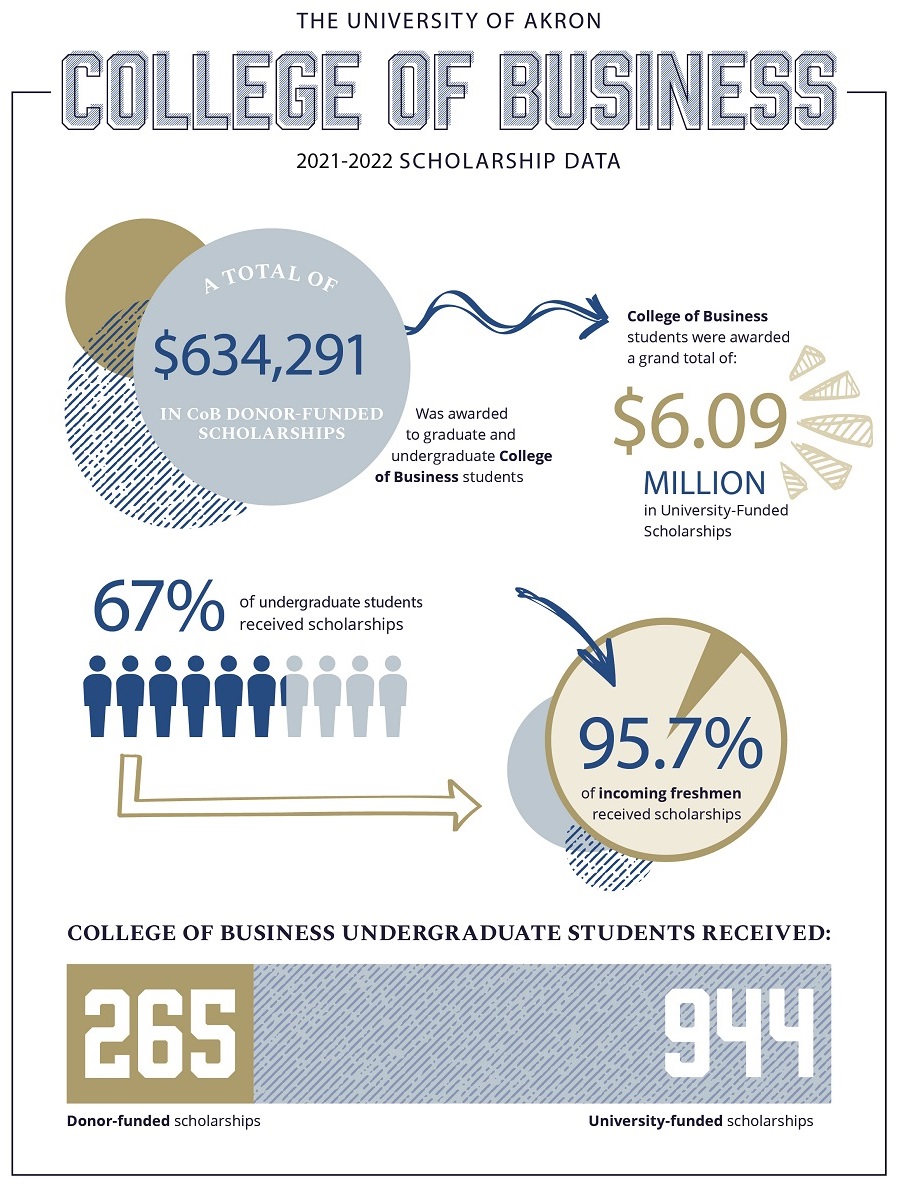 Scholarships and grant money help support both undergraduate and graduate students in the CoB. The total amount of scholarships and grants distributed to CoB students increased by nearly 15% over the past two years, from $5.3 million in 2019-2020 to $6.09 million in 2021-2022 to ensure that 67% of all undergrad CoB students received some sort of vital assistance. The amounts represent actual disbursements to students and exclude athletic and third party scholarships.
Money received from CoB donors are vital to student scholarship disbursements, with more than $634,000 donated to the college from outside sources. Students from programs and majors across the college are receiving that scholarship money. The money received from scholarships often allows a student to be able to spend more time on experiential learning and connecting with alumni and business leaders, rather than focusing on part-time jobs to pay for school.
Helping to make college affordable for all of its students is a priority for the CoB but is only one part of the value proposition it offers to students. R.J. Nemer, Dean of the College of Business said, "To provide students with access to excellent scholarship opportunities is an added benefit that makes the CoB more valuable as a higher education option in the region. We are consistently ranked as one of the best business schools in Northeast Ohio, ensuring our students have access to paid internships and professional development. A means to fund our students' education is a vital component of this process."
Click here to find eligible scholarships and application information.
Share