University to award degrees to more than 2,700 students
05/08/2018

University of Akron Interim President John Green will address spring 2018 degree candidates and recognize expected Summer 2018 graduates at six ceremonies scheduled at E.J. Thomas Performing Arts Hall this weekend, May 11 through May 13.

The 2,746 spring graduates hail from 38 states and 33 countries. The group includes 61 candidates for doctorate degrees, 100 for Juris Doctor degrees, 515 for master's degrees, 1,807 for bachelor's degrees and 263 candidates for associate degrees.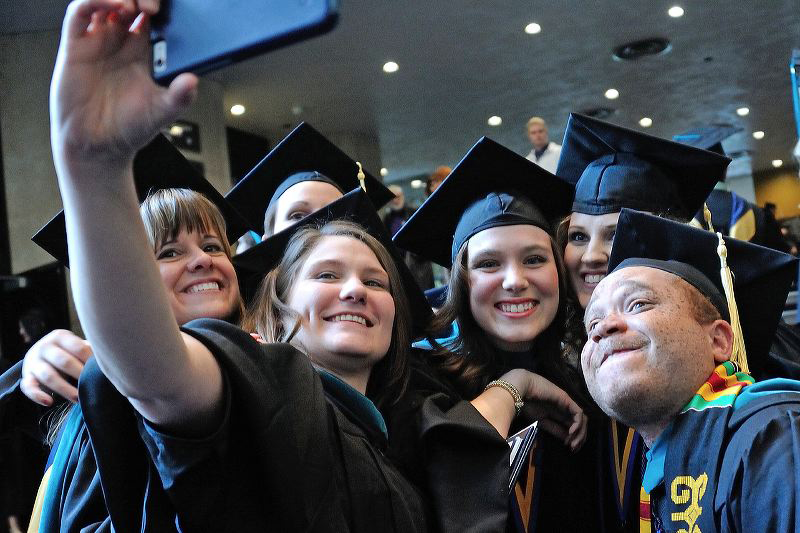 A total of 582 students are expected to be awarded degrees at the conclusion of the summer 2018 semester, and have been invited to attend the spring commencement.
The School of Law's graduation ceremony will be held on Sunday, May 20, at 2 p.m. in Thomas Hall. Addressing the degree candidates will be alumnus Dennis Garris '92, partner-in-charge of Alston & Bird LLP Washington, D.C. office.
At this weekend's six ceremonies, President Matthew J. Wilson will introduce student speakers and greet graduates.
Here are the students chosen to speak on behalf of their fellow graduates:
Carlisle Dejulius, biomedical engineering, summa cum laude, Friday, May 11, 7 p.m.
Blaire D. Gray-Harrision, social work, Saturday, May 12, 10 a.m.
Lisa Lewicki, Doctor of Audiology, Saturday, May 12, 2 p.m.
Bridget Sciscento, history, summa cum laude, Saturday, May 12, 6 p.m.
Sarah Lucas, double major in marketing management and integrated marketing communications, summa cum laude, Sunday, May 13, 10 a.m.
Zachary Michel, double major AYA Social Studies and history, Sunday, May 13, 2 p.m.
More details are available on the Graduation website online and the School of Law website.
---
Media contact: Alex Knisely, 330-972-7429 or aknisely@uakron.edu.