School of Law trial team finishes second in national competition
04/30/2018

For the fourth time in the last five years, UA's mock trial team has earned a spot in the championship.

The mock trial team representing the The University of Akron School of Law has finished second in the national Student Trial Advocacy Competition (STAC), held April 12-15 in Raleigh, N.C.

Coached by School of Law alumnus Kevin Kita, team members Jeananne Ayoub, Cassandra Rosa, Rachel Coles and Logan Bryant "proved, once again, that Akron Law is among the best of the best trial advocacy schools in the country," says C.J. Peters, dean of the School of Law.

"Akron has long enjoyed a national reputation for training first-rate trial lawyers," he continues. "Our student trial team is part of a comprehensive advocacy training program that includes beginning and advanced trial advocacy courses, a litigation certificate and our innovative Summer Trial Academy."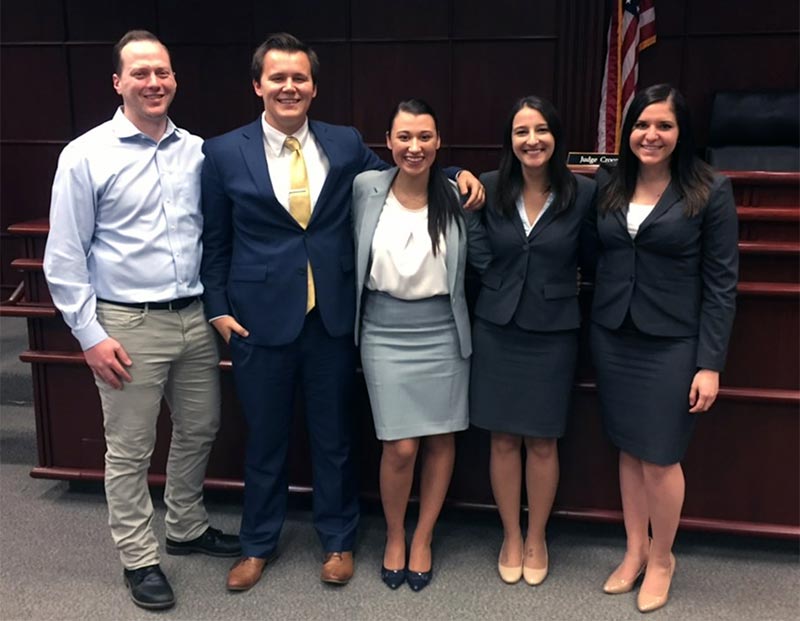 Akron Law's team finished second at the national American Association for Justice Student Trial Advocacy Competition. Pictured, from left, are coach Kevin Kita '11; students Logan Bryant, Cassandra Rosa, Jeananne Ayoub and Rachel Coles.
STAC, organized by the American Association for Justice (AAJ), is one of the largest and most prestigious national mock trial competitions, comprising 224 teams and roughly 900 students from every major law school.
In March, the Akron Law team swept through the regional competition with a perfect record. The UA students bested advocates from Duquesne, The University of Michigan, Cleveland State University and Michigan State University, earning one of only 14 invites to the National Championships.
Strong presence in competition
There, the team members kept the momentum going by sweeping opening rounds against Stetson University and Washington University, 3-0, before splitting a round with the top seeded University of Maryland team and punching their ticket to the quarterfinals. Impressive wins against the top advocates from Syracuse University and a revenge match against Maryland in the elimination rounds earned them a spot in the National Championship, where UA lost against The University of California, Hastings College of Law.
"Trial team teaches us how to both win and lose a trial with dignity," Bryant observes. "I think one of the most important things I've learned that will help me advance my career goals is that sometimes, if you lose, there is just nothing you could have done better to win."
This is the fourth time in the last five years that UA competed in the National Championships, and it's the team's best finish since 2014. UA will compete in the Tournament of Champions next fall – an exclusive tournament open to only the top trial programs in the country.
"Getting this recognition, not only for the trial team but also for Akron Law, shows what we all know — that we can compete with the best because we are one of the best," notes Ayoub.
"We're in the top eight students out of 896 future litigators in the country," Bryant adds. "That's just mind blowing to me, and I hope to continue to perform at this level."
Alumni give back
"None of this would have been possible without the hard work and dedication of Kevin Kita and the other trial team coaches," says Rosa. "The time and dedication they put into this program is not lost on any student who has an opportunity work with and learn from them."
The experience has been critical to developing the skills needed to become an effective trial lawyer. "Nothing has prepared me for being a real attorney more than trial team," Cole remarks. Ayoub credits her experience on the team in helping her get a job.
"I'm so proud of these trial team students and so grateful to their coaches," Peters says, pointing out that the coaches are often alumni who give up their weekends, without compensation, to train the students. "Their success highlights two of Akron Law's greatest strengths — our incredibly talented and hard-working student body, and our dedicated and loyal alumni."
---
Media contact: Lisa Craig, 330-972-7429 or lmc91@uakron.edu.