Engineering Co-Op and Placement Program connects students and grads to their dream jobs
06/06/2020

When Linsey Grzeschik walked into the Engineering Co-op and Placement Office her sophomore year of college, she had no idea what industry she wanted to work in. As a corrosion engineering major, she knew what she liked: problem solving, innovating, and not being chained to a desk. After speaking to one of the co-op coordinators about the possibility of working in the oil and gas refining industry, she never looked back.
"What truly made the experience for me, was the amount of data the office collects from past students, including personal reflections of the students' co-op experiences," says Grzeschik. "It was comforting to read their stories about living somewhere new, and the different types of places they worked."
The co-op office put Linsey in touch with BP Fuels North America, where Linsey ended up accepting a co-op position. After graduation, she took a different job with BP as a reliability engineer at the Cherry Point Refinery in Blaine, Washington, just south of the Canadian border. In her role, she analyzes refinery data and recommends improvements that could help the refinery operate more safely and reliably.
"I never would have had the courage to move 3,000 miles from home on my own, let alone get the connections to make it an option if it wasn't for the co-op office," says Grzeschik.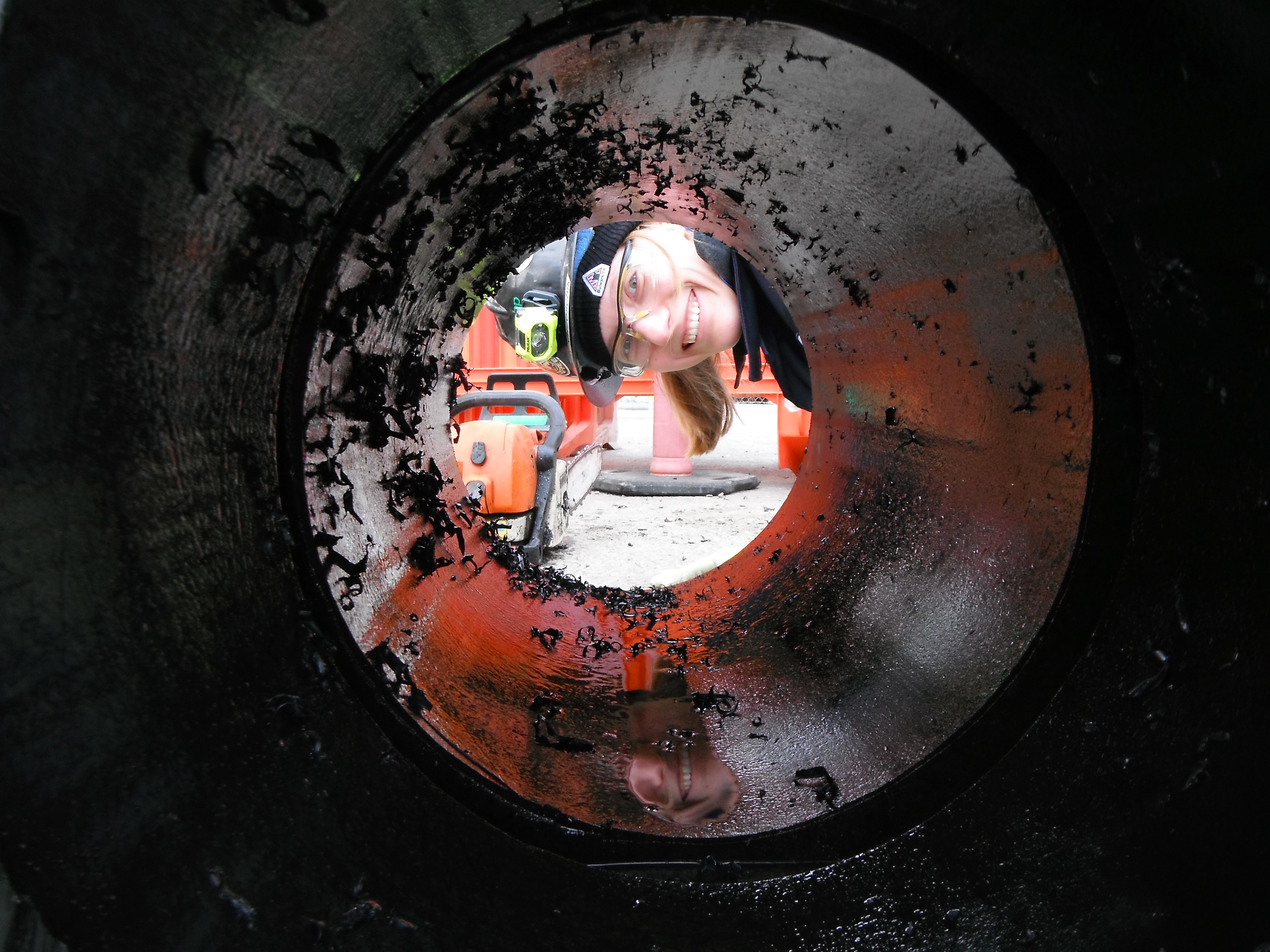 Linsey Grzeschik is pictured at a BP job site. Linsey is a graduate of UA's corrosion engineering program.
Gaining experience while in school
The co-op and placement program connects students with paid, flexible, industry experience while they are in school. Students who participate in the program (as it is not mandatory – but strongly recommended) complete their first five semesters of study in the classroom and then alternate a semester of paid employment with a semester of classroom study until their senior year. A team of full-time placement coordinators meet with students to find them the position that is right for them, nurture industry connections through in-person meetings and events, and regularly share student resumes with prospective employers. Students learn resume writing and interview skills and meet with prospective employers at engineering career fairs twice a year.
During the 2018-2019 academic year, the office placed students in a total of 1,016 different co-op positions for fall, spring, and summer. There is a demand for students in all engineering majors – aerospace systems, biomedical, chemical, civil, corrosion, and mechanical engineering.
Many students are drawn to working out of state, and the co-op office regularly place students with co-ops across the country at companies like Newport News Shipbuilding (VA), Colonial Pipeline and Halyard Health (GA), Aerojet Rocketdyne (CA), and Crowder Construction Company (NC). Fortune 500 companies including Marathon, Parker Hannifin, and Goodyear Tire & Rubber Company, to smaller, family owned businesses, are in the department's vast database.
Full-time placement services
The team in the co-op office also work with seniors to place them in permanent, full-time positions when they graduate. Not all seniors participate in the placement program, as many choose to pursue full-time employment with their co-op employers, apply for positions at companies not in the co-op database, or go on to graduate school.
Harrison Lewis, May 2020 graduate with a B.S. in Aerospace Systems Engineering, developed a strong working relationship with the co-op office when they helped him secure co-op positions earlier on in his college career. With graduation looming, he relied on the office's relationships with employers to connect him to open positions. He was looking for an engineering role in the aerospace industry and was excited about the idea of moving out of state. He applied for over 200 positions on his own and wasn't having any luck getting a response, so he approached the co-op office for help.
Harrision Lewis, recent graduate of UA's aerospace systems engineering program, standing in the lobby of UA's Auburn Science and Engineerng Research Center.
Within two weeks of emailing his resume to the contacts the co-op office gave him, Harrison received multiple interviews which led to two job offers – one at Lockheed Martin, his dream company. He accepted the offer. Soon, Harrison will be moving to Alexandria, Virginia to work in Lockheed Martin's Space Division as a systems engineer.
"I wish I could say more about what I am doing there, but it's top secret," says Lewis, laughing. "I will say I am super excited about it."
---
Related content: