Creativity of student artists shines at ADDY Awards
03/05/2017

NOW ENTERING its third decade, Design x Nine, the in-house student design team in the University's Myers School of Art, continues its award-winning ways.

At this year's Akron ADDY Awards on Feb. 24, the team received a Silver ADDY in the professional category for its video titled "My Myers," created as part of the school's recruitment efforts. The Akron Chapter of the American Advertising Federation sponsored the event at the Akron Civic Theatre.

Design x Nine is under the instruction of co-creative directors Janice Troutman and John Morrison. It is a career-focused studio within the Myers School of Art that offers graphic design students extensive learning experiences and engagement with real-world clients — on and off the UA campus.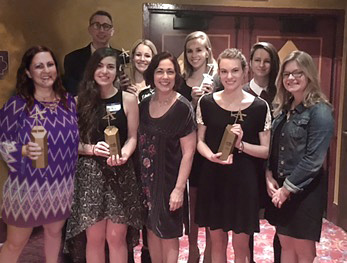 ADDY Award recipients, back row from left: Eric Bueno, Megan Steele, Sarah Wagner and Melinda Lastyak. Front row: CheTawni Miller, Mikayla Murnane-Donaldson, Janice Troutman, director of the Myers School of Art, Caitlin Kane and Hailey Altman.
In addition, five graphic design students and a faculty member received a total of nine other ADDYS for their creative efforts.
The student honorees are:
Megan Steele, who received best of student show for the second year in a row, earned a gold and two silver ADDYS.
CheTawni Miller, one gold ADDY.
Mikayla Murnane-Donaldson, one gold ADDY.
Caitlin Kane, one gold ADDY.
Sarah Wagner, one silver ADDY
Robert Kelemen, associate professor of instruction in graphic design, was awarded two ADDYS — one gold and one silver.
Honoring excellence in advertising
The ADDY Awards are the advertising industry's largest and most prominent annual competition, and more than 40,000 entries are submitted every year. The goal is to honor those who show excellence in advertising. Competitors must make it through three tiers of judging to be considered a national champion.
Related
Cross-discipline approach serves art students well
"We're committed to being a fully integrated art and design school. Not all schools are," says Janice Troutman, director of the Myers School of Art. "We have more and more faculty who are not single area — they are cross discipline." Full story.