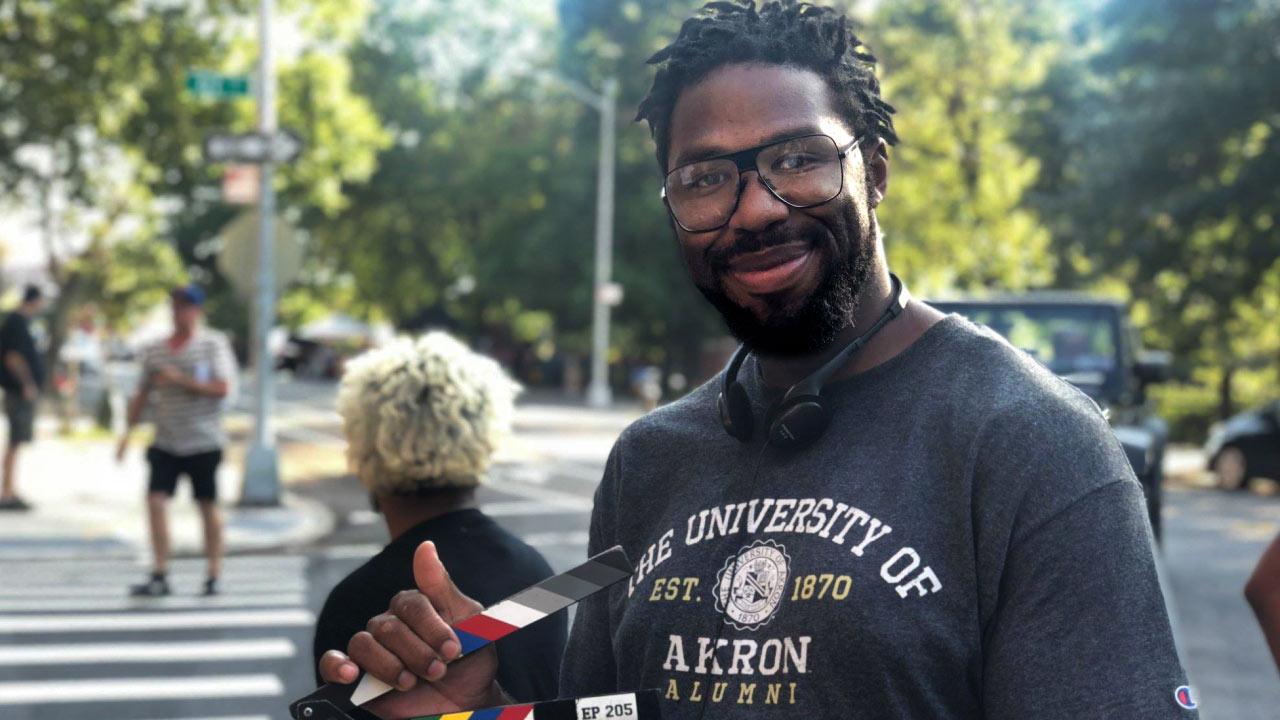 Matthew Cherry, whose animated short film "Hair Love" was nominated for an Academy Award.
Alumnus Matthew A. Cherry (2000-03), a former NFL wide receiver who has gone on to a career in film, has earned an Academy Award nomination, the Academy of Motion Picture Arts and Sciences announced Monday morning.
Cherry's nod is for his animated short film "Hair Love," one of five nominees in the animated short film category. It tells the heartfelt story of an African-American father learning to do his daughter's hair for the first time.
The Chicago native studied mass media, radio and television here at UA, and was a second-team All-Mid-American Conference selection at wide receiver in 2003. Cherry still holds two punt return records at Akron. His 305 punt return yards are the most for a season (2003), while his two punt return touchdowns are tied for the most in a season (2003). The Zips' team captain was a two-time recipient of the team's Harry "Doc" Smith Award. Following his senior season, he participated in the Las Vegas Classic.
Following his time at UA, Cherry played three seasons in the NFL – Jacksonville Jaguars (2004), Cincinnati Bengals (2005) and Carolina Panthers (2006). He retired from the Baltimore Ravens in 2007.
Behind the camera
After football, Cherry put his studies at UA to use by embarking on a career behind the camera — writing, directing and producing. His early credits included music videos and he has gone on to work on a variety of projects, including the film "BlacKkKlansman" as well as the television shows "Black-ish," "The Last O.G." and "Whiskey Cavalier."
"Hair Love" was funded through a 2017 Kickstarter campaign. Cherry wrote and directed the short with co-director Bruce Smith.
A children's picture book by the same name that was written by Cherry and illustrated by Vashiti Harrison was nominated earlier this month for an NAACP Image Award for Outstanding Literary Work in the Children's category.
The Academy Award nomination has led to "a feeling of joy and a lot of sort of vindication, too," Cherry said in an interview with George Thomas in the Jan. 14 edition of the Akron Beacon Journal. "People kind of feel like athletes can only do one thing. It really felt great to have arrived in a medium that wasn't sports."
And he's looking forward to telling more stories.
"Media is at its most powerful when someone who's not as familiar with a certain slice of life [can] experience that in a dark theatre and come out of it on the end feeling like they can relate to that other person's experiences more," Cherry noted in the interview.
The 92nd Academy Awards ceremony will be televised live on ABC-TV on Sunday, Feb. 9, at 6:30 p.m. ET at the Dolby Theatre in Los Angeles.
---
#HairLove is Oscar nominated!!!!!!!!!! pic.twitter.com/so8NEnrmDr

— Matthew A. Cherry (@MatthewACherry) January 13, 2020
---
Congrats to UA alumnus and former football star @MatthewACherry! His animated short film "Hair Love" has been nominated for an Academy Award. #GoZips #ForeverAZip https://t.co/854DOxQ6Nt

— The University of Akron (@uakron) January 14, 2020
---
.@MatthewACherry on #Oscars, says #HairLove "allowed us to tackle the negative societal stereotypes around natural hair & black fathers, & to normalize the depiction of a loving black family that we know so well & yet have seen so little of in media" https://t.co/dDPiB3KxAg pic.twitter.com/abWqUuwue6

— Variety (@Variety) January 13, 2020
---
Related: