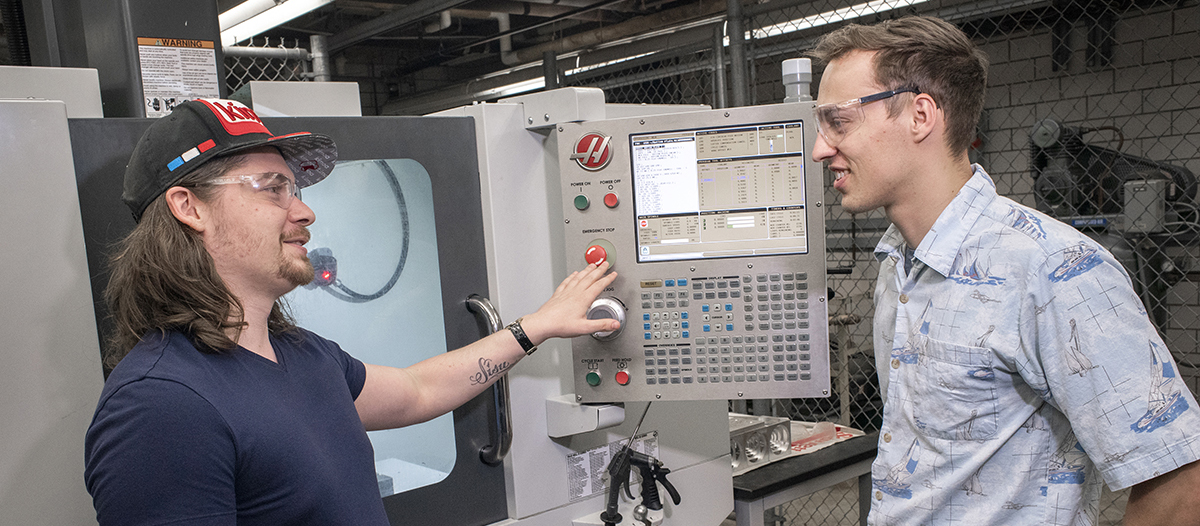 Manufacturing Graduate Certificate Program
The 15-credit Manufacturing Graduate Certificate Program provides engineering and engineering technology professionals an opportunity to extend and update their knowledge in the area of manufacturing.
This program is designed for people who cannot make the commitment to a full graduate degree program but would like to receive recognition for their expanded knowledge in this area of study.
---
ADMISSION REQUIREMENTS
This certificate is designed primarily for industry employees with a Bachelor of Science in Mechanical Engineering, Mechanical Engineering Technology, Aerospace Systems Engineering, Electrical Engineering, or a closely related field. Review application criteria on The Graduate School website.
BENEFITS
Students will explore recent technological innovations in manufacturing and develop specialized skills to boost their overall expertise.
Upon completion of this program, graduates will have filled gaps in their skillset in manufacturing areas of their choosing.
Certificate credits will apply to a future graduate program, where only three more classes are needed to receive a M.S. in Mechanical Engineering.
Online and evening courses available to fit in with your schedule.
APPLICATION DEADLINE
Applications are accepted on a rolling basis. Apply through The Graduate School website and specify that you are applying for the certificate program.
TUITION
Graduate program tuition rates apply. Check out costs.
The Ohio TechCred Program provides funds for local companies to send their employees to an Ohio institution to acquire skills/upskilling/reskilling in the field of manufacturing. Learn more.
PROGRAM OF STUDY
Students in this program will earn a Manufacturing Certificate after completing a total of 5 of the following courses – 15 total credits. Companies can consult with Directors of this certificate program (Dr. Siamak Farhad and Dr. Gopal Nadkarni) for selection of courses for specific/targeted manufacturing purposes/applications.
Courses (choose 5)
3D Printing & Additive Manufacturing (3-credit)
Computer Aided Design & Manufacturing (CAD/CAM) (3-credit)
Fundamentals and Applications of Micro Electromechanical Systems (3-credit)
Advanced Materials and Manufacturing Processes (3-credit)
Deformation and Failure of Polymers and Soft Materials (3-credit)
Fundamentals of Composite Manufacturing and Mechanics (3-credit)
Materials for Extreme Environments (3-credit)
Analysis of Manufacturing Systems (3-credit)
Six Sigma (3-credit)
Failure Analysis of Mechanical Systems (3-credit)
Analysis of a Mechanical Component (3-credit)
Manufacturing Processes, Materials & Design (3-credit)
Materials Selection & Design (3-credit)
Special Topics in Manufacturing Engineering (3-credit)
---
CONTACT INFORMATION
Dr. Siamak Farhad
Associate Professor
Mechanical Engineering Department
Interim Director – Center for Precision Manufacturing (CPM)
Co-Director, Manufacturing Certificate Program
Phone: 330-972-7469
Email: sfarhad@uakron.edu
Dr. Gopal Nadkarni
Associate Professor
Mechanical Engineering Department
Co-Director, Manufacturing Certificate Program
Phone: 330-972-7348
Email: gnadkarni1@uakron.edu