3D Printing Lab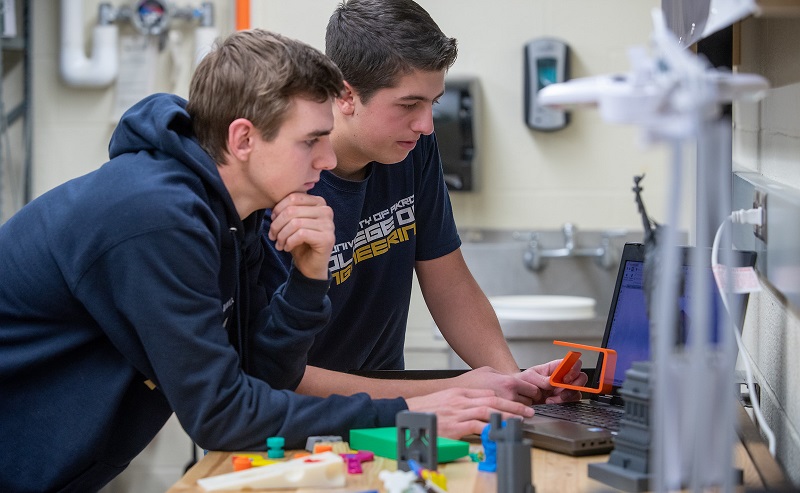 The 3D Printing Lab brings engineering designs to life. Home to 14 printers, almost all have the ability to run unattended, running and producing parts 24 hours a day.
---
Students learn:
How 3D printing works and the principles behind the technology, including as heating and layering
The different types of 3D printing such as Fused Deposition Modeling (FDM) and UV Resin technologies
The advantages this technology brings to engineering design, including speed and ease at which 3D parts can be made
How to test new design concepts by producing a quick 3D prototype
The value of being able to produce parts with the highest level of precision, which is critical for school projects and design team materials
LOCATION AND HOURS
Auburn Science and Engineering Center, Room #19
8 a.m.-5 p.m.
Revolutionary technology
The lab uses FDM and UV resin technologies, which allow for precise and smooth printed models. Printers use a range of material such as PLA, ABS, nylon, and polycarbonate. A rainbow of colors, including clear, is available to students. Many consider this lab to be the City of Akron's most advanced 3D print lab, and it is available right here on campus for students to use!
Unlimited possibilities
From airplane parts to biomedical tubes, all UA engineering programs have at one point or another relied on the technology available in the 3D printing lab. Past projects include a miniature Statue of Liberty and Eiffel Tower, rocket fuselages and drone parts for the Akronauts Rocket Team, intake manifolds, steering wheels, and paddle shifts for the Formula Combustion Team, and a flexible ice mold for a research lab.