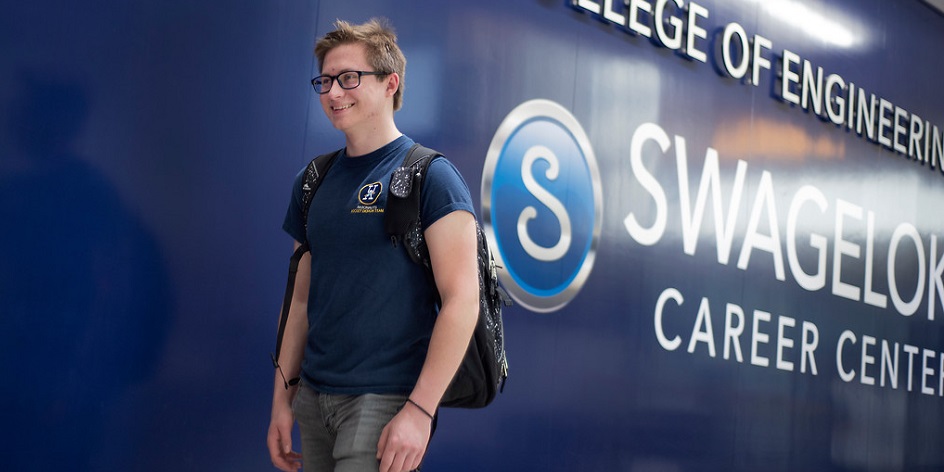 THE CO-OP CERTIFICATE PROGRAM
WHAT IS CO-OP?
The Co-op and Placement Program provides paid industry experience to undergraduate students in the College of Engineering and Polymer Science.
You will get a feel for working in the industry and have the opportunity to narrow down the type of job you are most interested in with multiple co-op rotations. This will improve your technical and "real world" skills like communication, leadership, and presentation skills, which employers look for in new hires.
Note: The Co-op and Placement Program is not mandatory for all undergraduate students with the exception of students in the Aerospace Systems Engineering program.
WHY CO-OP?
At the end of approximately five years, with a co-op, you are ahead of students who do not choose to co-op because you will have accumulated 12+ months of work experience in your area of professional interest. Also in many cases, you will have already earned seniority, retirement benefits, vacation, and other perks.
The College now offers a Certificate in Cooperative Education after completing your three co-op rotations (not counting possible summer), in addition to your diploma, and is issued at the time of graduation. Earning a certificate offers a more comprehensive and tangible representation of your accomplishment. It adds credibility, specialization, and recognition to your educational achievements, which can greatly benefit your career prospects.
ua engineering students who complete three or more co-op rotations earn about $9,000 more in their starting salaries than those without co-ops.
Benefits:
Learn new things alongside industry professionals.
Gain relevant engineering work experience to boost skills and be attractive to potential employers.
Offset the cost of your education by making extra income.
Eliminate what isn't great. Now is the time to figure out your engineering strengths and interests.
Get connected. Making industry connections while in school will make securing full-time employment much easier.
CO-OP SCHEDULE
We recommend that you complete your first five semesters of study in the classroom and then alternate a semester of paid employment with a semester of classroom study until your senior year (see chart below). In order to receive the Certificate in Cooperative Education, students must complete three rotations of co-op, not including possible summer.
While on co-op you do not attend classes but for the purpose of registering at UA, you are considered a full-time student even though the co-op "class" is credit/no credit.
SAMPLE CLASS AND CO-OP SCHEDULE

FALL
SPRING
SUMMER
1st year
Classes
Classes
Vacation/Classes
2nd year
Classes
Classes
Possible Co-op*, Vacation/Classes
3rd year
Classes
Co-op I**
Classes
4th year
Co-op II**
Classes
Co-op III**
5th year
Classes
Classes
*Does not count towards the Certificate in Cooperative Education
**Required to earn the Certificate in Cooperative Education
Between co-op assignments
On return to campus following each rotation, you will meet with our office to discuss your recent co-op experience. A grade of "credit" is then assigned for the past work period, and it is recorded on your permanent record in the Office of the Registrar.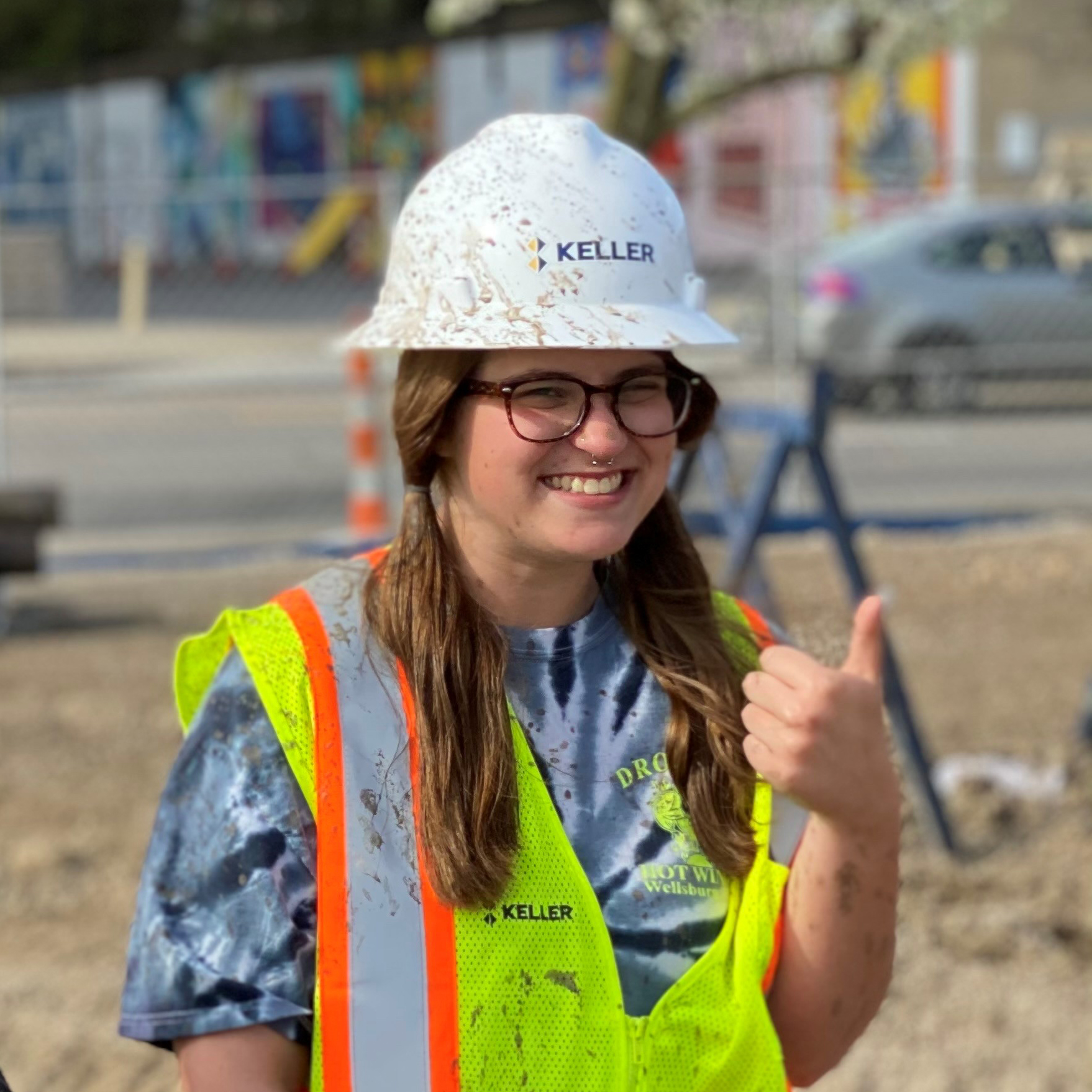 "I did all my co-op rotations with Keller North America. I already have a job offer from Keller and I still have my senior year left. Co-op has taken away the stress of finding a job during my senior year so I can focus on my schoolwork."
— Chrissy Carlson
civil engineering student
WE ARE ALWAYS HERE TO HELP
Requirements & Details
If a you decide to co-op, you will have an incredibly rewarding experience while building a resume that makes you stand out to prospective employers. The process is straightforward, and we help at every step.
Eligibility requirements:
GPA must be at least 2.3 or higher depending on your major
On-schedule in your major
How to get a co-op:
Attend co-op orientation. Contact us for the most recent schedule.
Schedule a one-on-one meeting with the co-op office where you will be asked about career goals and what type of position you're looking for.
After the co-op position is official, you must register for the zero-credit co-op course.
Cost: The registration fee to participate in the co-op program is $125 per semester.


HOW WE WORK TOGETHER

YOUR RESPONSIBILITY
CO-OP OFFICE RESPONSIBILITY
Meet with the Co-op and Placement Office
Plan a projected schedule of co-op rotations and classes to determine your approximate date of graduation
Think about your career objectives and the types of positions that interests you
Guide you to make informed decisions about the types of positions to pursue
Attend and participate in sponsored workshops
Host and promote sponsored workshops
Register and attend at least one Career Fair each year
Provide two Career Fairs each year for students to meet and network with employers
Update your resume
Provide suggestions to improve your resume and refer resume to co-op employers
Show up on time to interviews
Coordinate interviews with employers
Consult with Co-op and Placement Office during interviewing and offer process
Help you complete the job acceptance process
Respond to inquiries from Co-op and Placement Office in timely manner
Respond to your questions within 48 hours
Finding the right co-op
Our staff will get to know you by discussing all your options with you to determine what type of company and position is a good fit given your major and area of interest.
You can choose to co-op at the same company for multiple rotations or if you desire more experience, you can choose to work at different companies in different engineering positions.
A lot of options:
Our Co-op and Placement Office has a vast network of employers locally and nationally.
All our companies that have hired talented engineers from UA for co-op or full-time, permanent positions.
All provide opportunities to explore a range of engineering functions.
Companies include internationally known brands: J.M. Smucker Company, Sherwin Williams, and Goodyear Tire & Rubber Company, to local companies like: Swagelok, Parker Hannifin, and Pepperl + Fuchs.
On occasion, larger companies with an international presence will send you abroad for a third or fourth rotation.
Questions to consider when looking for a co-op:
Do you want to stay in the Akron area?
Are you looking to work for a large or small engineering company?
What type of work experience are you looking for?

For example, do you want to design new products or consider the effectiveness, safety and cost of new designs?
ON THE JOB
While you co-op you are a real employee and viewed as such by your employers. Your co-op position is a full-time, paid work opportunity, often making above minimum wage with an average of $20 per hour. If you complete all three rotations, you will make an average of $42,000 during your time at UA!
Tips for International Students
Please connect with The International Center to learn about student visa and work authorization requirements BEFORE obtaining a co-op or permanent position.
Contact the Co-op and Placement Office
---
Location:
Auburn Science and Engineering Center, Room 224
Office hours:
Mon - Fri, 8 a.m. to 5 p.m.