Priorities and purpose
For the latest posts, see Matt Wilson's home page.

Striking Out With Students
I had a great time bowling and visiting with students in the Student Union Feb. 24. This was one of those times when the weather worked against us by being beautiful: 77°F in Akron in February! But there was plenty of competition. I had to dole out some Starbucks cards before I warmed up, but once I got in the groove, even members of the Bowling Club couldn't stop me. I better start practicing my jump shot, soon we'll have the hoops out for one-one-one competitions.
---
Rethinking Race and Ancestry
Our annual Rethinking Race Forum had an irresistible idea: gather 30 seemingly disparate members of our campus community to participate in Ancestry.com's DNA test to learn about their respective backgrounds and often surprising commonalities. Participants were asked beforehand to tell us what they expected to learn, and were filmed as they got the results. I was happy to participate, and also took the opportunity to demonstrate something we all shared in common: Zip pride! Watch the video below and see what we learned about ourselves and each other.
---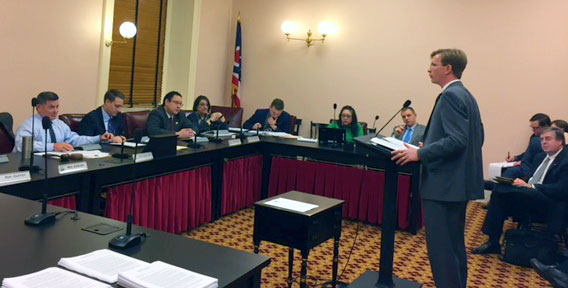 Testifying on Behalf of Higher Education
I was honored to be asked by the Inter-University Council of Ohio to testify on behalf of Ohio's regional public universities recently. On March 7, the Ohio House Finance Subcommittee on Higher Education gave me the opportunity to share my thoughts about how HB49, the proposed biennial budget bill for the State of Ohio, could affect the state's public universities. I also fielded several questions from the committee about college completion, textbook affordability and other topics.
---
UA-Vietnam Agreements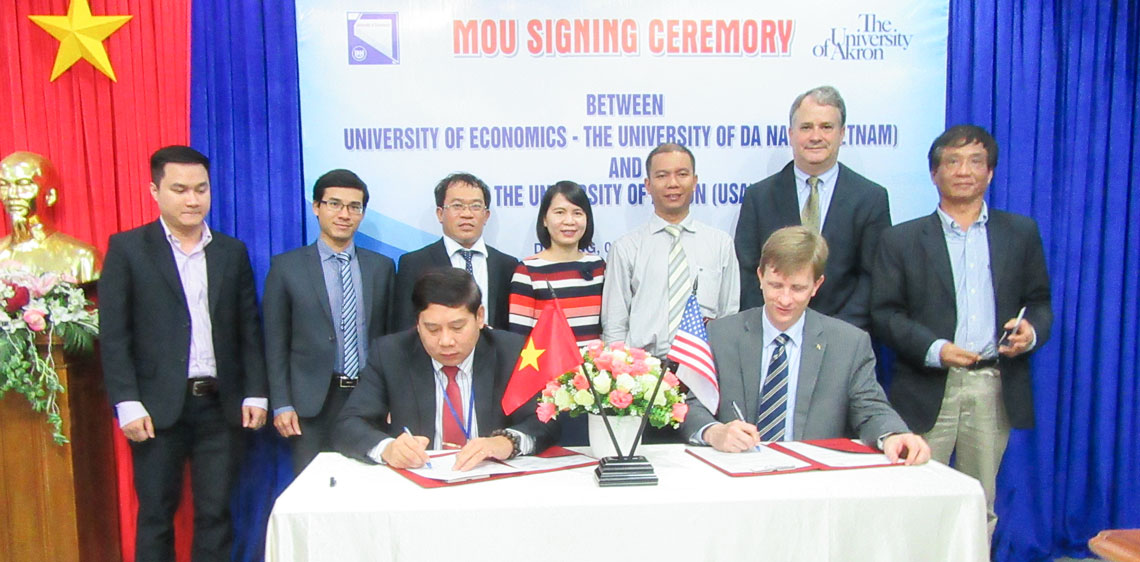 During winter break I traveled to Vietnam January 8-11 with Dr. Patrick Gaughan, School of Law, to sign memorandums of understanding with two universities in Hanoi and one in Danang. The agreements lay the foundation for future collaborative relationships between our institutions, primarily involving law, economics, business and social sciences.
Look for more announcements as UA aggressively extends its global activity in 2017.
---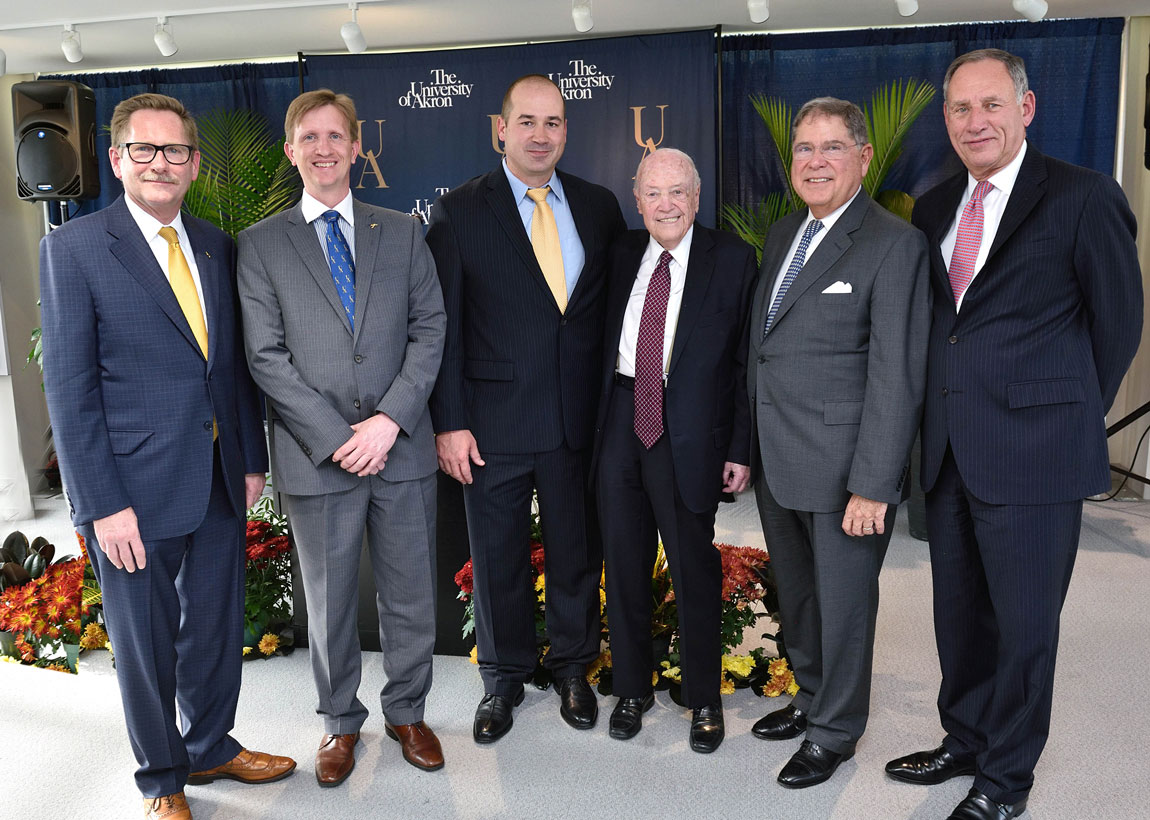 At the Nov. 1 announcement about the endowment are, from left: Eric Amis, Ph.D., dean of the College of Polymer Science and Polymer Engineering and vice provost for research; Matthew J. Wilson, president of The University of Akron; Matthew Becker, Ph.D., the first holder of the W. Gerald Austen Endowed Chair in Polymer Science and Polymer Engineering; Dr. W. Gerald Austen, cardiac and thoracic surgeon, and former trustee of the John S. and James L. Knight Foundation; Alberto Ibargüen, president of the Knight Foundation; and Dr. Delos "Toby" Cosgrove, president and chief executive at the Cleveland Clinic.
Record gift creates Austen chair in polymers
The John S. and James L. Knight Foundation funded a $3 million endowment to create the W. Gerald Austen Endowed Chair in Polymer Science and Polymer Engineering. Dr. Matt Becker, an outstanding young researcher and educator, is an excellent choice as the first holder of UA's largest endowed chair. Story and video.
---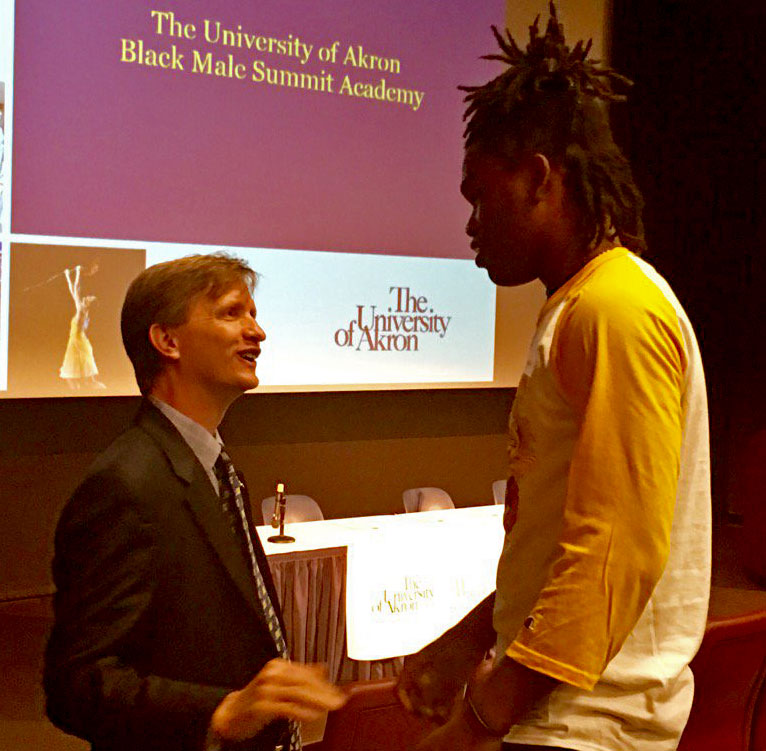 Black Male Summit Academy
Our Black Male Summit Academy launched in October, with more than 200 students from Akron, Canton and Cleveland public schools in attendance.
At the first meeting, they learned how to prepare for college, including a mock classroom session during which they learned lessons from our freshman orientation course curriculum.
We hope they will join us as students in a few years!
---

Meeting and listening to high school principals
I'm in the process of visiting as many high schools as I can in Summit and surrounding counties, meeting the principals to better understand how we may best serve their students and faculty. Above, visits to Revere, Our Lady of the Elms and East. More to come!
---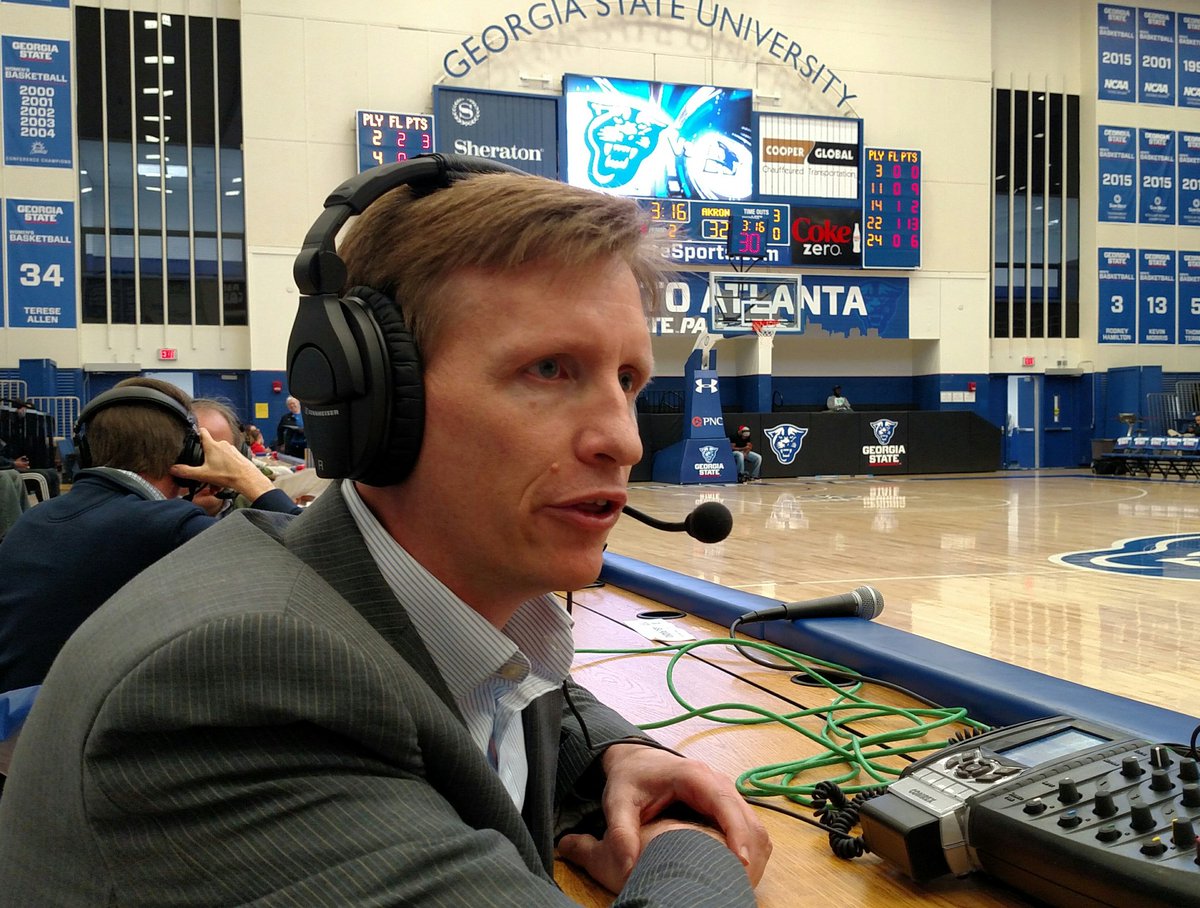 SUPPORTING THE ZIPS IN ATLANTA
I had a break during meetings with alumni and donors in Atlanta on Dec. 20, so I surprised the Zips women's basketball team by dropping by their road game at Georgia State. Bill Morgan even invited me onto his halftime radio show. Thank you, team, for a great game and road win, 78-66! Go Zips!
---

We are Zips. We are family. That's what makes us The University of Akron
On Dec. 8, I had the pleasure of presenting to our students and employees a new video that highlights the partnership between UA and the LeBron James Family Foundation, and the deep connections the Zips family has with our city.
People here care deeply about the success of our students and are determined to advance society through higher education. This video conveys their sense of pride and commitment to our mission.
I invite all UA students, alumni, friends and employees to support our efforts by taking time to think about moments that have defined your UA experience and then share those memories through social media, answering the question "What makes us The University of Akron?"
I hope you enjoy the video. Feel free to share our Facebook and Twitter posts with your online friends!
---
Clayton Murphy returns, triumphant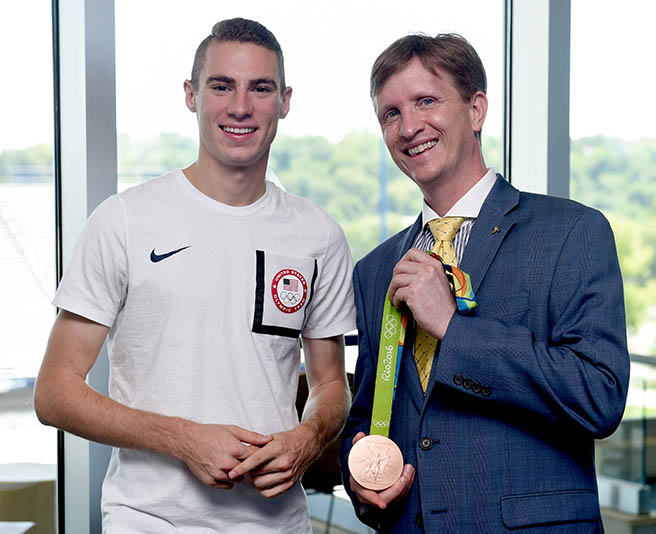 U.S. Olympic medalist and Forever Zip Clayton Murphy came back to his alma mater this week to talk about his experience of winning Olympic bronze (surprisingly heavy) in the 800-meter race at the 2016 Summer Olympics in Rio. Clayton was joined in Rio by two other Zips, pole vaulters Shawn Barber competing for Canada and Annika Roloff for Germany. Congratulations to all three!
---
Interview on ZTV
My thanks to correspondent Jade Marshall and the whole team at ZTV's "Lights. Camera. Akron." for the opportunity to discuss issues of interest to students.
---

Celebrating our graduates
Great summer graduation. Had some fun doing zelphies with summer '16 graduate Amanda Marotta (on my right), and her friends (from left) juniors Maria Fritz and Heather Daniels, and 2013 business alumna Francesca Marotta. Read my address to the graduates.
---

In the community, talking about our excellence
Thank you to my fellow Rotarians for their kind reception when I spoke at the Rotary Club of Akron's Aug. 23 meeting. Their strong spirit of service to the community is an inspiration and an example that we will follow as we expand our University's culture of service.
---