Dr. Weinan Xu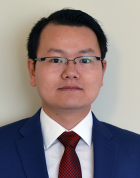 ---
Biography
Weinan Xu is currently an Assistant Professor in the School of Polymer Science and Polymer Engineering at the University of Akron. He received his Ph.D. degree in Materials Science and Engineering from Georgia Institute of Technology in 2015 and did postdoctoral research (2016-2019) at Johns Hopkins University. His current research is focused on the development of advanced hybrid materials and new 3D fabrication technologies, with applications in sensing, electronics, and energy storage.
---
Research
My group is working on interdisciplinary projects at the interface of polymer science, molecular assembly, and 3D manufacturing, with the aim to develop new materials (active polymers, 2D polymers, and 2D layered materials), and new fabrication/manufacturing technologies for biosensing, bioelectronics, soft robotics, and energy storage.
Publications
Google Scholar | ResearchGate | Ohio Innovation Exchange
Liu, S.; Kasbe, P. S.; Yang, M.; Shen, N.; Duan, L.; Mao, Y.; Xu, W. Intimately Bonded 2D Materials and Responsive Polymer Brushes for Adaptive Nanocomposites. Polymer 2020, 210,
Liu, S.; Xu, W. Engineered Living Materials-Based Sensing and Actuation. Sens. 2020, 1, 586300.
Xu, W.; Li, T.; Qin, Z.; Huang, Q.; Gao, H.; Kang, K.; Park, J.; Buehler, M. J.; Khurgin, J. B.; Gracias, D. H. Reversible MoS2 Origami with Spatially Resolved and Reconfigurable Photosensitivity. Nano Lett. 2019, 19, 7941-7949.
Xu, W.; Gracias, D. H. Soft Three-Dimensional Robots with Hard Two-Dimensional Materials. ACS Nano 2019, 13, 4883-4892.
Xu, W.; Paidi, S. K.; Qin, Z.; Huang, Q.; Pagaduan, P. V. Buehler, M. J.; Barman, I.; Gracias, D. H. Self-Folding Hybrid Graphene Skin for 3D Biosensing. Nano Lett. 2019, 19, 1409-1417.
Xu, W.; Kwok, K. S.; Gracias, D. H. Ultrathin Shape Change Smart Materials. Chem. Res. 2018, 51, 436-444.
Xu, W.; Qin, Z.; Chen, C.; Kwag, H. R.; Ma, Q.; Sarkar, A.; Buehler, M. J.; Gracias, D. H. Ultrathin Thermoresponsive Self-Folding 3D Graphene. Adv. 2017, 3, e1701084.
Xu, W.; Ledin, P. A.; Iatridi, Z.; Tsitsilianis, C.; Tsukruk, V. V. Multicompartmental Microcapsules with Orthogonal Programmable Two-way Sequencing of Hydrophobic and Hydrophilic Cargo Release. Chem. Int. Ed. 2016, 55, 4908-4913. (Featured as the frontispiece)
Xu, W.; Steinschulte, A. A.; Plamper, F. A.; Korolovych, V. F.; Tsukruk, V. V. Hierarchical Assembly of Star Polymer Polymersomes into Responsive Multicompartmental Microcapsules. Mater. 2016, 28, 975–985.
---
Education
Ph.D. in Materials Science and Engineering, Georgia Institute of Technology (2015)
B.E. in Polymer Materials and Engineering, Donghua University (2011)
---