Dr. Joseph P. Kennedy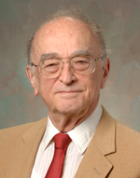 Title: Distinguished Professor of Polymer Science and Chemistry
Dept/Program: School of Polymer Science and Polymer Engineering
Office: GDYR 403
Phone: 330-972-7512
Fax: 330-972-5290
Email: josep19@uakron.edu

---
Biography
Joseph P. Kennedy has had a long and accomplished career as a researcher, scientist, educator, and inventor, both in industry and academia. Additionally, he is active in commercialization of his research, the most notable example being the invention of the polystyrene - polyisobutylenepolystyrene thermoplastic elastomer (SIBS). SIBS is the biocompatible polymer used by Boston Scientific as the coating on the world's most popular drugeluting cardiovascular stent, which has been implanted in over 6 million patients worldwide.
Kennedy is the author of 4 scientific books, author of well over 700 original scientific publications and inventor of more than 130 issued U.S. patents on various aspects of polymer science and technology. He is the founding coeditor of Polymer Bulletin, and is on the editorial boards of numerous polymer journals. He is the recipient of many prestigious national and international awards including the two top international polymer awards, Polymer Chemistry and Applied Polymer Science, of the American Chemical Society; the Goodyer Medal and Award; the NorTech Award, etc. He received honorary doctorates of The University of Akron and Kossuth University, Hungary. His 5th book "How to Invent and Protect Your Inventions; A Guide to Patents for Scientists and Engineers" (Wiley publishers, 2012) is the text for a graduate course he is teaching.
---
Research
Kennedy's current research concerns the synthesis of novel biomaterials based on his seminal invention of the carbocationic polymerization of isobutylene. SIBS is the most commercially-advanced isobutylene-based thermoplastic elastomer, a most biostable material with physical properties intermediate between silicone rubber and polyurethane. In March 2004, the U.S. Food and Drug Administration approved the use of the SIBS polymer as a drug-delivery coating for coronary stents, citing its excellent processibility, durability, biocompatibility, and drug-delivery profile. More recently, he has extended this work to telechelic PIB-diols which can be used to synthesize biostable polyurethanes and polyureas with unprecedented hydrolytic, oxidative, and enzymatic stability and have been shown to withstand the hostile, corrosive biochemical environment in the human body. Other PIB molecular architectures of interest include designed copolymers of acrylamide/siloxane and or isobutylene for a bioartificial pancreas membrane, an acrylate- based PIB for toughened bone cements, and a cyanoacrylate-tipped PIB for wound closure adhesives and tissue sealants.
Publications
---
Education
1961 M.B.A., Rutgers University, NJ
1954 Ph. D., Biochemistry, University of Vienna, Austria
1948 B. Sc., Chemistry, University of Budapest, Hungary
---