Dr. Chunming Liu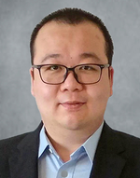 Title: Assistant Professor of Polymer Science & Chemistry
Dept/Program: School of Polymer Science and Polymer Engineering
Office: GDYR 920
Phone: 330-972-6146
Fax: 330-972-5290
Email: chunmingliu@uakron.edu
Website: https://www.cliuakron.com/

---
Biography
Dr. Chunming Liu is a physical and analytical chemist with his primary research interest in studying polymer chemistry and physics at single-molecule level. Before joining the University of Akron, Dr. Liu worked as a research associate with Prof. Peng Chen at Cornell University, where he achieved the first real-time visualization of single polymer chain growth and built expertise on magnetic tweezers and single-molecule fluorescence microscopy. Dr. Liu obtained his PhD in analytical chemistry with Prof. Paul S. Cremer at Texas A&M University, specialized on the development of membrane protein separation method and label-free biosensors based on supported lipid bilayers.
---
Research
Synthetic polymers are usually heterogeneous systems composed of molecules with different molecular weight and chemical structure. The polydispersity of polymer molecules, which influences both the processing and the performance of polymer materials, is intrinsically generated from the heterogeneity in polymerization kinetics among individual polymer molecules during the synthesis process.
Dr. Liu's research will be focused on the studies of polymerization reactions and polymer physical properties using single-molecule techniques, aiming to explore the origin of the heterogeneity in polymerization kinetics and establish the structure-property relationship of polymer materials on molecular level.
The research topics include, but not limited to:
Single polymer growth
Single-chain physical properties
Inter-chain interactions
Polymer-surface interactions
Publications
Google Scholar | Ohio Innovation Exchange
X. Mao,

C. Liu

, M. Hesari, N. Zou, P. Chen*. "Super-resolution imaging of nonfluorescent reactions via competition". Nature Chem., 2019, 11, 687-694.
News highlight: "Extending fluorescence microscopy to nonfluorescent reactions," Chem. Eng. News, July 12, 2019.

C. Liu

; K. Kubo; E. Wang; K.-S. Han; F. Yang; G. Chen; F. A. Escobedo; G. W. Coates; P. Chen*. "Single Polymer Growth Dynamics". Science, 2017, 358, 352-355.
News highlights: "Research of the Year" Chem. Eng. News, 2017, 95(49), 27.

C. Liu

; D. Huang; T. Yang; P. S. Cremer*. "Simultaneous Detection of Multiple Proteins that Bind to the Identical Ligand in Supported Lipid Bilayers". Anal. Chem., 2015,87, 7163–7170

C. Liu

; D. Huang; T. Yang; P. S. Cremer*. "Monitoring of Phosphatidic Acid Formation in Intact Phosphatidylcholine Bilayers upon Phospholipase D Catalysis". Anal. Chem., 2014,86, 1753-1759

C. Liu

; C. F. Monson; H. Pace; T. Yang; P. S. Cremer*. "Protein Separation by Electrophoretic-Electroosmotic Focusing on Supported Lipid Bilayers". Anal. Chem., 2011, 83, 7876–7880
News highlight: "New Method Isolates Membrane Proteins", Chem. Eng. News, Oct. 6, 2011
---
Education
Ph.D., Chemistry, Texas A&M University, 2012
B.S., Chemistry, Nanjing University, 2007
---