Youngsters get down to business during B-STEM program at East Community Learning Center
02/15/2023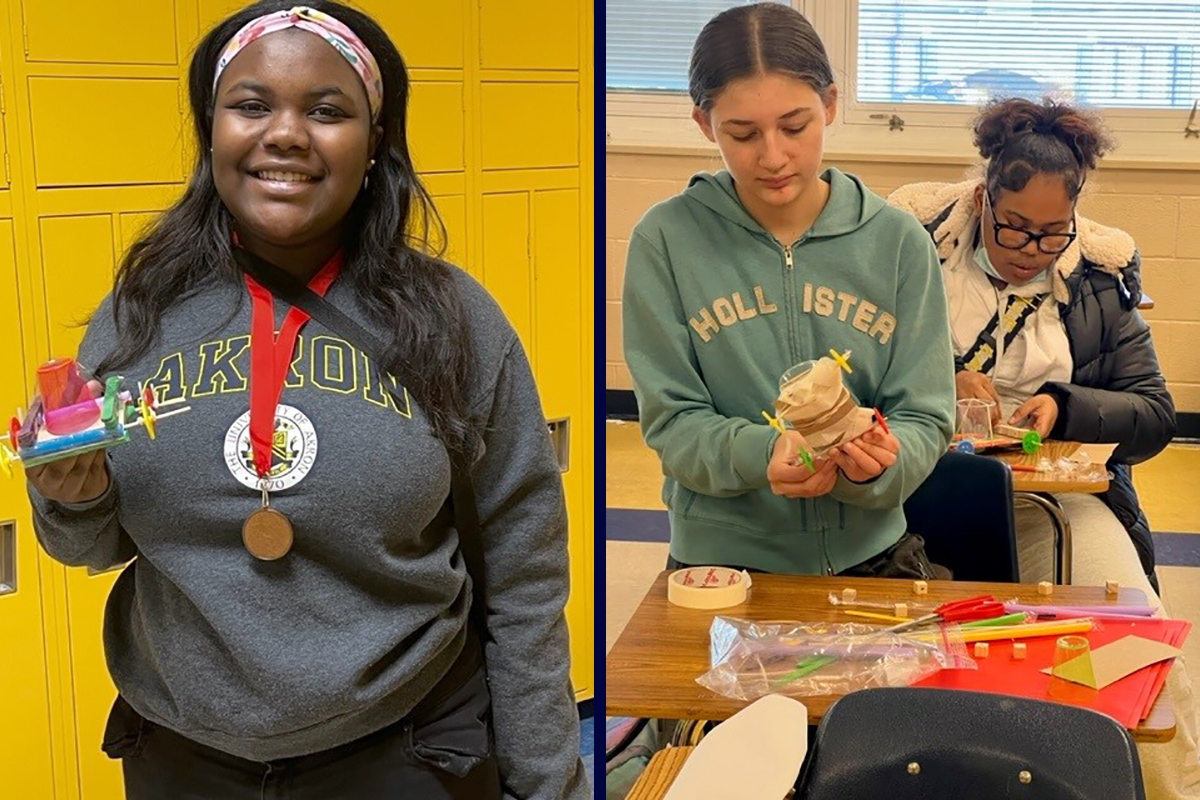 Curious students from East Community Learning Center in the Akron Public Schools District built small cars, programmed a robotic snake and learned about business plans, among other things, during weekly activities focused on the intersection of business and science, technology, engineering and mathematics, commonly known as STEM.
It was all part of The University of Akron's (UA) free five-week B-STEM program where seventh and eighth grade students participated in hourly innovative activities on Wednesdays from Jan. 18 to Feb. 15.
At the start, participants had an introduction to the engineering design process and business topics. Then during the week, they built a crash test dummy car, built a circuit with UA's NASA Mining Robotics Team and learned how to program a robotic snake. They even got to tour the student design center, the 3D printing lab and the senior design display room in College of Engineering and Polymer Science.
"Experiences and activities like these can help to enhance the interest in STEM topics among younger students," said Dr. Craig Menzemer, dean of the College. "Through fun hands-on activities, we can present the fundamentals of science, technology, engineering and mathematics; we can engage with these students and offer them a glimpse into not only academics, but college life as well."
Students who attended any of the workshops will have the opportunity to attend a culminating on-campus party on Feb. 22, which includes lunch, a campus tour and awards ceremony.
The events were organized and facilitated through interdisciplinary collaboration and partnerships with Akron Public Schools. The program was led by Ava Pavkov, a graduate student in the LeBron James Family Foundation School of Education; Dr. Henry Astley, associate professor of biology; the NASA Mining Robotics Design Team and the College of Engineering and Polymer Science. William Casterlow, a Middle School Academy Coach at East Community Learning Center, recruited students, guided workshops and provided on-site management.
The B-STEM program is offered through a generous donation from Mr. and Mrs. Raymond and Sylvia Lee. Raymond Lee is a 1975 graduate of East High School and graduated from UA in 1979 with a Bachelor of Science in Accounting. He is a member of The University of Akron Foundation board of directors and serves on its Investment Committee and Executive Committee. He is a former member of the College of Business Advancement Council. He earned the Dr. Frank L. Simonetti Distinguished Business Alumni Award in 2010 and the Beta Alpha Psi Outstanding Alumnus Award in 2003. Raymond's wife, Sylvia Lee, is a graduate of UA, having earned a Bachelor of Science in Business Administration in 1980 and a Bachelor of Arts in Interior Design in 2009. They have three children.
---
RELATED CONTENT:
---
Story by Alex Knisely.
Media contact: Cristine Boyd, 330-972-6476 or cboyd@uakron.edu.
Share