Sealing the deal: Williams Honors Scholar finds passion in sales engineering
01/13/2021
Before his first day at The University of Akron (UA), Joey Esker wondered whether he would find kindred spirits and feel at home.
"The one thing that most worried me was, 'Are there people here for me? Will I find a place where I belong?'" he said.
When he walked into the Honors Complex of the Drs. Gary B. and Pamela S. Williams Honors College, those fears were quickly put to rest.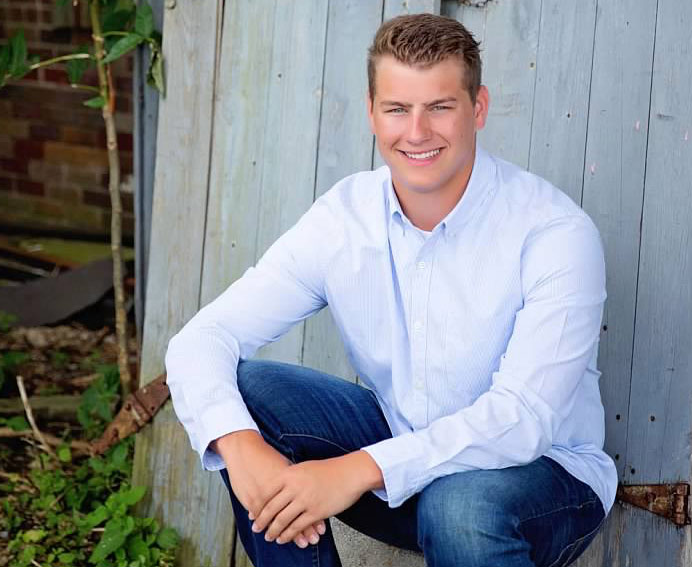 Joey Esker: "When you walk into the Honors College, you can feel the energy of all the students."
"When you walk into the Honors College, you can feel the energy of all the students," said Esker, currently a third-year mechanical engineering major. "It's just a really great community. If you're a hard worker, and love meeting new people, the Honors College is a great place for you. I've really felt at home and welcomed here."
Esker, a graduate of Highland High School in Medina, Ohio, discovered in the Honors College — and especially among his fellow Emerging Leaders — a community of peers who share his intellectual curiosity and strong work ethic.
"What I really like about the Emerging Leaders program is that we got to move into campus 10 days earlier than everyone else and participate in leadership activities," he said. "What's best about the program, though, is simply the people in it — all of them sharing the same goal of being leaders and doing something important at the University and in the community."
THE PERFECT FIT
While Esker had found his people, he was still looking, in some ways, for his path.
"My first year at UA, I really enjoyed engineering and the problem-solving aspect of it, but I knew my best skills — communication and leadership — were not being fully used," he said.
Then, the summer after his freshman year, Esker's family bought a car from Great Lakes Honda in Akron, and the manager asked him if he would like to sell cars as a summer intern.  
"I ended up loving it," said Esker, whose parents and two elder sisters have worked in sales. "Selling cars is not an easy thing, and I ended up selling 33 cars in 10 weeks.
"I really love talking to people and learned that I can combine my sales and engineering skills. Engineering is all about problem solving, after all, and that's what I had to do in selling cars — dealing with unhappy customers, and staying calm in a difficult, real-life environment."
When Esker discovered that he could study both engineering and sales at the University, and fuse them into a career, he knew he had found his path.
"That was it — that sealed the deal for me," he said. "I knew this is the exact career I wanted to do. The great thing about being a sales engineer is that you can use both your problem-solving skills and social skills. Not only do you get to develop and work on a product — you then sell it. For me, it's the perfect fit."
THE SKY'S THE LIMIT
Last year, Esker and fellow Honors mechanical engineering major Isaac Edmondson formed the University's first sales engineering club, the Society of Sales Engineers at The University of Akron, of which Esker is the vice president of public relations.
Last fall, Esker and Edmondson teamed up to compete in the (virtual) National Society of Sales Engineering Conference (NSEC) competition, placing ninth out of 55 teams from 18 universities, including such institutions as the University of Florida, Penn State University, California Polytechnic State University, Texas A&M University and North Carolina State University.
"Our challenge was to role play as sales engineers from Dell Technologies and sell cloud-based technology to real sales engineers posing as clients from Liberty Mutual," Esker said. "We brought five teams to NSEC, which is 10 people from our society, and four of those teams placed in the top 20%. I think that speaks volumes about our organization."
Through the society, Esker was introduced to a co-op position in sales engineering at Pepperl+Fuchs, a leading developer and manufacturer of electronic sensors. He will begin his first rotation this spring and hopes to work full time as a sales engineer after graduating.
"Sales engineering hasn't been around too long, but it's definitely growing," he said. "More companies are getting into the field, and you see more and more employers looking for sales engineers at career fairs. I think in 10 to 15 years sales engineering will be much bigger and on par with the normal engineering fields. I really think the sky's the limit for sales engineering."
FIRST SALES PITCH
Esker also plans to earn the Certificate in Professional Selling for Engineering Majors, as well as the Professional Selling Minor, from the Ronald R. and Diane C. Fisher Institute for Professional Selling in UA's College of Business Administration.
The Fisher Institute is the second-oldest university-based sales institute in the world, and the first in the country to offer a sales certificate specifically for engineers, according to David Payne, director of the institute.  
"My brother got the certificate through the Fisher Institute," Esker said. "He had an extremely positive experience working with Dave Payne."
In dipping into UA's sales programs, Esker exemplifies a core tenet of the Williams Honors College: interdisciplinary learning.
The Honors Colloquia, for example, are seminars that bring together small groups of Honors students from various majors to discuss important topics in the social sciences, natural sciences and humanities.
Honors students are also encouraged to explore other disciplines through the Honors Distribution requirements, study abroad experiences and Honors Research Projects, in which they work one-on-one with faculty advisors to devise their own capstone research projects.  
"Something I learned at The University of Akron is that I love to be a leader," said Esker, who is ready to make his first sales pitch — of himself — to prospective employers upon graduating in 2023.
"When you put the Honors College on your resume, that's impressive," he said. "Companies see that, and they know you're willing to go the extra mile and take that extra effort."
Related:
Share