Zips Electric Racing brings home more trophies
07/02/2019

In its second competition ever, the Zips Electric Racing team continued to wow spectators and competitors with a fifth-place finish at the Formula SAE Lincoln competition in Lincoln, Neb., June 19-22.

At the competition at Lincoln Airpark, the team also finished second in the efficiency category out of 14 electric vehicle teams. Fifty-four combustion teams also participated in the event. Formula SAE Lincoln consisted of static events, such as design, cost and business presentation, along with dynamic events such as skidpad, acceleration and autocross. The competition finished with a 22-kilometer endurance race where the teams raced to complete in the event in the shortest time.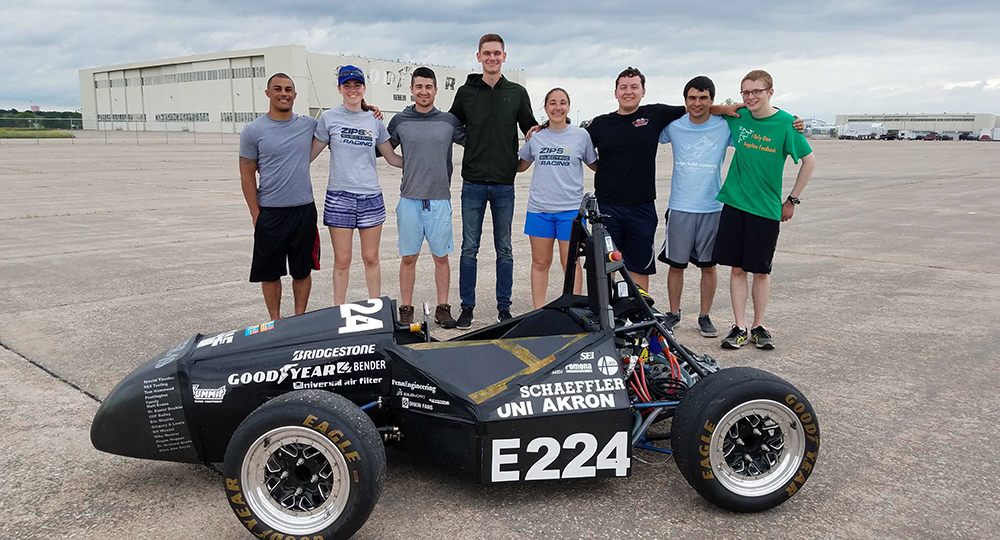 Zips Electric Racing team members, from left, Marcus Caddiell, Natalie Allen, Sean Sheridan, Andrew Penlington, Elena Falcione, Zach Demetriades, Adam Kuhar and Adam Long pose with their electric race car, ZER19, which they used to capture a fifth-place overall finish at Formula SAE Lincoln.
"What this team accomplished with UA's first ever Formula Electric car is unheard of," said Dr. Daniel Deckler, mechanical engineering professor and team faculty advisor. "To not only compete, but to bring home two trophies is a tremendous accomplishment and a testament to the students' abilities and dedication. Even in my wildest dreams I couldn't have imagined this. The team put the SAE Formula Electric world on notice that there is now a new and dangerous competitor in the field known as Zips Electric."
Now, the team will be planning its victory tour, taking the car to team sponsors and thanking them for their support. In August, the design cycle will begin all over again for the next competition season.
"This team really came out of the blue," Deckler said. "Other electric teams at Lincoln were like, 'What? Akron has an electric team? Where did they come from?' This team made a huge statement this year, especially in Lincoln."
Similar to UA's formula combustion race car, the formula electric vehicle must have high performance in terms of acceleration, braking and handling capabilities. But the difference is the formula electric car runs on 432 lithium-ion batteries. The race car must also be aesthetically pleasing, comfortable and easy to maintain. With the same considerations as any engineering business, the students must also evaluate cost, manufacturing capabilities and reliability of the race car.
Earlier this month, Zips Electric Racing placed sixth overall, including placing seventh in the design and cost categories, at Formula SAE North in Barrie, Ontario, Canada.
---
Media contact: Alex Knisely, 330-972-6477 or aknisely@uakron.edu.