University of Akron to graduate world's first students with Ph.D. training in biomimicry
05/10/2017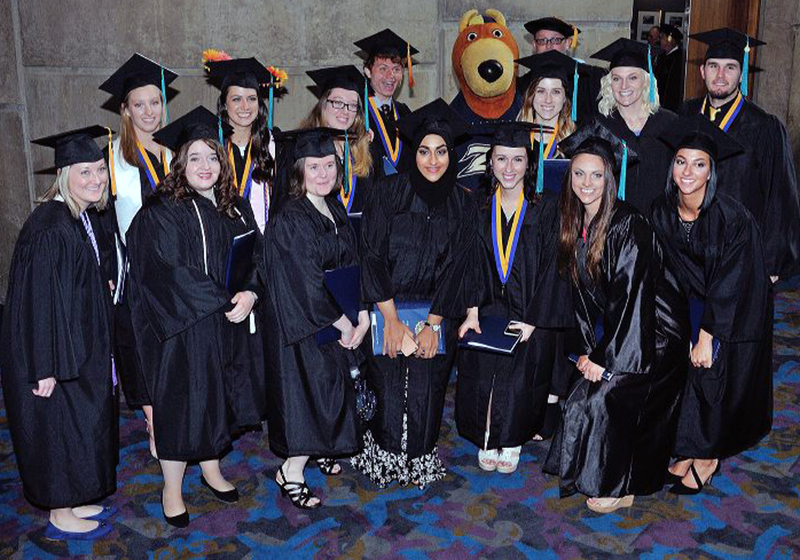 ---
The University of Akron will graduate the first two students in the world with Ph.D.-level training in biomimicry. They are among a total of 2,994 degree candidates who will be awarded degrees this spring. There are six commencement ceremonies scheduled at UA's E.J. Thomas Performing Arts Hall Friday, May 12, through Sunday, 14.
UA's soon-to-be alumni hail from 29 states and 39 countries. The group includes 66 candidates for doctorate degrees, 91 for Juris Doctor degrees, 649 for master's degrees, 1,886 for bachelor's degrees and 302 candidates for associate degrees. University of Akron President Matthew J. Wilson will deliver the address at all of the commencement ceremonies this weekend.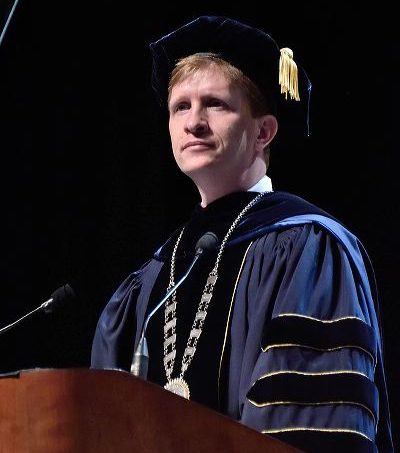 President Matthew J. Wilson.
Biomimicry is a rapidly growing field that involves finding answers to engineering problems by studying nature. UA's Integrated Bioscience program is the only one in the world offering Ph.D. training in biomimicry. Completing the five-year curriculum, which includes part-time work with a corporate, industry, or education sponsor arranged by fellowship program partner Great Lakes Biomimicry, are:
Bor-Kai (Bill) Hsiung, who was sponsored by The Sherwin-Williams Company. Hsiung has led game-changing research inspired by blue tarantulas that could revolutionize how colors are manufactured.
Emily Kennedy, sponsored by GOJO Industries. Kennedy has invented a hedgehog-inspired product that can be used as a liner in football helmets for concussion prevention, as well as a variety of shipping and packaging applications.
Beyond biomimicry, there are a number of other inspiring stories involving members of the Spring Class of 2017, including:
Joe Chadbourne, who will receive a bachelor's degree in accounting this weekend. Described as an "outstanding student" by one of his professors, Chadbourne has been blind since birth. That hasn't stopped him from earning excellent grades and being involved in a number of campus and community organizations. Chadbourne plans to get an accounting job, and eventually obtain a master's degree.
Callie Mack is the student speaker for Friday evening's commencement. Mack has compiled a perfect 4.0 GPA as a member of the Drs. Gary B. and Pamela S. Williams Honors College, despite the demands of being a student-athlete on the Zips volleyball team. She is president and co-founder of the Zips for Haiti student organization, and was a leader of a service trip just last month to New Zealand. Mack has earned numerous honors during her UA career, including the Game-Changer Award.
Friday's 7 p.m. ceremony features candidates from the following:
College of Business Administration
The LeBron James Family Foundation College of Education
Wayne College
The Saturday 10 a.m. commencement presents candidates from:
Buchtel College of Arts and Sciences (graduate degrees)
College of Engineering
College of Polymer Science and Polymer Engineering
S. Army ROTC Cadet Commissioning
Saturday's 2 p.m. ceremony highlights the following:
Buchtel College of Arts and Sciences (undergraduate degrees)
The Saturday 5:30 p.m. commencement welcomes:
Summer degree candidates – All Colleges
Sunday's 10 a.m. ceremony features:
College of Health Professions (undergraduate degrees)
The Sunday 2 p.m. commencement ceremony spotlights:
College of Applied Science and Technology
College of Health Professions (graduate degrees)
Visit the Graduation website for more details or to watch ceremonies live.
---
Media contact: Dan Minnich, 330-972-6476 or dminnich@uakron.edu.