UA welcomes Stark State College students as part of Direct Connect Dual Admission Partnership
05/17/2019

Making the transition from Stark State College (SSC) to The University of Akron (UA) is even easier thanks to "Direct Connect," a partnership between the two institutions that was announced earlier this academic year. Students who plan to attend both institutions attended one of three welcome sessions offered at UA on May 17 in Simmons Hall.

Direct Connect students hold their new Direct Connect T-shirts. UA Interim President Dr. John C. Green is to the far right.
Participating students received a Zip Card, a UA parking pass and enjoyed a campus tour. They also met with current UA students and representatives from advising, student life, the Student Recreation and Wellness Center, athletics and other areas.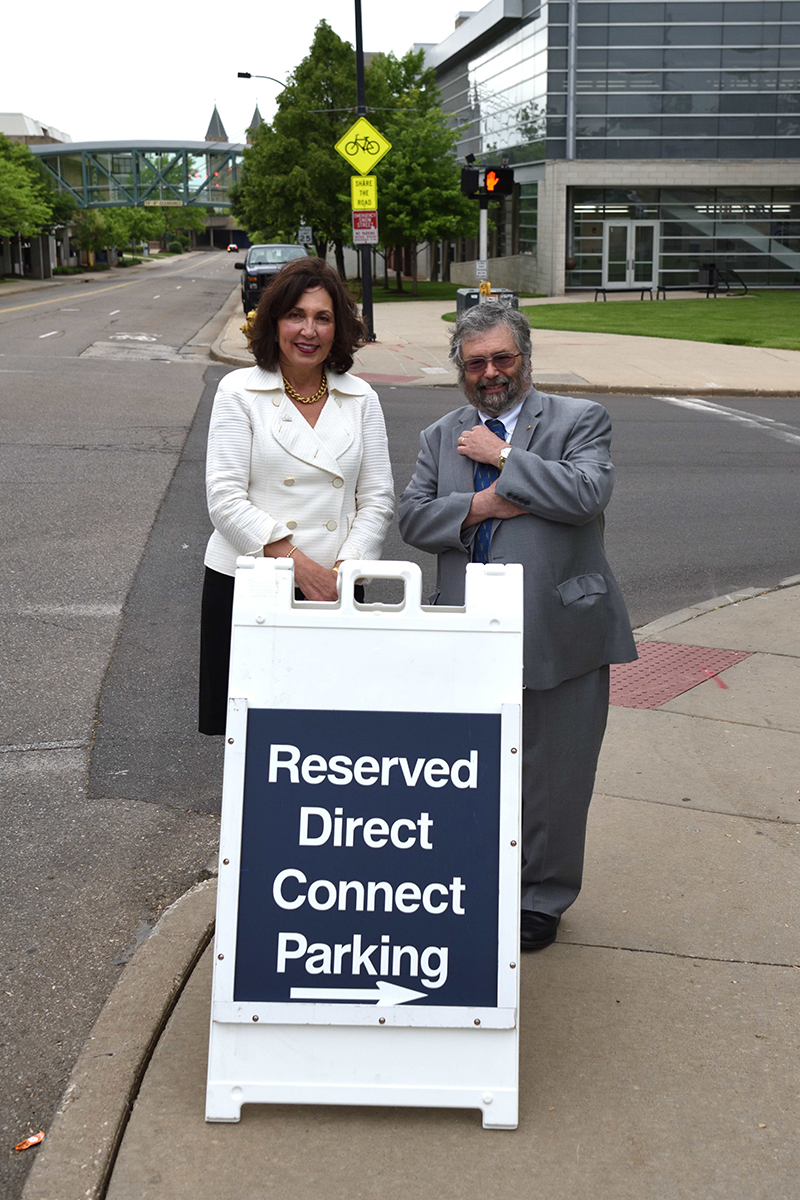 Presidents Para Jones (SSC) and John Green (UA) welcome Direct Connect students.
"Direct Connect is a unique partnership and we are pleased that these students have selected UA as the place they want to complete their bachelor's degree," said Brandon Mikulski, director for learning communities and the Akron experience at UA. "Our goal is to make a connection with these students early so that they are comfortable on campus and feel confident in their academic path."
There are 55 students signed up for Direct Connect. Through the partnership, these students are dually admitted to both SSC and UA as they complete an associate degree while preparing for transfer to complete a bachelor's degree. The partnership also offers students the opportunity to take advantage of amenities at both institutions, allowing students to become fully immersed at each.
As part of Direct Connect, academic advisors from UA will work closely with SSC advisors and faculty members on each of SSC's campuses and will meet directly with students participating in the program to ensure a worry-free transition from one campus to another. Students in Direct Connect will have access to several UA services and programs while beginning their academic career at SSC. Direct Connect students will be permitted the opportunity to use facilities and services offered to regularly admitted students at both SSC and UA, including libraries, career services, sporting events, parking, and more.
The new agreement also aligns with the Northeast Ohio Regional Higher Education Compact, a consortium formed to enhanced education opportunities for Ohioans and support the region's workforce.
For more information, visit Stark State Direct Connect or UA Direct Connect.
---
Media contact: Cristine Boyd, 330-972-6476 or cboyd @uakron.edu.