School of Law clinic helps you retrieve your driver's license
10/05/2017

Students and professors from UA's School of Law have helped more than 4,000 Summit County residents over the last four years as a part of the expungement clinic program. Community members have been able to walk in and begin the process of getting their record of an arrest or a criminal conviction erased in the eyes of the law. The clinic now offers another important legal service — clients can receive assistance in getting their driver's license back.

Having a driver's license revoked is not an uncommon problem. Traffic-related offenses, unpaid child support, drug charges and other legal issues can result in the loss of driving privileges.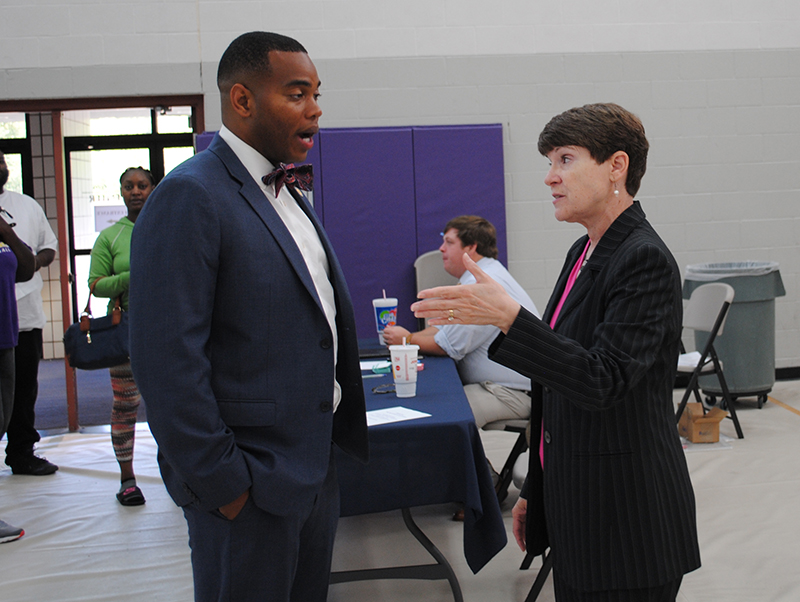 Joann Sahl, right, associate clinical professor of law, and Akron city councilman David Hamilton are seen at a recent clinic.
When a driver's license is revoked by the court, not only can a person no longer drive, but they will find great difficulty in cashing a check and even landing a job because most application processes require possession of a valid license.
Once eligible for a new license, there are hurdles to overcome.
"When someone loses their license, there is a complex process to getting it back," says William Dowling, School of Law practitioner-in-residence. "This program helps people navigate through the system so they can relieve themselves of this burden."
Students, lawyers and volunteers from the Akron Municipal Court have come together to make these clinics possible. The volunteers have been trained by the Ohio Bureau of Motor Vehicles to answer questions and provide the proper assistance to walk-in clients.
The next available expungement clinic is on October 28, in the Akron-Summit County Public Library located at 60 S. High St. downtown Akron.
Learn more:
---
► Story by Hayden Grover
► Media contact: Lisa Craig, 330-972-7429 or lmc91@uakron.edu.
---