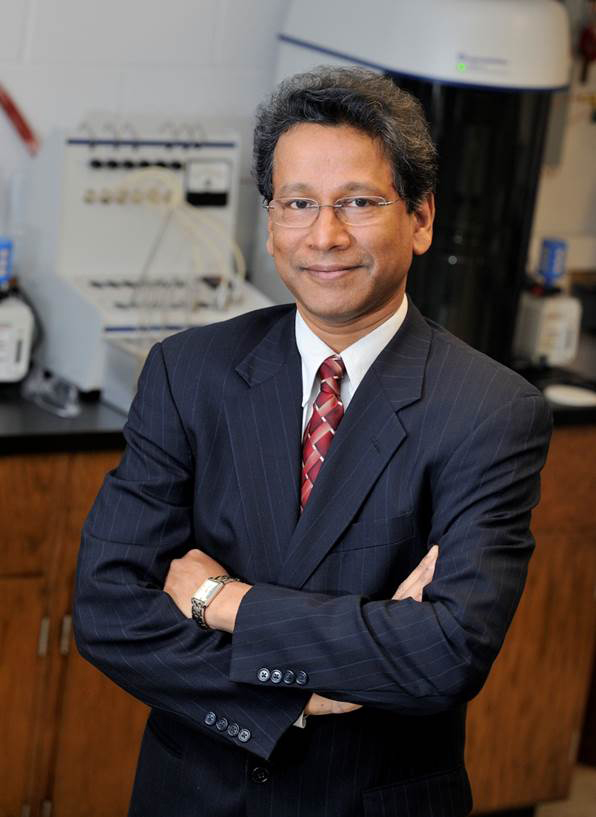 Dr. Sadhan Jana, Benjamin Franklin Goodrich Endowed Chair and Professor in UA's School of Polymer Science and Polymer Engineering, has been admitted as a Fellow to the Royal Society of Chemistry (RSC), the United Kingdom organization recently announced.
RSC members are eligible to become a Fellow if they have been in a senior position for more than five years and their efforts have made an impact in any field of the chemical sciences. The RSC provides an internationally recognized framework for career development, shared resources and events that allow interdisciplinary collaboration, and set standards to help its members succeed in the chemistry field.
The RSC maintains professional qualifications and sets high standards of competence and conduct for professional chemists. It provides a wide range of services and activities of value both to members and the community.
Recognition for contributions to chemical sciences
"This is a happy moment for me," says Jana. "Every chemical sciences researcher aspires to receive the recognition of a Fellow of the RSC. Now I can count myself in the league of some exciting chemical sciences researchers around the world."
Jana joined UA in 1998 after working at the General Electric Corporate Research and Development Center in Schenectady, N.Y. Over the past 23 years, Jana's research team has made contributions to several areas of research.
In the last decade, his research team advanced the scientific basis for the introduction of natural fillers in tire-tread compounds for lowering of rolling resistance in vehicle tires and for the high throughput production of fluffy polymer nanofibers using the force obtained from turbulent jets. Jana's research has also developed the framework of polymer aerogel filter materials in the removal of airborne nanoparticles with close to 100% efficiency without adverse effects on air permeability.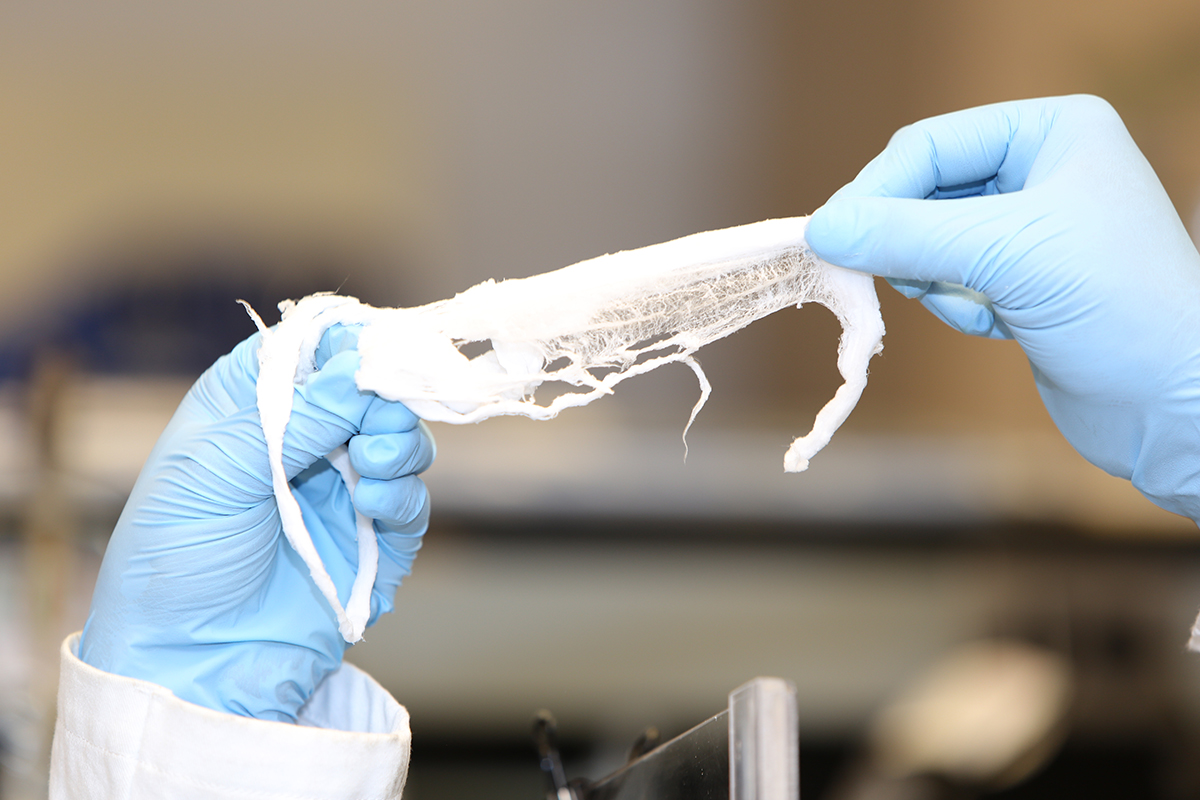 A fluffy polymer fiber mat produced by gas jet fiber process
Some applications of Jana's research include aerogel liners for face masks for inner liners of personal protective clothing to mitigate ingress of nanoparticles into human body, and solid polymer gel electrolyte separators for high temperature lithium-ion batteries. The work by Jana's research group has been reported in nearly 140 peer-reviewed journal publications and book chapters.
During his career, Jana has received funding from federal and industry organizations, including the National Science Foundation, the American Chemical Society, NASA, Dow Chemical Co., Avient Corp., Covestro AG, and Momentive Performance Materials Inc.
Achievements as a researcher
Jana has received several honors and awards from scientific organizations, including the Prof. N.R. Kamath & Mrs. Ruzena Kamath Memorial Award from the Indian Institute of Chemical Engineers (2017); George Stafford Whitby Award for Distinguished Research and Teaching, Rubber Division from the American Chemical Society (2017); and the Fred E. Schwab Education Award, Society of Plastics Engineers (2010). In 2008 he was admitted as a Fellow into the Society of Plastics Engineers.
In addition to his academic titles, Jana serves as the executive editor of four technical peer-reviewed archival journals of the Society of Plastics Engineers. He is also on the editorial boards of three international journals.
A native of Calcutta, India, Jana earned his bachelor's and master's degrees in chemical engineering from the University of Calcutta and the Indian Institute of Technology Kanpur India, respectively. He earned his doctorate degree in chemical engineering from Northwestern University. At UA Jana is also associate dean for research and graduate studies in the College of Engineering and Polymer Science. He previously served as chair of the Department of Polymer Engineering from 2004-2011 and 2015-2019.
---
Media contact: Alex Knisely, 330-972-6477 or aknisely@uakron.edu.