Polymer research has enduring effect on world: Part 1 — biomedicine and health
05/26/2020

As part of The University of Akron's sesquicentennial celebration — honoring 150 years of our people, place and promises — we are hosting a "Celebration of Academic Excellence" to highlight the history and future of our many academic disciplines.
---
Professor Charles Knight introduced the world's first rubber chemistry course in 1909 at Buchtel College, precursor to The University of Akron (UA) — providing intellectual fuel for the city's high-powered rubber industry. In so doing, he also laid the foundation for what would become one of the world's leading programs in polymer science and polymer engineering.
Today, the University's polymer researchers — through innovations in health, advanced materials, biomimicry and sustainability — continue to elevate the region and improve the everyday lives of countless people. Here we're featuring research in biomedicine and health.
Protecting first responders from opiate exposure is researcher's goal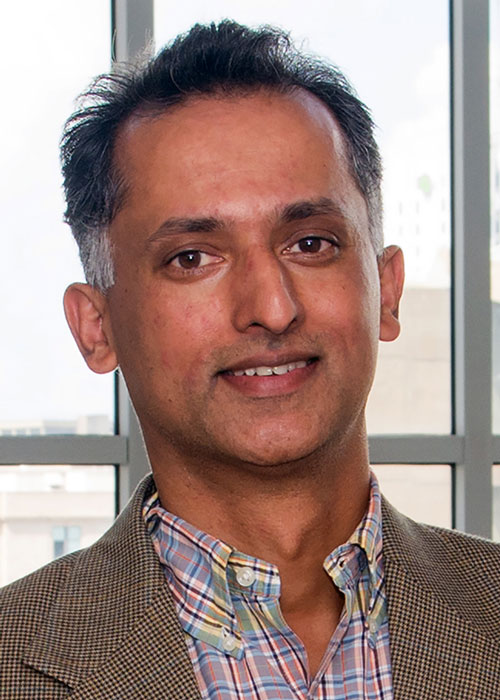 Dr. Abraham Joy, associate professor of polymer science, is creating a polymer-based wipe that can detect traces of opiate residue. First responders to an overdose can use the wipe to quickly detect the presence of an opioid in the vicinity and take appropriate precautions.
The wipes, called OPI-Wipes, are easy to use and designed to cost only about $10. They give instantaneous results, changing color from orange to dark blue to indicate the presence of opioids such as fentanyl and carfentanil.
In 2018, Joy received a $200,000 award from the state of Ohio's Opioid Technology Challenge to develop the product. Early prototypes are simple strips about the size of a Post-it note. Joy plans to make the wipes available to all first responders in Ohio.
In November 2019, two of Joy's students, Tanmay Jain and Amal Narayanan, Ph.D. candidates in the Department of Polymer Science, won the grand prize at UA's $10,000 Startup Challenge for their start-up company.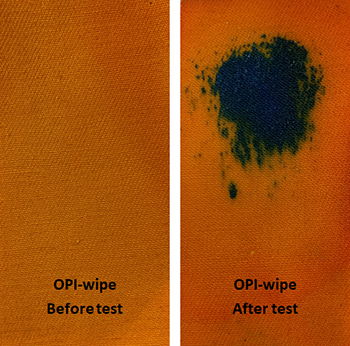 This before and after photo shows how the OPI-Wipes can instantaneously change color from orange to dark-blue, indicating the presence of opioids such as fentanyl and carfentanil.
Aerogels for ultra-filtration of air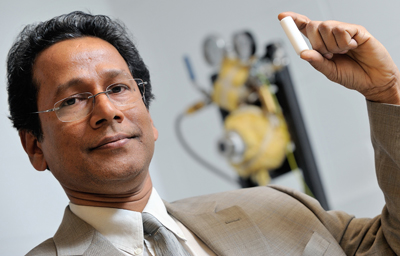 Dr. Sadhan Jana holds up an aerogel.
Sadhan Jana, Ph.D., professor of polymer engineering, studies aerogels — extremely light, solid materials that are 90% porous, and that can serve as filters. Their primary applications are in underwater pipeline insulation, cryogenic insulation, and high-temperature thermal insulation of space shuttles.
This branch of materials science is about 90 years old with the first aerogel being reported in 1931, which was based on silica. Some recent applications are emerging on the separation of airborne nanoparticles less than 100 nanometers in size.
Aerogels have open pores of a diameter typically in the range of 2-200 nanometers. For comparison, human hair is about 100,000 nanometers in diameter. These small pores of aerogels are attractive for their potential use in the screening of nanoparticles and nanometer-size living organisms.
"Accordingly, we are excited to carry forward the research work on aerogel materials to solve some impending public health concerns related to the ingress of viruses into the human body," says Jana. "Preliminary results on this front is very encouraging and we envision designing personal protection equipment and gears using aerogel thin films and sheets for our fight against living bio-organisms and hazardous nanomaterials. Some work is already underway in our laboratory at The University of Akron."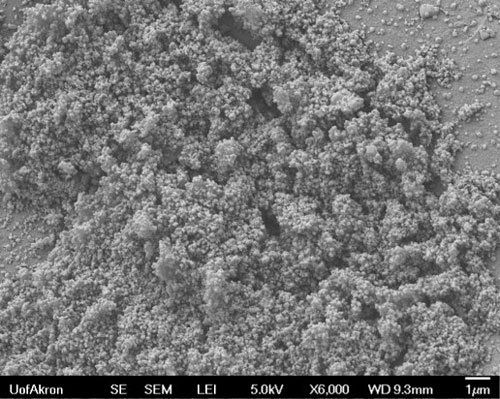 This image shows 100% screening of airborne nanoparticles of diameter 25-150 nanometers by a sheet of polyimide aerogel. These aerogels allow more than enough air flow through them for breathing or air handling in large filtration installations. This work was conducted in the laboratory of Dr. George Chase, professor of chemical, biomolecular and corrosion engineering, and director of Research Initiatives at UA.
Next:
---
Media contact: Alex Knisely, 330-972-6477 or aknisely@uakron.edu.