Now streaming: UA on 'The College Tour'
09/15/2022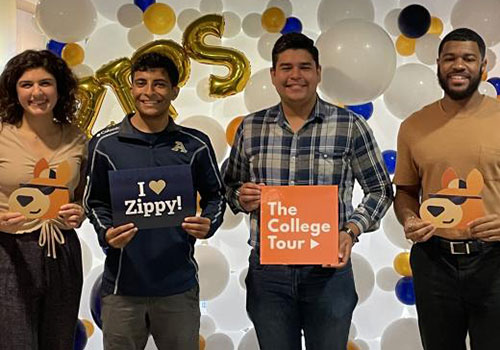 The show introduces viewers anywhere in the world to The University of Akron through the lens of diverse undergraduate students. The following students are featured in individual segments, each telling their authentic story in their own words.
Career Ready and Connected
Shareef Awadallah, international business
Akron Athletics
Janay Bass, exercise science
Health and Human Sciences
Andrew "Drew" Biegner, exercise science
Williams Honors College
Brooke Campbell, biomedical science
Student Organizations and Leadership
Jose Garcia, electrical engineering
Student Support and Wellness
Tyrone Johnson, computer engineering
Superior in STEM
Cecilia Mainzer, chemical engineering
Life in Akron
Alex Paxitzis, biomedical engineering
WZIP and ZTV
Owen Pinion, communication
Dance and the Fine Arts
Larry White, dance
The College Tour is an Emmy-nominated TV series that provides an inside look at college campuses across the country. The show will be available to stream on many platforms, including Amazon Prime Video, in November.
This is an exciting opportunity that presents UA to a national audience and, most importantly, future Zips.
You can watch the full episode and learn more about the featured students.
After you watch, share the episode with a colleague, friend or someone you know who may be interested in seeing what UA has to offer.
Share