Grant will support Akron Law's continued work on Expedited Pardon Project
11/19/2021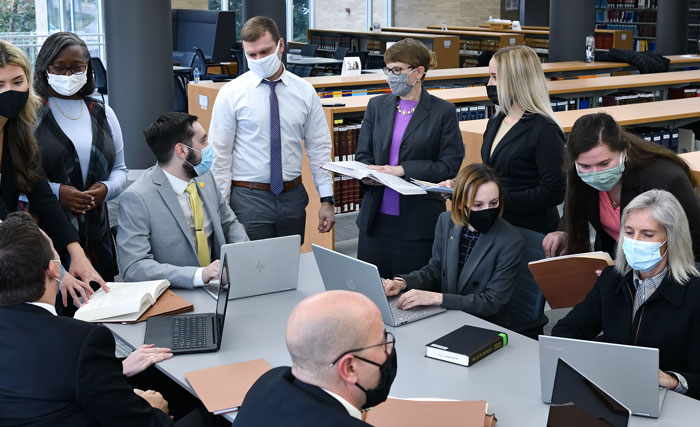 Students from the three sections of the Reentry Clinic class taught by Professor Joann Sahl (center right) gathered recently to discuss their work on the Expedited Pardon Project. Photo: Scott Horstman
The University of Akron School of Law has been awarded a $108,257 grant from the Ohio Department of Rehabilitation and Correction (ODRC) to continue its work on Ohio Gov. Mike DeWine's Expedited Pardon Project. The project was launched in December 2019 as a partnership among the Department of Rehabilitation and Correction, The Ohio State University Moritz College of Law's Drug Enforcement and Policy Center and Akron Law's Reentry Clinic.
The project simplifies Ohio's lengthy clemency process for certain rehabilitated citizens who have consistently demonstrated that they've become contributing members of society. It eliminates administrative hurdles and provides free one-on-one help for these qualified candidates from trained and supervised law students.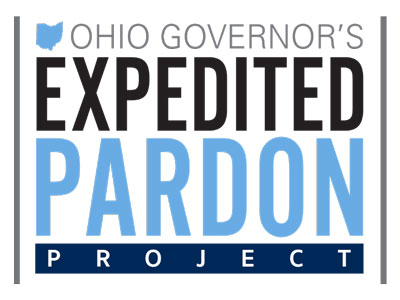 The grant is part of a $1 million expansion of the project to reach more potential pardon candidates and to help guide more ideal candidates through the pardon process with the addition of new partners Cleveland State University Cleveland-Marshall College of Law, University of Dayton School of Law and the Ohio Justice & Policy Center in partnership with the University of Cincinnati College of Law. The $1 million in funding is allotted in Ohio's current operating budget by Gov. DeWine and the Ohio General Assembly.
"We are excited to be awarded this grant to continue our work on the Ohio Governor's Expedited Pardon Project," said Akron Law Professor Joann Sahl, director of the Reentry Clinic. "We look forward to working with the new project partners to expand the reach of the project so more deserving Ohioans can have a second chance.
"The project has been life changing for those who have received a pardon," she continued. "It also has been a great opportunity for our law students to gain real world experience in the practice of law. Since the project began, we have screened 192 applicants together with The Ohio State University Moritz College of Law, and 26 different Akron Law students have represented over 90 clients in the Expedited Pardon process. To date, 16 applicants have been pardoned and 86 others are in various stages of the application process."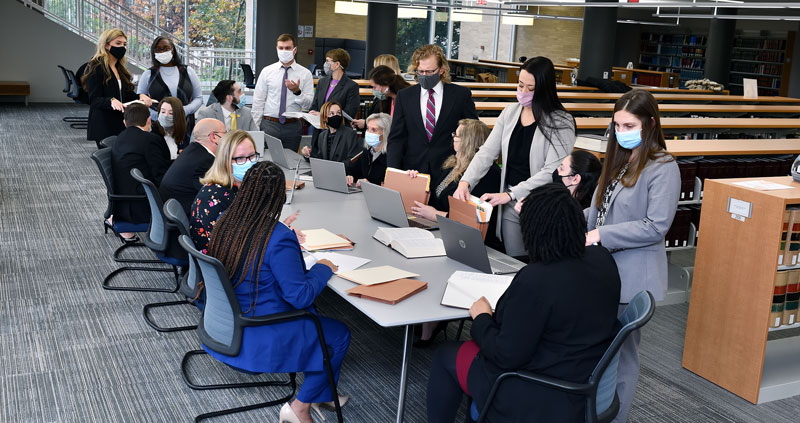 Students screen applicants to identify those who meet the program's strict criteria. The more experienced students provide qualifying individuals with one-on-one assistance in preparing their pardon application and representing them in their hearing before the Ohio Parole Board. Photo: Scott Horstman
"The Governor's Expedited Pardon Project builds on the work that Professor Sahl and our Reentry Clinic students have been doing for many years," said Christopher (C.J.) Peters, dean of Akron Law. "We are grateful to Governor DeWine, the ODRC, and the General Assembly for their continued support of the initiative, and we welcome our new partners in this important community outreach endeavor."
For more information on the Ohio Governor's Expedited Pardon Project and to apply, visit: www.ohioexpeditedpardon.org.
---
Related:
Share