Global Lawyer Program introduces students to Japanese food, law, culture and life
05/14/2019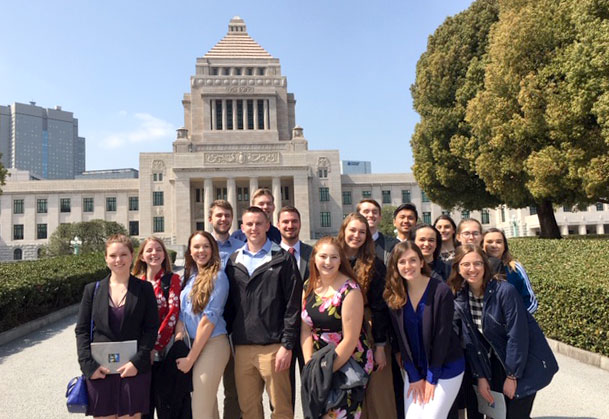 University of Akron participants in the Global Lawyer Program in front of the Japanese Parliament.
As globalization blurs boundaries and brings the world closer together, professionals must prime themselves for interactions with remote cultures from far-flung parts of the planet. To help bridge the gap between the East and West in the field of law, Matthew Wilson, law professor and former UA president, and law professor Sarah Cravens introduced a cohort of 17 UA students to his second home: Japan.
The Global Lawyer program, a hands-on international class held at Kanazawa University in Kanazawa, Japan, provided UA Williams Honors College students from all fields the chance to earn colloquium credits in a unique way.
During spring break from March 25-31 (right at the start of cherry blossom season), students reviewed case studies and legal research revealing the substantive and procedural differences—and striking similarities—between the United States and Japan. Escorted by Wilson and Cravens, the students visited a Japanese courtroom and the Diet, Japan's parliament, to explore the development of Japan's legal system.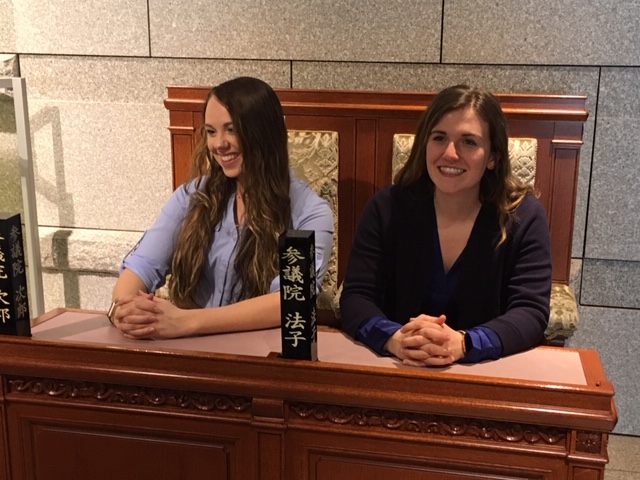 Students attended the Japanese Diet, the country's national assembly or parliament. From left: Rachel Wattleworth ('19) B.S. in Aerospace Systems Engineering; Rachael Steer ('19), B.A. in PPE (Philosophy, Political Science and Economics).
However, class isn't the only way to learn about another country's culture; throughout the trip, students enjoyed both guided and independent exploration of Japan. Over the weekends before and after class, students were set free to explore Tokyo, visiting famous landmarks like the Tokyo Skytree Tower and the Akihabara pop culture district, eating sea urchin eggs and fresh ramen, and jostling down packed market streets, always within a phone call's reach of their guides.
"Many of us had never been abroad before," said Karris McCollum, a junior majoring in philosophy, political science and economics, with hopes of attending law school. "The mix of traveling in a group and exploring alone also allowed everyone to enjoy Japan in their own way. I was most interested in visiting places the locals go, places where absolutely no one speaks English, but not everyone wanted that, and I think everyone had the experience they were looking for."
"One of the most significant benefits of studying abroad is moving outside of your comfort zone and proving to yourself that you can accomplish something even greater," Wilson said. "UA students had the opportunity to observe first-hand a society that embraces the collective good and resides in comparative peace and harmony."
Through the Global Lawyer program, Wilson and Cravens hoped to share their appreciation for a culture steeped in thousands of years of history and a "collectivist" mindset, as opposed to American individualism.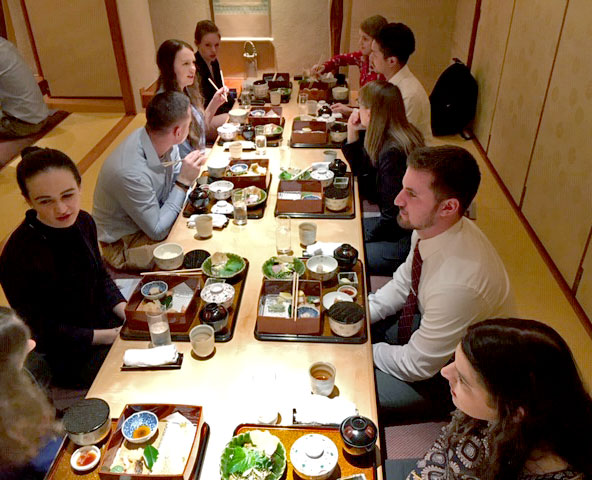 This collectivist mentality is what keeps Japan's crime rates one of the lowest in the world, keeps its streets clean, and maintains Japan's reputation as one of the politest countries on the planet. According to Japanese tradition, individuals should strive to live harmoniously together, taking care of their country and their families. It manifests in gracious servers and one of the most successful national recycling campaigns in the world, among other things.
Students in the UA cohort admired their host country's appreciation for the needs of others. "From the moment I landed in Japan, I was blown away at how considerate everyone was to each other—even if that meant sacrificing a little bit of their convenience for the other person," said Cole Shupe, a senior marketing management and integrated marketing communications major. "Overall, the trip really opened my mind to different ways of societal thinking. It encouraged me to treat others with more respect than I have been and consider the welfare of society before I make an action."
"We have found that study abroad tends to be something that is, quite simply, a life-changing experience for many students on many levels," Cravens said, speaking from personal experience. "So creating another opportunity for that, and making it high-quality, affordable, enjoyable, and a bridge to the law school were all key aspects of what we were after."
To complete the course's requirements, students were graded on their class attendance in Kanazawa, quiz grades, and a final term paper comparing Japanese and U.S. civil law, demonstrating everything learned in their time 13 time zones away from Akron.
This is only the second year for the Global Lawyer program, but the compelling hook and positive feedback from last year resulted in a waiting list almost as long as the confirmed roster. After two years of unqualified success, Wilson hopes that the program will stay strong even as he leaves UA to take on the presidency at Missouri Western State University.
In Cravens' capable hands and with student interest spreading like wildfire through the Honors College, next year promises to be even better.
Related
---
Share