From electrical engineering to blacksmithing, retired professor loving life as a National Park Service volunteer
01/07/2022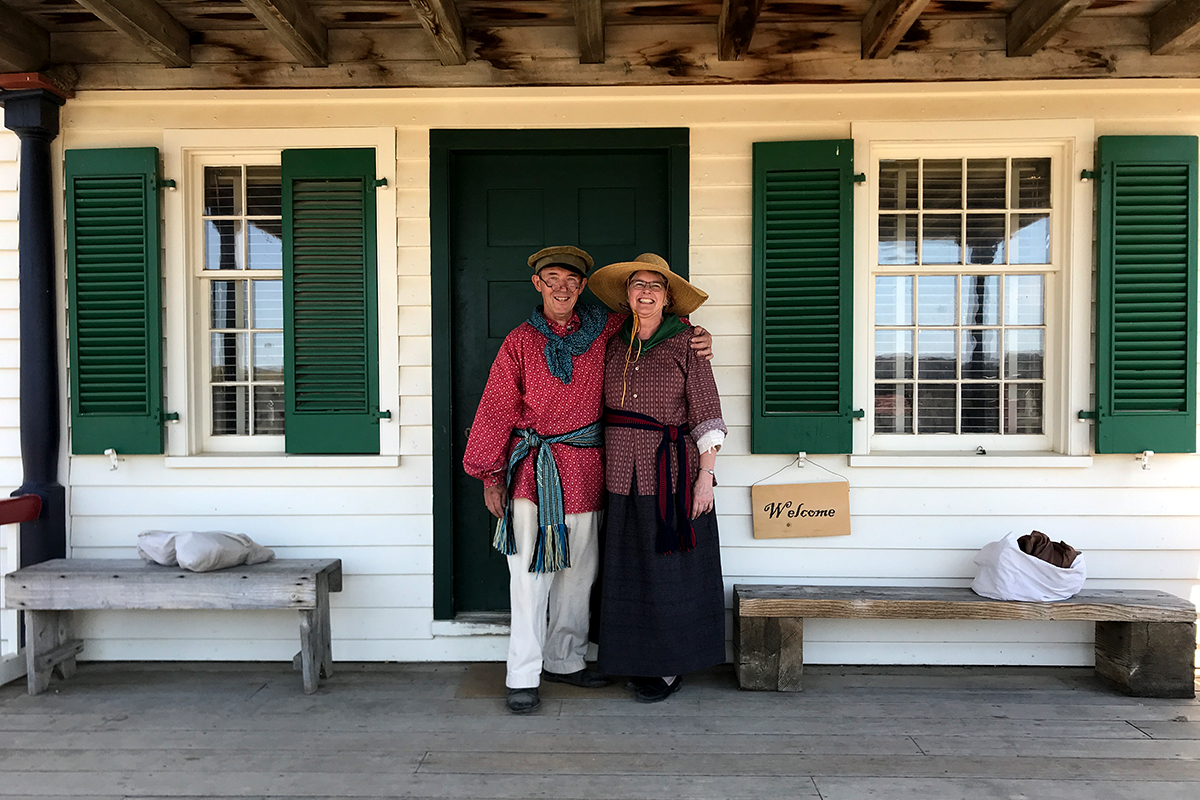 Tom Hartley, Ph.D. and his wife Karen volunteering as interpretive rangers in the national parks.
Since retiring from The University of Akron in 2014, Emeritus Professor of Electrical and Computer Engineering Tom Hartley, Ph.D. and his wife Karen have been spending most of their time as volunteer interpretive rangers in the national parks. In 2020, the Hartleys received the prestigious George and Helen Hartzog Awards for Outstanding Volunteer Service for their exemplary contributions to the parks and to their community.
The Hartleys have worked fourteen assignments at nine parks, including Scotty's Castle in Death Valley National Park (California), Chickamauga and Chattanooga National Military Park (Tennessee), Kings Mountain National Military Park (South Carolina), Grand Portage National Monument (Minnesota), Fort Frederica National Monument (Georgia), San Juan Island National Historic Site (Washington), Pipe Spring National Monument (Arizona), Fort Necessity National Battlefield (Pennsylvania), and Fort Union Trading Post National Historic Site (North Dakota). They live in the park in their RV, and typically work four days a week for 3-4 months before continuing on to their next adventure, or returning home to Westerville, Ohio.
"We love being able to give back to the National Park Service," says Hartley. "Being able to learn more about historic technology and pass that information along to visitors through demonstrations is interesting, rewarding, and fun. It helps make history come alive for people."
Their duties usually include historic demonstrations, working at the visitor center, giving park tours, and program development. Mrs. Hartley conducts historic spinning, weaving, and knitting demonstrations, and Dr. Hartley's niche is in historic weapons demonstrations, blacksmithing, and woodworking, often dressed as a British soldier.
Karen Hartley conducting historic spinning, weaving, and knitting demonstrations.
The Hartleys received the award for their work developing a new standard operating procedure for living history programming at Fort Federica National Monument in Georgia. They built an 18th century bake oven for visitor programming and trained staff in its use, initiated visitor center protocols for COVID-19, created and marked 1.5 miles of nature trails for visitors to safely social distance, provided access to areas of the park previously unused, produced a self-guided nature walk with signage and brochure along existing trails, and developed video and social media content to maintain interpretative outreach during the pandemic shutdown.
In addition, the Hartleys assisted with an African American festival that focused on the life of Robert S. Abbott, an American lawyer, newspaper publisher and editor, as well as the discovery of an unmarked cemetery containing Abbott's father and two aunts. The Hartleys were willing to safely remain at the park during the COVID-19 response far past their original departure date to assist with new protocols and operations, COVID-19 safety training, making sure the visitors were able to make the most of their national park experience.
"Dr. Hartley was my mentor while I pursued my doctorate. His student-centered approach to teaching and focus on providing students with meaningful, hands-on experiences are qualities I inherited through his leadership," says Dr. Julie Zhao, Assistant Dean, Recruitment, Retention and Marketing for the College of Engineering and Polymer Science. "I am not surprised at his high level of commitment to creating a memorable park experience for visitors. He is inspiring to us all."
---
RELATED CONTENT:
---
Media contact: Cristine Boyd, 330-972-6476 or cboyd@uakron.edu.
Share