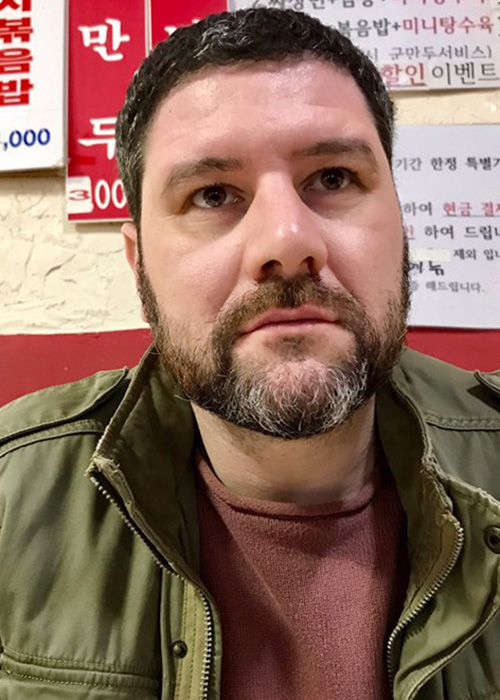 Drew Ippoliti
Drew Ippoliti, assistant professor of instruction in UA's Myers School of Art, has been appointed to serve as a Fulbright Scholar Alumni Ambassador. Alumni Ambassadors represent the best of the Fulbright U.S. Scholar Program and were selected through a competitive process. Ippoliti will serve a two-year term and present information on his Fulbright experience at multiple events on college campuses and academic conferences each year.
"This opportunity is both exciting and a lovely honor," says Ippoliti. "I greatly look forward to sharing knowledge about all the opportunities connected to the Fulbright Scholars Fellowship with The University Akron campus and the region. The value of international education and exchange is undeniable in a complex global environment, both inbound and outbound."
During his Fulbright experience in South Korea in 2018, Ippoliti researched the rapid modernization of the country in the 1980s, including the rising popularity around the globe of the traditional side dish kimchi in Korean cuisine, Korean popular music (K-pop) and Korean dramas (K-dramas), and how they affected traditional crafts and arts. The research Ippoliti conducted was based around interviewing various respondents in the field of arts and economics about their experiences during the modernization of South Korea. These interviews were archived and transformed into a series of sculptural ceramic works.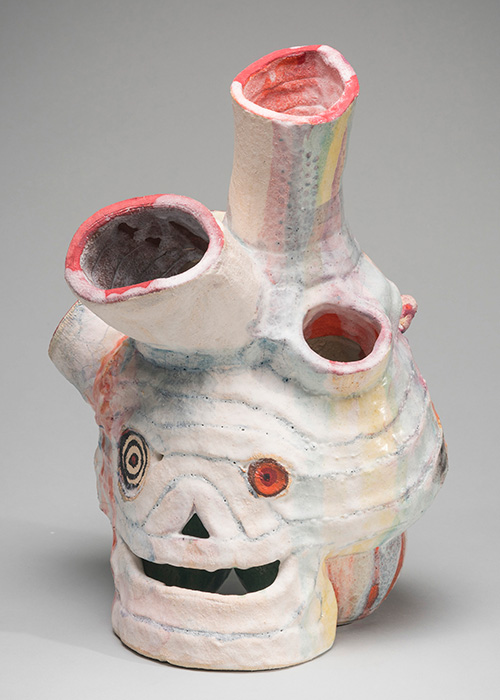 Drew Ippoliti created this ceramic piece, titled What Has Happened to Men's Greed? during his 2018 Fulbright experience. Photo credit: Joseph Levack.
Passion for art and education
As an artist, researcher and educator, Ippoliti investigates how ceramics can explore and explain the regions where both culture and craft collide. In addition to his Fulbright Fellowship, Ippoliti has been awarded a China Ministry of Education Cultural Research Fellowship and a Taiwan Ministry of Education Research Fellowship.
In 2015, Ippoliti was a Visiting Fellow at Tainan National University of Arts in Taiwan. In the past, Ippoliti has served as a senior visiting lecturer at the Central Academy of Fine Art in Beijing, an artist in residence at Tyler School of Art and a visiting faculty member at Sheridan College in Ontario, Canada.
Ippoliti's work has been exhibited internationally at various exhibitions and is held in multiple public and private collections internationally in Denmark, Holland, China, Taiwan and Korea. Most recently Ippoliti's work was included in the exhibition "Social Recession," which was held in Cincinnati as part of the 2021 National Conference for Education in Ceramic Arts (NCECA).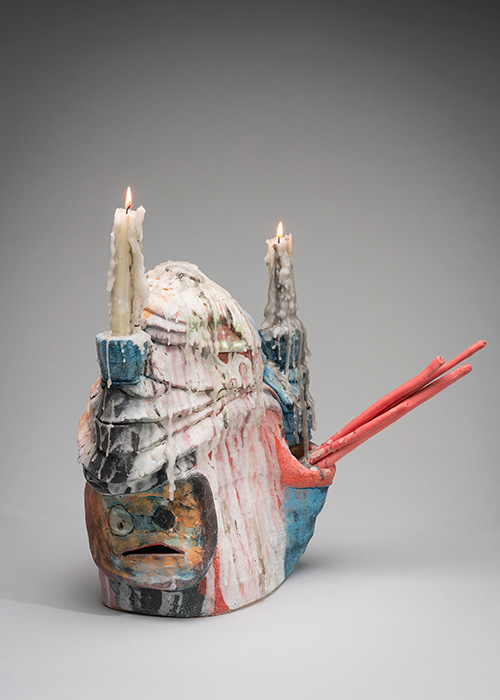 Drew Ippoliti created this ceramic piece, titled The Job of Making Others Use Their Imaginations (2019) during his 2018 Fulbright experience. Photo credit: Joseph Levack.
"As an artist my work has been deeply connected to bridging an understanding of the ceramic techniques and craft of East Asia for almost two decades," says Ippoliti. "As an educator I am proud to help students and colleagues learn more about the opportunities available in this realm."
The Fulbright Scholar Program, funded by the U.S. Department of State, supports more than 800 U.S. faculty and professionals each year to teach or conduct research in over 135 countries around the world. The Fulbright award is a prestigious honor that brings distinction to the faculty member and their institution. Ambassadors such as Ippoliti not only represent the program externally, but also serve as advisors about critical aspects of the program to the State Department and the program's implementing agency, the Institute of International Education.
---
Media contact: Alex Knisely, 330-972-6477 or aknisely@uakron.edu.