College of Education earns reaccreditation, mark of 'national excellence'
06/21/2018

A student teacher from The University of Akron at Barberton High School.
After rigorous review, The University of Akron's LeBron James Family Foundation College of Education is being recognized for "national excellence" by the Council for the Accreditation of Educator Preparation (CAEP), earning its reaccreditation. The college is one of 46 educator preparation providers listed in CAEP's Spring 2018 review. UA is listed among eight other universities and colleges across Ohio.
CAEP is the sole nationally recognized accrediting body for educator preparation that assures quality and promotes improvement.
According to CAEP, educator preparation providers seeking accreditation must pass peer review on five standards, which are based on two principles:
Solid evidence that the provider's graduates are competent and caring educators.
Solid evidence that the provider's educator staff have the capacity to create a culture of evidence and use it to maintain and enhance the quality of the professional programs they offer.
'A prestigious achievement'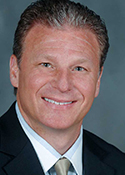 "This is a prestigious achievement for the LeBron James Family Foundation College of Education that underscores the quality of our faculty, and our career-ready and successful alumni" said Jarrod Tudor, interim dean of the college. "The accreditation process is very rigorous and consumes almost an entire academic year. I'd like to thank Peggy McCann, director of accreditation and assessment, for her hard work in making sure the college is aligned with the accreditation criteria."
CAEP's five standards for accreditation are:
content and pedagogical knowledge;
clinical partnerships and practice;
candidate quality, recruitment and selectivity;
program impact, and
provider quality assurance and continuous improvement.
The 46 institutions that earned accreditation this spring are from 22 states and Puerto Rico, increasing the total number of providers approved under CAEP's teacher preparation standards to 147. Currently, more than 800 educator preparation providers participate in CAEP's accreditation system, including many previously accredited through former standards. An institution's accreditation by CAEP occurs in seven-year cycles.
UA's College of Education has been continuously accredited since 1954 by former standards through the
now-expired
National Council for Accreditation of Teacher Education, which combined with the Teacher Education Accreditation Council to establish CAEP.
MORE:
---
Media contact: Alex Knisely, 330-972-6477 or aknisely@uakron.edu.
Share