UNIVERSITY COMMUNICATIONS & MARKETING
Advertising | Creative Services | Email | Marketing | Media Relations | Publications | Social Media | Web
---
What's new in our shop
BIG RESPONSE TO ESPORTS LAUNCH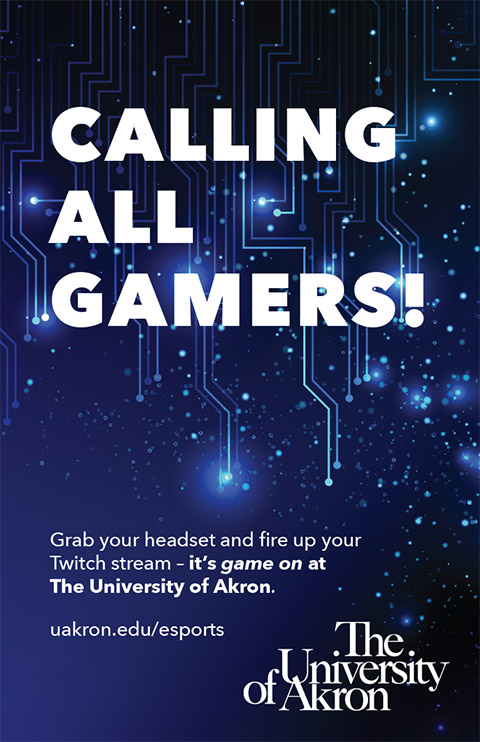 More than 1,500 students, including many who are considering attending UA, responded to our announcement that we're getting into esports. Our campaign started with a launch event for the news media, which yielded broad coverage locally and nationally, including ESPN.com. A postcard (above) sent to prospective students pointed them to a website that provided details and an opportunity to sign up.
---
WITH SHIFT TOWARD DIGITAL, MARKETING ZEROS IN ON 17-22 YEARS OLDS
The University in the last year has refocused its marketing toward digital channels where traditionally aged prospective students spend much of their time.
A Facebook display ad encouraging students to apply.
The shift allows us to direct our messages more precisely and to nudge students toward the next step in the admissions process.
A recently concluded "application acceleration" campaign targeted at prospective students and their parents yielded a jump in applications. Marketing is now shifting toward admitted students and their parents, encouraging the students to confirm their enrollment.
The University maintains a presence in television and billboards, but with less frequency, allowing for greater investment in digital.
"Another benefit of digital is that we can more precisely see the results from our investment," said Wayne Hill, chief communication and marketing officer. "So far the results are encouraging. Since launch of the campaign at the end of November, click-through rates and other measurable analytics have performed well above industry benchmarks."
---
LET US HELP YOU!
Request assistance on a project
---
University Communications and Marketing
Administrative Services Building (see on map)
185 E. Mill St.
Akron, Ohio 44325-0604
330-972-7820
LEADERSHIP
Wayne Hill
Vice President, Chief Communication & Marketing Officer
330-972-2148
whill@uakron.edu