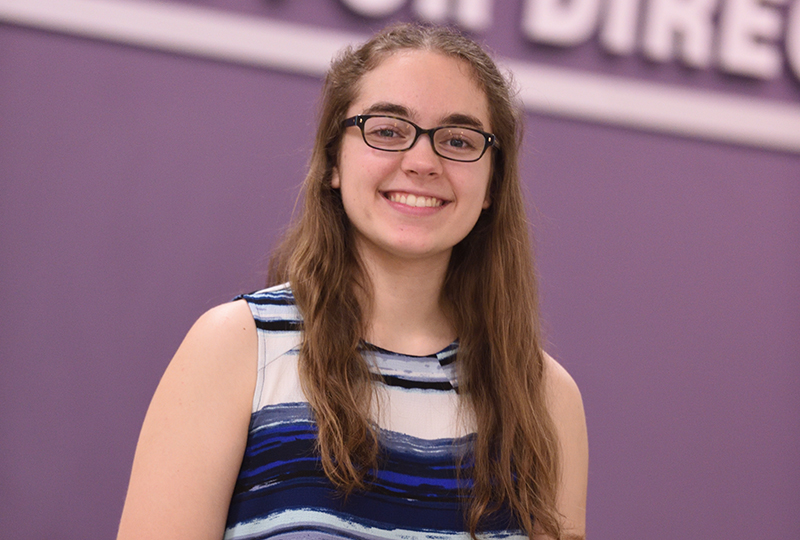 Class of 2018: Dual degrees put grad on fast track to business success
Sarah Lucas will be the student speaker at the Spring Commencement ceremony on Sunday, May 13, at 10 a.m. She is graduating with a Bachelor of Business Administration in Marketing Management and a Bachelor of Integrated Marketing Communications, summa cum laude.
Hometown: Avon, Ohio
High School: Avon High School
What's next?
I plan to get a full-time job after graduation.
Q: How are you going to spend your time between graduation and what's next?
A: I have a lot of exciting things planned between graduation and a full-time position. Shortly after graduation, I will be attending the business analytics competition and conference in Manhattan, N.Y., on behalf of the Taylor Institute for Direct Marketing. The competition involves analyzing a case study with more than 2.4 million data points to draw insights and present a business solution with a team of two other students. Additionally, while at the conference, we will be given additional case questions to interpret, solve and present. Toward the end of June, I will be traveling to Rome, Italy, for two weeks on a personal trip. I'm really looking forward to returning to Europe to experience the country's culture and try authentic Italian food!
Q: Favorite campus activity?
A: My favorite campus activity will always be The University of Akron Marching Band. This was the first activity that I got involved with on campus, and I love that the members include a wide variety of majors. I have met a lot of people, including some of my closest friends, through this activity, and supporting the football team at every home game (rain or shine) was such an exciting experience. Traveling with the team to the Idaho Potato Bowl and the Boca Raton Cheribundi Bowl are two trips that I definitely will never forget!
Q: Biggest surprise about college life?
A: The biggest surprise about college life for me was how collaborative and supportive the culture is. There's a lot more group work in college than in high school, but it's something that I really enjoy. Being collaborative with a variety of peers, and sometimes in leadership roles as well, prepares us significantly for any career. Additionally, the people that I have been around the past three years have been some of the most supportive people I've ever met. There aren't nearly as many social "clicks" as there are in high school, so everyone tends to mingle between groups, which gives you a chance to meet a lot of people who could potentially have a great impact on your future.
Q: Where's your favorite place on campus?
A: My favorite place on campus is the 5th floor of the Polsky Building, which is home to the Taylor Institute for Direct Marketing. Some of us call it the "penthouse of the University," as it is set up with an agency-like feel, has a foosball table and popcorn machine, and boasts beautiful views of downtown Akron. What I love about this place is that it is always so social. A group of people who don't know each other at all could sit down in the lobby and leave as friends. The 5th floor is also where my favorite marketing classes happen with the best professors on campus, in my opinion. I'm very happy that I have been able to spend a lot of my time there.
Q: What's your advice to incoming freshmen?
A: My advice to incoming freshmen would be to take every single opportunity that comes your way. College is really about expanding your knowledge and skills, which will ultimately give you an advantage when searching for jobs. Even if you think that an event, club, or meeting is not relevant to you at all, still go check it out because there is something to learn from everything.