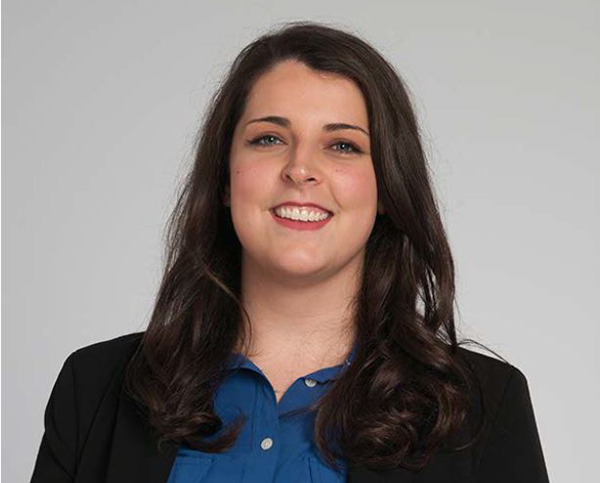 Class of 2018: Connecting people to world of sound her goal
Lisa Lewicki will be the student speaker at the Spring Commencement ceremony on Saturday, May 12, at 2 p.m. She is graduating with a Doctor of Audiology degree.
Hometown: Beachwood, Ohio
High School: Beachwood High School
Undergraduate School: Vanderbilt University; earned Bachelor of Engineering in Biomedical Engineering
What's next?
I am currently interviewing for audiologist positions. I may consider in the future going back to obtain my Ph.D. in Audiology, but for now, I am looking forward to entering the workforce.
Q: How are you going to spend your time between graduation and what's next?
A: I will be taking about a month off to spend with my family and friends and I will be traveling for a few weddings. During this time, I will also be relocating to a new city, although the location is still undecided and will depend upon which position I am offered.
Q: Best advice you ever got from a professor?
A: Enjoy every minute of it, because it will all be over in a blink of an eye. I cannot believe how quickly the past four years have flown by, and I am forever grateful to all of the professors and classmates that have helped me get to where I am today.
Q: Did you study abroad? How did the experience shape you and your view of the world?
A: I did not study abroad during my time at UA, but I studied abroad during my undergraduate career in Sydney, Australia. It was an amazing experience and I highly recommend to anyone to take the opportunity if they can! The experience was so different from simply traveling to a new country. I loved being able to integrate myself with the culture, as well as take classes on Australian culture to learn more about their unique history. It allowed me to realize how different and yet amazingly similar life can be on the other side of the world. I made friendships and memories that will last a lifetime, and am so glad I worked the trip into my undergraduate career. I recommend planning early and discussing with your academic advisor if you are interested!
Q: If you had an internship or co-op, what did you get out of it?
A: I had several internships in local audiology clinics and completed a full year externship at the Cleveland Clinic during my fourth year. As important as classroom learning has been to my educational experience, I feel my internships have been an invaluable part of my education. They not only allowed me to put into practice in a real-world setting what I learned in the classroom, but also provided me the opportunity to learn from a number of different professionals outside of the University staff. My clinical internship placements demonstrated to me my strengths as well as areas I needed to improve. Ultimately, they helped shape and develop my professional and clinical skills.
Q: What's your advice to incoming freshmen?
A: Take advantage of every opportunity you can! Your time in college will be like no other time in your life, and you should use the time to your full advantage. Use this opportunity to explore new areas, hobbies and topics that interest you. It's oK to change your mind about what you want to do, and be open to new experiences!