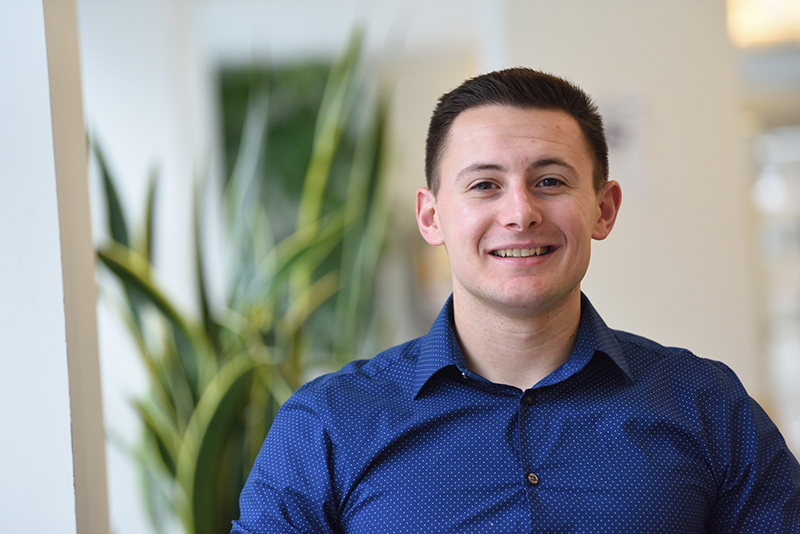 Class of 2019: Training and travel abroad prepare new grad for U.S. Army career
Charles Kirkpatrick will be the student speaker at the Fall Commencement ceremony on Saturday, Dec. 14, at 10 a.m. in E.J. Thomas Performing Arts Hall. He is graduating with a B.S. in Biology, cum laude, and entering the U.S. Army.
Hometown: Canal Fulton, Ohio
High School: Northwest High School
How did you come to choose your major?
I really enjoy learning the concepts and mechanisms of genetics, which led me to majoring in biology.
What brought you to The University of Akron?
An excellent STEM program and they were the most persistent in recruiting me for my National ROTC Scholarship out of high school.
What's next?
I'll be commissioning into the U.S. Army as a second lieutenant, specifically in the infantry branch. So, I am off to Fort Benning to complete some basic officer training and attend Ranger School. I plan on being a career Army officer.
Q: Best advice you ever got from a professor?
A: There are three types of people:
1) Those who try and succeed
2) Those who try and fail
3) Those who never try
If it is impossible for you to be type 1, then which of the other two options would you rather have describe you?
Q: Did you study abroad? How did the experience shape you and your view of the world?
A: I've been lucky enough to go abroad three separate times through the U.S. Army as an undergraduate. The first was to Muscat, Oman, where I spent the summer learning to speak Arabic. On the second trip, I went to Moshi, Tanzania, and assisted in teaching at a school and took classes at a local Tanzanian vocational school. Lastly, I went to Camp Humphreys South Korea, where I was able to spend a summer shadowing a Mechanized Infantry Platoon Leader, sort of like a co-op program allowing me to gain experience in my future job field.
These experiences collectively allowed me to be more efficient in all types of learning and leading, and in the ability to comfortably communicate with individuals who have differing backgrounds.
Q: What's your advice to incoming freshmen?
A: Have a plan. Know what you are going to do with your life when your time in college is over, and don't get a degree that will not be beneficial in helping you reach your individual goals.