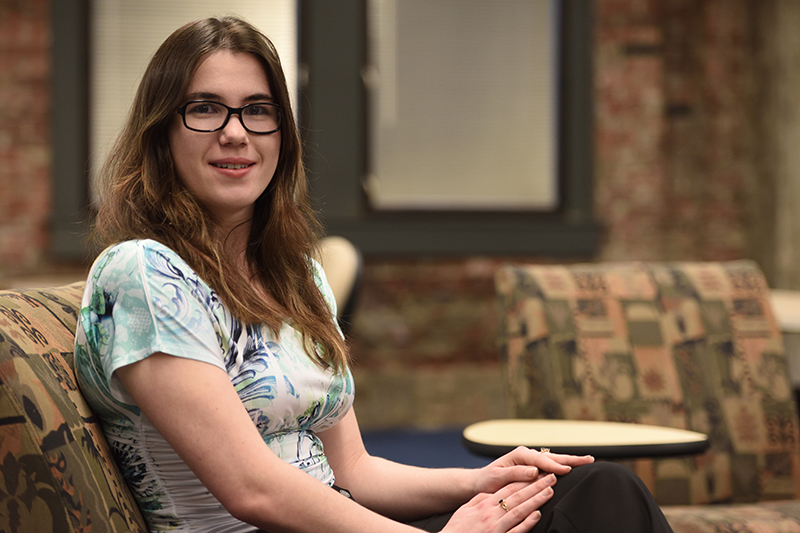 Class of 2019: Manage a disaster? This new graduate is ready
Claudia Judele will be the student speaker at the Spring Commencement ceremony on Sunday, May 12, at 2 p.m. She is graduating with a Bachelor of Science in Emergency Management and Homeland Security, summa cum laude.
Hometown: Brunswick, Ohio
High School: Brunswick High School
How did you come to choose your major?
Unfortunately, the cost of disasters and the frequency of these events continues to rise. I chose my major because there is an increasing need for individuals who can reduce the hazard vulnerability of communities, ensure that residents are prepared for disasters, coordinate response efforts, and support both short-term and long-term recovery efforts in impacted areas.
What brought you to The University of Akron?
There are many reasons why I chose to attend The University of Akron, such as the University's proximity to my home, cost, and the fact that the Emergency Management and Homeland Security program was offered.
What's next?
Currently, I am working part-time at the Medina County Office of Emergency Management and Homeland Security. In the future, I would like to become a Certified Floodplain Manager (CFM).
Q: How are you going to spend your time between graduation and what's next?
A: I will continue to study and work at the Medina County Office of Emergency Management and Homeland Security. I also had the honor of being nominated for the GIS Outstanding Student Award and I am really excited about attending the ceremony. After graduation, I am going to take a course to obtain my first aid, CPR and AED certification. Additionally, I will further my SCUBA diving education by taking the Emergency Oxygen Provider course and Rescue Diver course in June.
Q: Best advice you ever got from a professor?
A: Great opportunities will come along when you least expect them to. Determination and hard work will increase your chances of success, but sometimes it is not enough. You cannot force something to happen that was not meant to be. However, setbacks should not make you completely give up on your dreams. Eventually, you will find what you are looking for as long as you stay positive and try to make the most out of every academic, volunteer, work, athletic, or personal experience. By being more open minded and willing to seek out opportunities that you did not initially consider, you might find that these experiences will lead you to your goals.
Q: Where's your favorite place on campus? Why?
A: The rock wall at the Student Recreation and Wellness Center. Climbing allowed me to clear my head after hours of studying for tests and gave me inspiration for many class projects. It also showed me just how determined I could be to accomplish what I had set out to do. Even though I did not always succeed immediately, I got better with practice and reaching the top became easier. The staff members were also extremely supportive and encouraging, which made going to the rock wall a highlight of my day.
Q: Did you have an internship? What did you get out of it?
A: My internship at the Medina County Office of Emergency Management and Homeland Security provided me with valuable experiences and gave me the opportunity to make a positive difference in my county. While my courses provided me with a strong foundation, working on the development and implementation of countywide plans showed me just how much I still needed to learn. Throughout my internship, I had to consistently adapt and learn new skills to effectively complete various projects — from using ArcGIS to map hazards in the county to working on plans for all phases of emergency management. I also learned more about the administrative tasks that emergency managers have to accomplish. This was an amazing experience.
Q: What's your advice to incoming freshmen?
A: Let go of your fears and discover what makes you happy. My father always told me, "If you truly love doing something, you will be successful." These years will go by extremely fast, so you should try to take advantage of every opportunity that could contribute to your personal or professional growth. Get involved with organizations and groups that inspire you. Attend events on campus and in your community that interest you. Develop meaningful connections that will enrich your life.