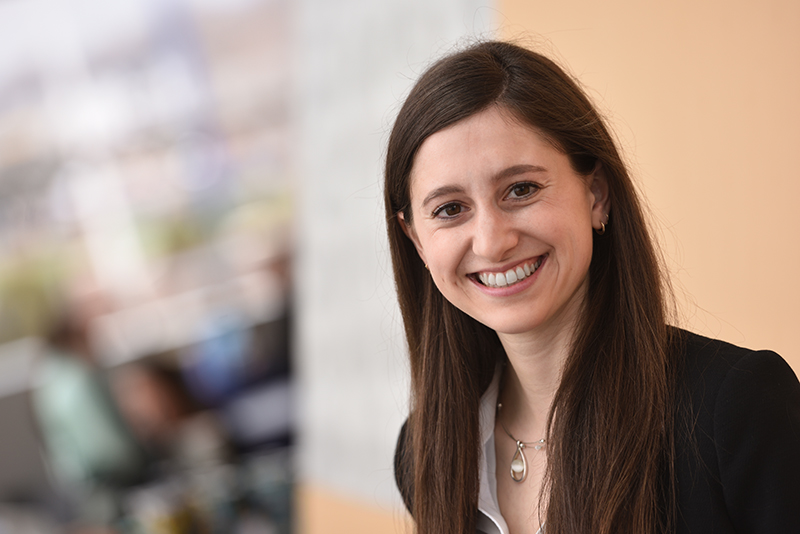 Class of 2019: One diploma earned, she's on to the next
Alaina Gent will be the student speaker at the Spring Commencement ceremony on Sunday, May 12, at 10 a.m. She is graduating with a B.S. in Exercise Science, Pre-Physical Therapy, summa cum laude.
Hometown: Uniontown, Ohio
High School: North Canton Hoover High School
How did you come to choose your major?
This major was a perfect way to meet the prerequisites of a physican assistant program, while receiving a hands-on, interprofessional education. The experiences in exercise science set me up so well for the future.
What brought you to The University of Akron?
Honestly, the faculty here at The University of Akron solidified my decision to attend. During one of the visit days, everyone was so kind and helpful. The sense of community really made it feel like home for me.
What's next?
I will be attending the Physician Assistant Program at Baldwin Wallace University. In fact, I start the day after graduation!
Q: What college experience contributed the most to your personal growth?
A: Wellness Wednesday. This is an interprofessional student organization through Area Health Education Centers where students from various health majors come together and put on monthly wellness programming for residents of multiple Akron Metropolitan Housing Association locations. I was able to collaborate with other students to plan our monthly programs, learned to prepare appropriate educational material, and had the opportunity to interact with community members. All of the residents have been so grateful for our programming over the years. It was such a joy to be able to impact others. I know that this experience has already made me a better listener and team player, which will surely allow me to be a better physician assistant. I am forever grateful.
Q: Favorite campus activity?
A: Participating in Zippython — an organization that raises money for Akron Children's Hospital. As the family relations chair for the past year, I worked with the Miracle Families of the hospital to plan fun events. At the end of the year, we hold a big, eight-hour event to celebrate our efforts. It is a day full of dancing, mingling and entertainment. At the end, we reveal the amount we have raised throughout the year. Not only has this activity allowed me to work hard for a cause I believe in, it has left me with wonderful friendships and memories.
Q: Where's your favorite place on campus? Why?
A: InfoCision Stadium. As an exercise science student, this is where the majority of my classes were held. It felt like my own corner of campus where I was always welcomed by faculty and friends. The labs here are state of the art and offer the best education. I never thought I would learn to run a cardiac stress test or perform a VO2 Max test as an undergraduate student! Additionally, there is an awesome view of the city available. For me, I truly felt at home when I was in InfoCision, and I will miss it immensely.
Q: Did you have an internship? What did you get out of it?
A: I completed a practicum as part of my exercise science education. I was able to learn off campus at a family practice and a hospital emergency room. It was amazing to see the information I had acquired in the classroom being applied in these settings. I learned so much during my 16-week experience and was able to see what the future may hold for me. I had the opportunity to shadow many physician assistants and received some wonderful advice as well. All of the providers worked to ensure that I had a good experience and would even pull me into different rooms so that I could experience a range of medical examinations, diagnoses and treatments. My practicum solidified that I was on the right path. I am so thankful to have completed it.
Q: What's your advice to incoming freshmen?
A: Get out of your comfort zone. The best times I had at The University of Akron would not have occurred if I did not branch out and put myself in unfamiliar territory. Sometimes it will be scary, especially when you have to forge your own path, but do not let that deter you! If you hit a dead end in the road, make a new trail. It is easy to do what is comfortable, but the real opportunities of life await once you leave your bubble. Also, do not be afraid to ask for help. The faculty here at UA is absolutely wonderful and wants you to succeed. You may even find that speaking up when you are unsure leads you to new and exciting places. You are going to do great. Take a deep breath and know you will shine.