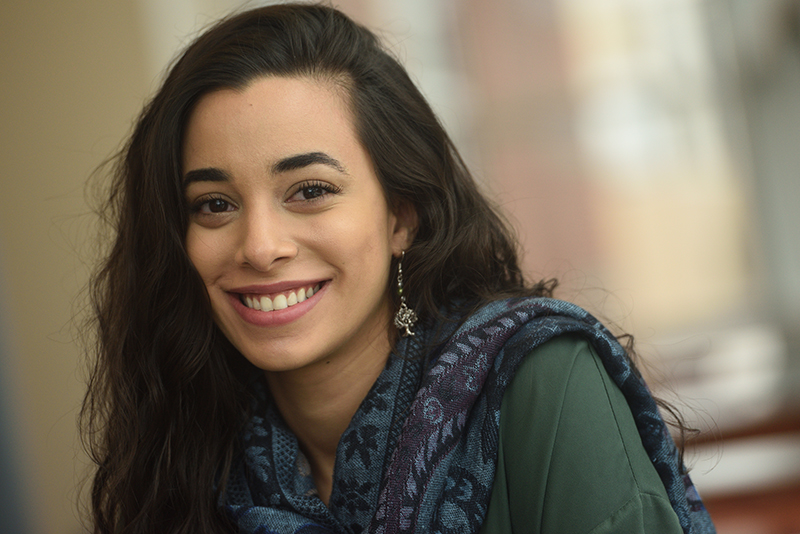 Class of 2018: This new grad prepared for career with United Nations
Bayann Al-Khalilee will be the student speaker at the Fall Commencement ceremony on Saturday, Dec. 15, at 10 a.m. She is graduating with a B.A. in Philosophy, Political Science and Economics, magna cum laude.
Hometown: Al-Bireh, Palestine
High School: Ramallah Friends School
How did you come to choose your major?
I have always been interested in the news, law, as well as history. This is why I thought political science was the way to go. After taking Intro to Ethics with Dr. John Huss and Intro to Logic with Dr. Joseph Li Vecchi, I discovered that philosophy was something that I'm also interested in, which is why I added the pre-law (philosophy) minor. Then, I started considering adding an econ minor, which is when I came across the PPE major.
What's next?
I will be taking a year off of school. I will start working for the nonprofit organization Asian Services in Action (ASIA), mainly in Akron. Additionally, I plan to study for and take the GRE, and then start applying to the graduate programs I'm interested in. I hope to one day work at the United Nations.
Q: How are you going to spend your time between graduation and what's next?
A: I will start working the week after graduation. So aside from catching up on sleep, I have a list of books that I have been wanting to read, but haven't had time to do it. This includes a novel in Arabic, "Born a Crime" by Trevor Noah and "Becoming" by Michelle Obama.
Q: How have you changed during your years at UA?
A: I used to consider myself an introvert. But after attending UA, I have to say that it has changed. I had a lot of classes where participation and group work were not options. At first, both were such daunting tasks. But after some time, and because of the people and professors that I have worked with, it became less intimidating, and it helped me become the extrovert I am now.
Q: If you had an internship or co-op, what did you get out of it?
A: I was an education intern with the International Institute of Akron (IIA). I got to meet people from so many different parts of the world and got to hear different stories that honestly reminded me to always be thankful. Whether it's my interaction with the staff or my interaction with clients, this experience has taught me the importance of asking for help, and the power of inclusion.
Q: Best advice you ever got from a professor?
A: In a conversation with Dr. Li Vecchi outside of class, he told me to stop underestimating myself. Sometimes certain words stay with us, and those were one of them for me. Hearing that from a professor that I look up to is something that I still appreciate and live by.
Q: What's your advice to incoming freshmen?
A: Don't underestimate yourself and aim high. We tend to be our worst critics, which is why everyone needs to be reminded to stop underestimating themselves. Also, college is about challenging yourself. So, get out of your comfort zone, and join different student organizations. It'll expose you to new people and new experiences that will help you grow as a person.