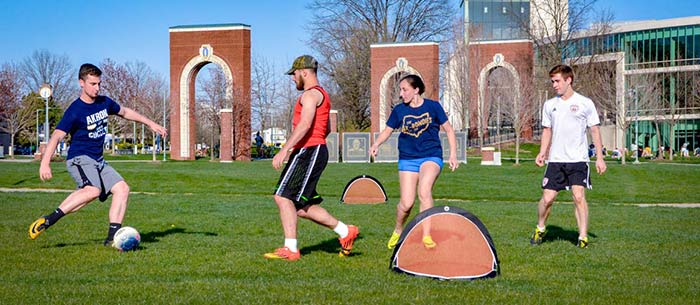 7 steps to apply for and receive financial aid at UA
Financial aid is awarded annually, based on the academic year. The summer term is the first semester of the academic year, followed by fall and spring.
You must complete a new FAFSA every year to be considered for federal and state grants, federal work-study, and federal loans.
Considering using financial aid in the summer? Review our four easy steps to receive summer aid.
1. Obtain a federal FSA ID (or Federal Student Aid ID)
The FSA ID acts as your electronic signature when completing and signing the FAFSA.
Create your FSA ID.
Parents of dependent students must also have a parent FSA ID to sign the FAFSA and apply for parent loans (PLUS), if desired. The parent FSA ID is separate from the student's FSA ID.
2. Submit the FAFSA (Free Application for Federal Student Aid)
FAFSA is available online at studentaid.gov. Be sure to include The University of Akron's Federal School Code: 003123.
UA has a priority FAFSA deadline of Dec. 1 each year. File your FAFSA by this date to be considered for the maximum amount of need-based aid. Even if it is past Dec. 1, you can and should complete the FAFSA.
3. Review your SAR (Student Aid Report) from the U.S. Department of Education
Once your submitted FAFSA is processed, you will receive a Student Aid Report at the email address you provided on your application.
The SAR summarizes the information you provided on the FAFSA and indicates your Expected Family Contribution, which our office will use to determine your financial aid eligibility.
Review your SAR for accuracy. If you've made a mistake on your FAFSA, you can make corrections at studentaid.gov.
You shouldn't make certain corrections on your own, including a change of marital or dependency status. When in doubt, contact us for assistance.
4. Provide required documents, if applicable
Students may be required to submit documents/forms before they can receive their financial aid award. If you fall into this category, you have been notified of the requirements.
New undergraduate students receive a letter from our office via US Postal Mail that outlines all required documents/forms. Continuing undergraduate and all graduate/law students receive their notification to their University email account. All students can review the items that are required via the To Do list in the Student Center inside My Akron.
Please know that all documentation must be completed and submitted to our office, and reviewed for completion and accuracy, before you will receive your financial aid award.
The most common request for additional information is related to the verification process. See more about the verification process and how to make it as easy as possible.
5. Aid is offered
After all required documents/forms are submitted and processed, or if you weren't required to submit any additional documentation, you will receive your financial aid offer.
New students receive their financial-aid-offer letter by the U.S. Postal Service; continuing undergraduate and new graduate/law students will receive notification via UA Zips email account (sometime during the spring semester). Continuing student offers are subject to completion of the spring semester and will be reviewed for Standards of Satisfactory Academic Progress).
If have your UANet ID, you may also log in to My Akron to review your financial aid offer online.
If adjustments are made to your financial aid, you can view your revised financial aid in My Akron. Only the initial offer letter is mailed (new students).
6. Review your your offer and accept or decline it
Review your financial-aid-offer letter. All offers include an estimate for on-campus housing and a meal plan.

If you do not plan to live on campus, remove the charges from the calculation.
If you plan to live on campus and have selected your meal plan and residence hall preferences, consider using the Financing Worksheet to determine a more accurate out-of-pocket responsibility than the estimate in your award letter.

Accept/decline/reduce Federal Direct Loans offered to you and complete the additional loan requirements: Entrance Counseling and the Master Promissory Note.
Apply for additional loans (if necessary): Parents, PLUS loan; undergraduate students, private education loan; graduate/law students - GradPLUS. See details about each loan program.
Sign up for an Installment Payment Plan through the Office of Student Accounts.
7. Check the status of your financial aid
You can view your student account in My Akron's Finances section.
By late June, view your account balance by logging into My Akron. Be sure to note the due date and the amount due, as identified in the Finance section of My Akron.

Financial aid is disbursed to your account ten days before the first day of classes. Until then, it appears as "anticipated aid" in your student account. If your aid does not appear as anticipated, or it has not yet disbursed to your account (if there are less than ten days before the first day of classes), review the next steps regarding loans to see which step(s) you may have missed.

If you have more financial aid crediting to your account than what is needed to pay your bill/student account balance, you should receive a refund. If you are expecting a refund to pay for books, personal expenses, etc., be sure to review your next steps before the beginning of August. For more about the refund process, review the refunds page by the Office of Student Accounts or contact them directly (email or phone: 330-972-5100).
---
Related:
---