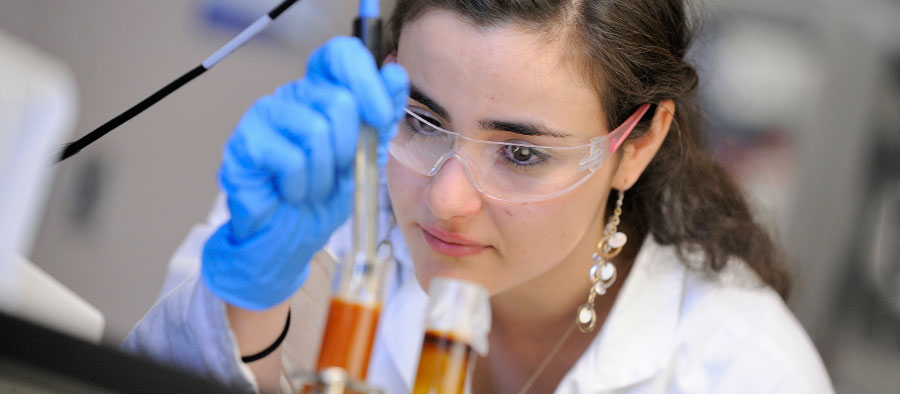 Chemical Engineering Graduate Studies
Whether you want to become more valuable to your employer, pursue a career in academia, or satisfy your own professional development goals, consider graduate programs offered by the Department of Chemical, Biomolecular, and Corrosion Engineering graduate program at The University of Akron.
Area of specialization for graduate students include corrosion science and engineering, (bio)engineered and nanoscale systems, environmental engineering, interfacial engineering, chemical reaction engineering, catalysis, and molecular simulations. Faculty engineer the molecules, materials, devices, and systems for solving chemical engineering problems and beyond in energy, health, and sustainability industries.
THE GRADUATE DEGREES
Master of Science (M.S.) in Chemical Engineering
The Master of Science (M.S.) in Chemical Engineering degree focuses on deepening your fundamental knowledge of chemical engineering and gaining professional skills and hand-on experiences useful for careers in industry, government, or academia.
Doctor of Philosophy (Ph.D.) in Engineering
Our interdisciplinary Doctor of Philosophy (Ph.D.) in Engineering allows you to have a specific research focus completely customized to your interest. Ph.D students focus more on conducting the cutting-edge and high impact research across different interdisciplinary fields, with our faculty members in a collaborative environment that is informal, friendly and intellectually vigorous.
View thesis and dissertation guidelines.
Bridge Program
For students with B.S. degrees in subjects other than chemical engineering, an M.S. in Chemical Engineering is possible through our Bridge Program. This program enables bridge students to complete their M.S. degree in roughly six months more than a student entering with a B.S. in Chemical Engineering.
Why UA?
Our program
Is flexible, with options for evening classes
Accommodates varied educational backgrounds
Provides options for research-based and coursework-based degrees
Our faculty
Consists of 25 nationally and internationally renowned experts who actively conduct research in their respective areas
Have strong research programs
Are active in industry collaborations locally
Opportunities for you
Access to the latest equipment and software that is used in companies and academia
Participate in entrepreneurship programs
Graduate level classes are small enough to ensure personal attention by the professors while large enough to facilitate group projects and interactions
Access to the extensive library and computer facilities at the university
Access to external supercomputer facilities
State-of-the-art equipment including:

Gas chromatographs, gas chromatograph-mass spectrometry, BET, differential scanning calorimetry and thermogravimetric analysis, FT-IR, HPLC, XRF, and heat release equipment, laser and light scattering equipment, pilot scale bubble cap and packed towers, extruders, biochemical reactors, sterilizers, high-pressure phase equilibrium analyzers, and supercritical extraction equipment
RESEARCH
Faculty research is centered around engineering the molecules, materials, devices, and systems for solving chemical engineering problems and beyond in energy, health, and sustainability industries. Faculty and students are working on exciting projects, from being able to detect corrosion in natural gas transmission pipelines to detecting salt ions in perspiration and using as indicators for cystic fibrosis.
Current research areas for graduate students are highly interdisciplinary and include:
Design, synthesis, and processing of intelligent and nanostructured materials for chemical/bio-sensors, nano-enabled functional fibers, tissue engineering, drug/gene delivery
Development of photovoltaics, catalysts, and nanocomposites for renewable fuels, novel energy conversion and storage, high quality water and air, novel chemical/biochemical processes, and multifunctional materials
Understanding of the nervous and biological systems for the development of new treatments for neurological disorders and cancers
Development and applications of multi-scale modeling, simulations, and big data mining at different to predict, optimize, and design a wide range of materials and processes
CAREER PATHS
Graduates are more likely to secure managerial or high-level chemical engineering positions in a wide range of sectors including gas and oil extraction, nuclear and alternative energy, mining and minerals, food and drink, consumer goods, environment, including waste management and fertilizers, and healthcare and pharmaceuticals.
Employment:
Our graduates have obtained employment from companies such as HDR Inc., ARCADIS, Babcock & Wilcox, AECOM/URS, G. Stephens, Inc., Kajima International, and the Pennsylvania Department of Transportation.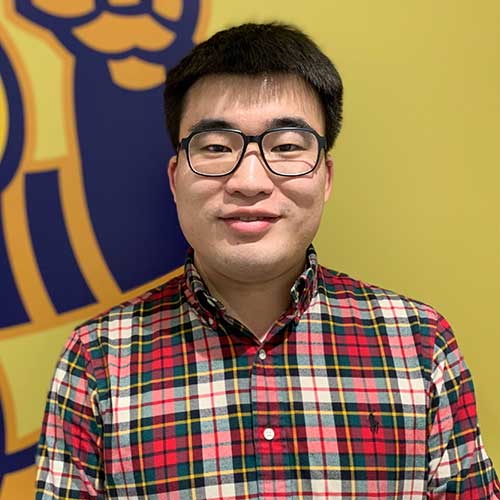 Student spotlight
"In graduate school we work on more specialized lab and research projects to build on the general chemical engineering concepts we learned in our undergrad program."
—Yongqing Cai
Pursuing M.S. in Chemical Engineering
Read Yongqing's story.
TUITION & GRADUATE ASSISTANTSHIPS
Tuition & Fees
Current graduate student tuition and fees can be found in the Office of Student Accounts.
Graduate Assistantships & Financial Aid
Graduate assistantships help pay for school. They are available for doctoral students on a competitive basis. The deadline for receipt of assistantship applications is February 1 for Fall admission and three letters of recommendation are required.
It is important to be informed of the many sources of aid available. Student loans are available to degree-seeking graduate students. Information on student loans can be found through the Office of Student Financial Aid.
For more graduate information and to apply visit: The Graduate School
For more information
Direct questions to:
Esther Wain-Weiss
Director, Graduate Programs and Administration
330-972-5690
erw3@uakron.edu