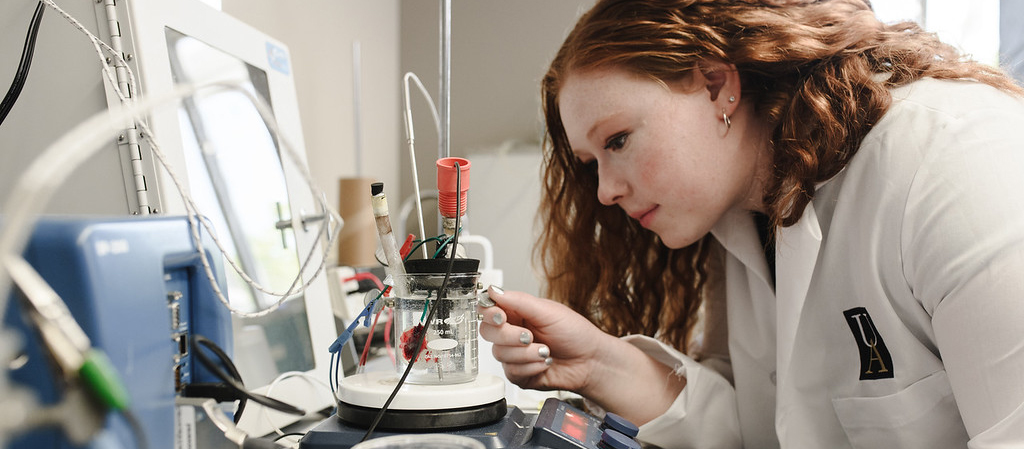 Biomedical Engineering Undergraduate Program
Biomedical engineering applies fundamental engineering principles and problem-solving techniques to address medical problems. Biomedical engineers bring the latest technologies and innovations into medicine to improve human health and health care.
Program Highlights
The co-op program provides paid, flexible, industry experience. It is a great way to earn money while getting experience in industry.
The curriculum focuses on the design of medical devices and hands-on laboratory experiences to reinforce technical concepts from the classroom. Students have freedom to tailor their coursework toward specific career paths such as design of prosthetics and implantable devices.
Paid undergraduate research opportunities are available in the areas of tissue engineering, biomaterials, and biomechanics on federally-funded projects.
Nationally recognized design teams apply what students learn in the classroom while making friends, traveling, and building their resumes.
Many scholarships are available to significantly decrease the cost of going to school, from major-specific scholarships to some where all students are automatically considered for when applying.
Tutoring and academic support is available at no additional cost to undergraduate students.
Career Opportunities
A degree in biomedical engineering prepares you for careers in research, medical device development, instrumentation, and analysis tools, as well as for post-baccalaureate studies in engineering, law, or medical school.
Recent UA graduates with a B.S. in Biomedical Engineering make a median starting salary of $63,000. We have placed graduates at companies such as Perkin-Elmer, GE Healthcare, Zimmer Biomet, and The Cleveland Clinic.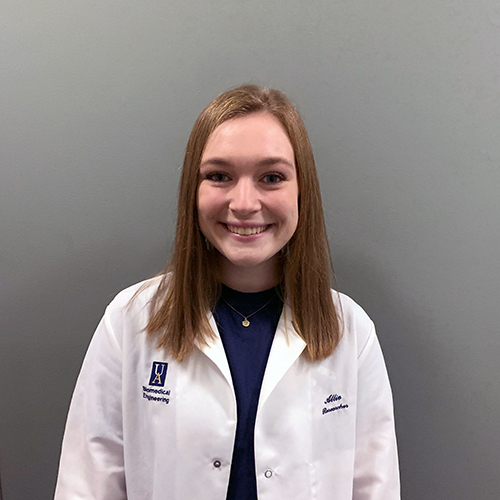 Student spotlight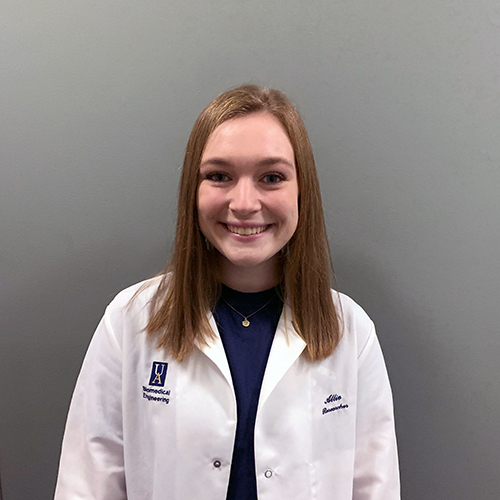 "My favorite biomedical engineering experience so far has been working in the lab. I get to work with with amputee subjects and motion capture software in the gait lab."
—Allison Testa, biomedical engineering student
Biomedical engineering focus areas:
Biomechanics
Specializes in the mechanics of human motion with a focus on restoring mobility and function to individuals with neurological disorders or limb loss. Strong emphasis on the design of prosthetics, orthotics, and exoskeletons.
Biomaterials and Tissue Engineering
Focuses on the cellular, mechanical, and material aspects of the repair and replacement of damaged or diseased human body tissues and organs.
Medical Device Design and Development
Design and development of therapeutics or diagnostic equipment for medical applications such as implantable devices, imaging systems, and instrumentation.
Pre-Healthcare
UA's biomedical engineering program prepares students for graduate studies in the areas of physician's assistant (PA), physical therapist (PT), occupational therapist (OT), orthotist and prosthetist (O&P), or physician (MD/DO).
Curriculum guides & courses
Curriculum guide: Biomedical Engineering
Courses: Review all our biomedical engineering classes.
Accreditation
The biomedical engineering program is accredited by the Engineering Accreditation Commission of ABET, www.abet.org, and has specific program educational objectives and student outcomes that prepare graduates to enter the professional practice of engineering.